Many Android users change the layout of their devices with themes, lock screen apps, fancy emojis and other tweaks like game mods. However, today, I want to talk about themes for one of the top Android launchers, Nova Launcher.
Nova Launcher themes come with icon packs, different icon size, and search bar style. Also, these themes allow you to enjoy a revamped app drawer and home screen.
I plan to help you get the best Nova Launcher setup by listing some of the best Nova themes for you to try. Some of the themes are free, and others require the paid Nova Launcher app.
However, if you are up to it, you can learn how to create your own Nova Theme. I also list the Nova icon packs separately.
Cool Free Nova Launcher Themes For Android
Pokémon Go Nova Launcher Theme
You probably know by now that we are huge Pokemon fans. And, as such, I could not pass up on listing one of the most popular Nova Launcher themes as #1.
This Pokemon Go theme for Android is for all our fans. By the way, this is the easiest Nova theme regarding setup. Install the Wallrox wallpaper pack and the Monster ball icon pack.
You do not need to change the Nova settings like other themes. Find it in the theme store.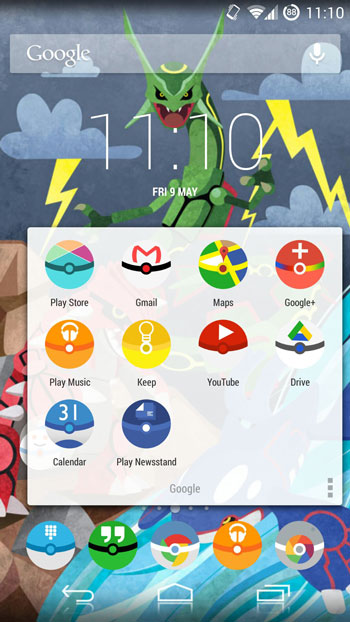 Instinct Nova Theme
Another Pokemon theme that is sure to catch your eye is the Instinct Nova Theme. It is based on the team selection on Pokemon Go. Here's how to set it up on your Android.
If you're rooting for a different team then simply use the Team Valor and Team Mystic wallpapers and Whicons instead of Golden Icons.

Things You Need
File manager app such as ES File Explorer
A home screen launcher that supports icon packs, individual custom icons, and an 8×6 home screen grid.
How To Set Up
Download the Team Instinct Wallpaper by malexer by clicking the download button on the page, long-pressing the image, and selecting Save as….
Long-press on your home screen and select set a new Wallpaper.
Tap Set image and navigate to your saved Team Instinct wallpaper.
Make sure the image is centered and Set wallpaper.
In Nova Settings, open Look & feel,
Set Golden Icons as your Icon theme.
Return to the main Nova Settings menu and open Folders.
Set Background to a custom color by selecting the three dot option in the fifth-row fifth column of the color picker.
Set the color to #c4183038.
Go back to the main Nova Settings menu and open Desktop.
Set the Page indicator color to Gold (fifth row, first column).
Go back to the main Nova Settings menu and open App & widget drawer.
Set Background to a custom color by selecting the three dot option in the fifth-row fourth column of the color picker. Set the color to #c4183038.
Return to the home screen and long-press a blank space on the home screen.
How To Set Up Cont.
Select Widgets.
Scroll to 1Weather.
Press and drag the 1Weather Compact Widget 4×1 to the bottom row of the home screen.
In the widget configuration screen, change Background to Dark; the Background opacity to 0%; Accent to Gold (fifth row, second column)
Confirm the configuration by selecting Done in the top-left corner.
Long-press and Resize the configured widget to fit the entire bottom row of your screen.
Download Team Instinct-tinted Material Music Komponent Preset and copy them into Kustom/widgets in your file manager. (Note: If you don't see the Kustom folder in your internal storage, it'll show up once you install KWGT and open the program once.)
Return to the home screen and long-press a blank space on the home screen. Select Widgets.
Scroll to KWGT. Press and drag a 2×2 KWGT widget to the top of your home screen.
Long-press and Resize the widget to fit the entire top two rows of your screen.
Tap the widget to configure it. Swipe over to the Exported preset section and select Instinct-music-widget.
Save the widget. If the widget doesn't quite reach the side edges of the widget, tap the Layer tab and increase the scale until the component fits the widget as desired. 100% is the scaling that normally works best for me.
Save the widget again and return to the home screen.
Long-press your app drawer icon and Edit it.
Tap the icon to edit it and select Golden Icons as the source of your new icon.
Scroll down to P for Pokémon and select the Pikachu icon (should be right next to the Pokémon Go icon).
Confirm your new icon by selecting Done.
Minimal Nova Theme
Do you like flat icons? They give a minimalistic look to your Android's interface. The icons in this setup are flat, and the wallpaper is colorful. To set up the Nova theme, download the wallpaper Wallrox.
It is free in the Google Play Store. You also need the Voxel Icon Pack. For widgets, you may use the  Zooper DavrDate or Zooper Widget Pro ($2.99).
Now, here is the best Nova Launcher setup for this layout. Set the icon size, desktop & dock, to 110%. Also, choose stack for the folder preview. For the grid folder background, select disc. And, select wipe for the desktop scroll effect and set the animation to relaxed.
Material Design Nova Launcher Theme
You may be familiar with Google's material design initiative. Well, you can achieve a similar look and feel on via Nova Launcher.  This look is similar to the native Android interface but with a bit more #pow.
To set up the Nova theme, download the wallpaper Wallrox. As for icons, use the Polycon Icon Pack. Also, install or choose from  Minimalist Clock – Alternative, Minimalistic Text Battery, Buzz Weather for widgets.
This theme is a good theme for Nova Launcher. Use the following Nova Launcher settings. Set the icon size, desktop & dock, to 120%. Also, enable persistent search bar. Adjust the desktop grid to 4×4. And, use Bar Style 2, Logo Style 5 for the search bar.
Dark Theme For Nova Launcher
The themes so far have all been pretty colorful. However, if you want a template that is a bit more gloom and dark, this set is perfect for you. Embrace the darkness with the Nova Dark Theme.
To activate, you need Wallrox (BW30), Min Icon Pack – Alternatives,  Minimal UCCW widget, shuttle (transparent), and 1Weather (White accents). For optimal Nova settings, turn on the Persistent Search Bar, set the Search Bar to Bar Style 3, Logo Style 4, and set Night Mode to always.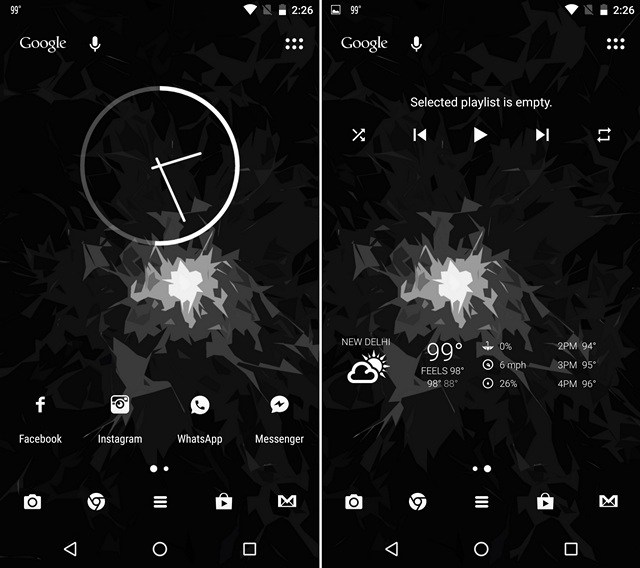 Iron Man Theme For Nova Launcher
Another franchise based theme, Marvel's Iron Man. The Iron Man Nova Launcher Theme is a nice theme to have if you're a fan of the superhero. And, while it does not turn your phone into Jarvis, it does make it look a bit cooler.
To set it up, use the Iron Man melting art wallpaper, the Golden Icon Pack and the widgets Zooper, Shuttle (Transparent). Be sure to disable show notification bar in the look & feel section. Also, turn off wallpaper scrolling and set the background transparency to 100%.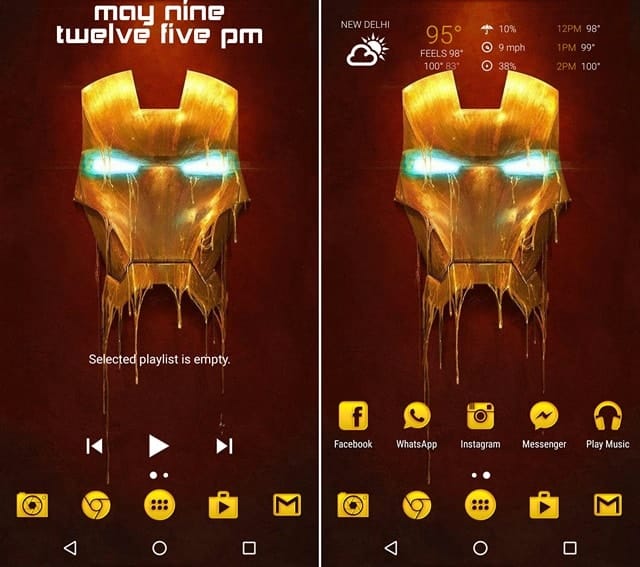 Fun Nova Launcher Theme
The Fun Theme for Nova Launcher includes the Superman wallpaper. Because, why not? The theme uses bright colors and flat icons.
Find the wallpaper via Wallrox, use the Dark Matter Icon Pack or Glim Icon Pack and the  Zooper Clokr, Shuttle widgets. In Nova settings, disable wallpaper scrolling and enable zoom fade under scroll effects.
Best Nova Launcher Icon Packs
To use any of these icon packs for Nova launcher, do the following:
Open Nova Launcher settings.
Go to Look and Feel.
Tap on Icon Theme and choose the theme/icon pack you want to use.
Voxel Icon Pack
Voxel Icon Pack for Nova Launcher offers a flat yet colorful design. The icons are high quality and squared. There's minimalistic feel about the theme that you'd appreciate if you like a clutter-free interface.
Min Icon Pack
This Nova icon pack is a black and white minimalist Nova theme. The icon pack is free and it also has over 50 wallpapers to go with it.
With regard to icon styles, there are about 1500 icons. So, there's something for most apps.
The small elegant icons instantly make your home screen less cluttered, and the white icons blend with every wallpaper.
Gold Icon Pack
Do you want to be bold? Then go gold with the Gold Icon Pack. It has calendar icon support, wallpapers hosted in the cloud, and 21750 app icons.
But, given that all icons are gold, it takes a bit of tweaking to find the right wallpaper combination to make it look good on your Android's home screen.
Dark Matter Icon Pack
This Android icon pack has vintage aesthetics and beautiful icons. It even supports Google Calendar and the Stock Calendar.
You can sort icons by categories and if there is an icon that you need, you can request it.
Rondo Icon Pack
Another flat style icon pack to try is Rondo. It features colorful and rounded icons. There is also a selection of wallpapers from which you can choose to complement your design.
Moonshine Icon Pack
Another of the cool Nova launcher themes to check out is Moonshine. The app icons themselves resemble those of Android Nougat.
And, just like most other icon packs and themes, it has its own set of wallpapers from which to choose.
Cygnus Dark – Icon Pack
Cygnus Dark uses icons with fine detail to give it a Material Designed look with a tinted edge and soft shadow.
Compared to other icon packs, these icons are smaller and there is no background fill.
Conclusion
There are many many Nova Launcher Themes and Nova Launcher Icon on the Google Play Store. It's all a matter of trial and error.
I listed some of the best icon packs/themes to get you started. But, at the end of the day, your tastes may vary.
If you really want to try them all without using your smartphone, you can use an Android emulator on your PC and test them before installing on your Android.
You might also like: