Have you lost your Android smartphone? Did someone steal your Android phone? Or, maybe you misplaced it? Our phones contain private and confidential information.
Hence, when we lose our phones we go into panic mode. It's only human of us to do so. Sometimes, we give up and buy a new phone.
However, in this article, we teach you ways to safeguard your smartphone. Also, we discuss how to find a lost or stolen Android smartphone.
How To Safe Guard Your Android Smartphone
They say that prevention is better than cure. Hence, before we tell you the ways to track your lost Android, we'd like to tell you the things you can do to protect yourself and your information in the event that you do lose your Android.
The basic stuff includes keeping your phone hidden in unsafe or crowded areas, always checking that you have your phone when leaving a bar or anywhere else etc. However, to take it a step further, you can use software to secure your smartphone.
Secure Your Android Phone With A Lock-screen Pattern, Password, FIngerprint
The first measure of security is to password protect your smartphone. While this may not help you find your phone when someone steals it, it does help protect your information. For most Androids, you can find security settings at Settings > Security and Location or Settings > Lock Screen and Security.
In Case Of Emergency
In case of emergency is a feature on some phones that allow you to input contact information that appears on the screen.
For example, you can set up lock-screen information, like your name and an alternative number or email at which you may be reached.
Likewise, you may use ICE (In Case of Emergency). It is an app that has the same functionality as the built-in feature.
However, you can also specify emergency contacts and groups to show up on your lock-screen.
Use Android Device Manager
Android Device Manager is a really good feature to enable on your Android smartphone. It helps locate your lost or stolen phone.
Firstly, go to Settings > Security and Location > Device Administrators. Once found, check the box or toggle to enable "Android Device Manager."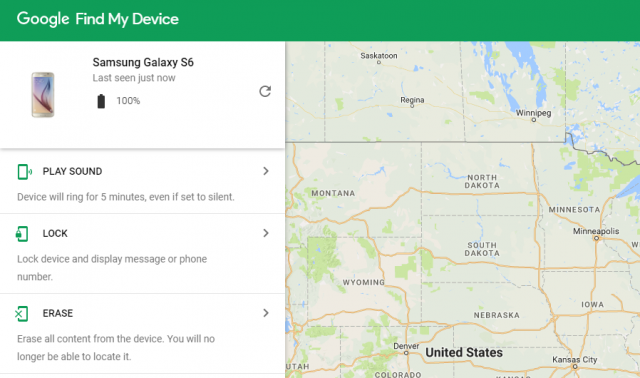 Also, it would be good if you enable location services. While not a necessity, it provides better locating capabilities when enabled. Although, with everyday use, it may drain your Android battery. 
Secondly, go to Settings > Google > Security. Then, toggle on or check the boxes labeled "Remotely locate this device" and "Allow remote lock and factory erase." 
Then, go to the Find My Device website. Look around the interface to get a better understanding of how everything works.
Or, you can watch the below YouTube video. Here, you see a Google Maps-based user interface shows the last known location of your device. It updates every minute once the phone on and connected to the internet.
Lastly, much like the Find My iPhone app for iOS, you may want to download Find My Device app. You can use it on other Android phone's to locate your smartphone.
Other Apps To Help Find Lost Android
The above apps have features such as:
Read sent and received text messages
Wipe phone
Lock phone
Erase SD card
Locate by GPS or Network location data
Start alarm with flashing screen
Take photos with front and rear camera
Record sound from microphone
Recommended Reads: