GBA4iOS allows iPhone and iPad users to play classic retro games on their iOS device. It works similar to GBA emulators for Android in that you install the app, load a ROM, and play the game as you would on a genuine handheld game. In this article, we teach you how to download, install and use the Gameboy emulator on your iPhone or iPad.
How To Download GBA4iOS
Open Safari on your iOS device (iPhone or iPad).
Go to iemulators.com
From the iemulators website, tap the apps tab.
Scroll through the list of apps that appear and select GBA4iOS 2.1.
Next, select Download Page.
On the download page that appears, scroll down to find two versions of the GBA4iOS application.
Choose the version that reads Signed. You can ignore the date trick version.
How To Install GBA4iOS
Once you complete the above steps, a popup appears and you have to tap on the "Install" button.
Then, tap on the "Install GBA4iOS" button.
Once you click install, the GBA4iOS install process begins.
If another pop-up appears, you may need to click install once more for the process to begin.
Once the process completes, you ought to see the GBA4iOS app on your home screen.
How To Setup GBA4iOS
Now you have successfully downloaded and installed your iPhone Gameboy emulator. However, there is one more step to follow before you are up and running. You MUST allow a third party profile to run in order to use the app.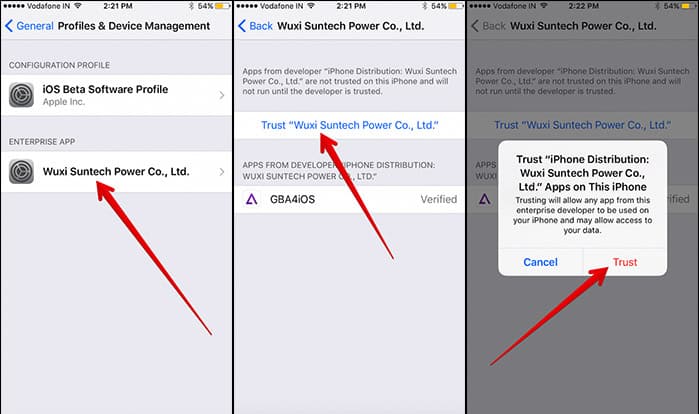 Open Settings.
Go to General.
From there, go to Profiles & Device Management.
Under, "Enterprise App" tap on "Wuxi Suntech Power Co. Ltd."
Now, tap on the "Trust Wuxi Suntech Power Co. Ltd." button.
Finally, Tap on Trust again to confirm.
That's all their is to it. Now you can play your favorite Pokemon game on your iOS device. You can use the app to search for your favorite ROMs.
How To Delete GBA4iOS App
If for some reason you no longer wish to use the application, you may use the following instructions to remove it from your iPhone or iPad:
Go to Settings
In General, select Profiles & Device Management.
 Wuxi Suntech Power Co. Ltd.
Finally, tap Delete App.
Video: A Visual Guide
You might also like: