Forgot iPhone passcode and now I can't log in to my iPhone! How do I reset my password on my iPhone? It's a troubling situation. On the one hand, if you entered the passcode incorrectly too many times, your iPhone is now disabled. On the other hand, you can restore your iPhone and use it. The bad news, if you never synced your device or did an iCloud backup, all your data is lost. The good news, you can back up your iPhone even when you can't remember your iPhone password.
Back Up Your iPhone
Firstly, for the iPhone, iPad or another iOS device with the forgotten password, you want to perform a backup of your data. Here's what to do:
Connect your device to the computer and open iTunes.
Then, select your device from the top left menu.
Then, click on Back Up Now.
Be sure to uncheck encrypt backup.
The backup process starts.
Once the process completes, you should see the date and time when your device was backed up under Latest Backup.
Now, you have two options to consider. Either you erase your iPhone or iPad and restore it using iTunes or you restore your iPhone or iPad in Recovery Mode. Firstly, we discuss the first option.
Erase Your iOS Device With iTunes To Remove "Forgot iPhone Passcode"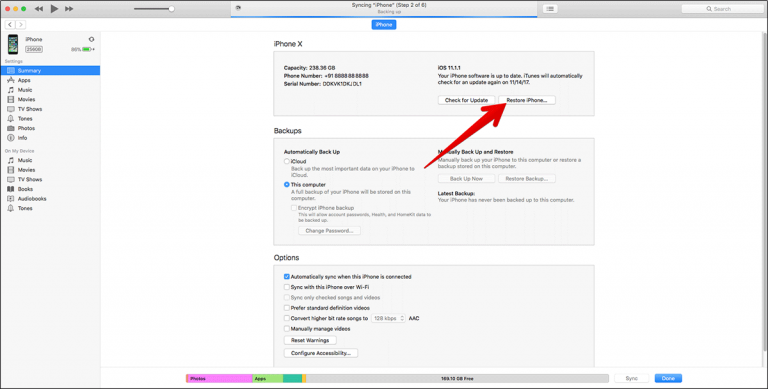 Connect your iPhone to your computer.
Open the iTunes app.
Click Restore iPhone or Restore iPad (whichever iOS device you connected).
Subsequently, on the setup page that follows, tap on Restore from iTunes backup.
Lastly, select your device in iTunes and then restore your iOS device using the most relevant backup.
The above method should work. However, it won't if "Find My iPhone" is enabled on the device. In this case, you must then use recovery mode to disable the forgotten iPhone passcode.
Erase iPhone And iPad With Recovery Mode To Remove Your Passcode¹
Connect your iOS device to your computer with the USB cable. Launch the iTunes application.Then, reboot the iPhone or iPad. This step varies as it relates to the iPhone you are using. Here's what to do for each:
iPhone X, iPhone 8, or iPhone 8 Plus Recovery Mode
Firstly, press and quickly release the volume up button.
Then, press and immediately release the volume down button.
Next, press and hold the Side button until the recovery mode screen appears.
iPhone 7 or iPhone 7 Plus Recovery Mode
Firstly, press and hold volume down button and ON/OFF buttons at once.
Keep holding the buttons until the recovery mode screen appears.
iPhone 6s and earlier, iPad, or iPod Touch Recovery Mode
Press and hold both the Home and ON/OFF button at once.
Keep holding the buttons until the recovery mode screen appears.
A prompt ought to appear asking you to Restore or Update. Select Restore. Remember to connect to iTunes (via step one). iTunes detects your iOS device and proceeds to download the software for your device.
Please note that if the process takes more than 15 minutes, your iPhone or iPad will exit recovery mode. Do not worry. Simply repeat the above process. Once it completes, set up your device.
You might also like the following articles: