There exist many a music player for Android smartphones. I mean, after all, Androids these days offer some powerful specs when it comes to sound reproduction. From devices with Dolby Atmos and surround sound, Android music players offer room for improved sound. And, if you are not into music streaming apps, then a good music player is a must. Just like we listed the best music recognition apps, here are the best mp3 players for Android.
BlackPlayer Music Player
Starting off the list is BlackPlayer Music Player for Android. A simple music player with an artistic user interface. Best features of this Android music player are the equalizer, widgets, scrobbling, an ID3 tag editor, no ads, themes, and support for MP3, WAV, OGG. Moreover, you can organize tabs to gain access to your favorite sections in a snap. To learn more about BlackPlayer for Android, view https://play.google.com/store/apps/details?id=com.kodarkooperativet.blackplayerfree.
Do you like Emojis? Then, why not check out our list the Best Emoji App | Top Emoji Keyboard for Android. I'm sure that you will find some nice keyboards and emoji apps for your Android smartphone.
GoneMAD Music Player
GoneMAD Music Player concentrates on implementing tons of features and choices to allow for a personalized listening experience. And, there are over 250 customizable options to help you set up this music player the way you want to. Additionally, there is are 16 built-in equalizer presets, a DSP limiter, auto pitch correction, gain & audio balance control, as well as support for all music formats. The music app also features gapless playback, a sleep timer, a crossfader, cue sheets, tag editing, smart playlists and on-screen lyrics.
Do you play videos on your Android tablet? Then, check out the video management tools on https://www.orduh.com/avi-player-for-android-tablet/. This list is especially useful if you have lots of AVI files.
jetAudio HD Music Player
Number 3 on the list of Android music players is jetAudio HD Music Player. This music player provides several audio enhancement plugins to tweak playback to your liking. Moreover, there is an equalizer with 32 presets, bass boost, a tag editor, widget and support for MDI playback.
Planning to do some maintenance on your Android device? How about learning how to create a backup of your Android contacts? You do not want to lose all those precious connections!
MediaMonkey
MediaMonkey made our list of top replacement apps for iTunes on Mac and it comes as no surprise that the Android version appears on this list. Also, with MediaMonkey, you can navigate, manage and sync large music collections easily. Additionally, you can download cover art, artist info, and album information. It has support for audiobooks, podcasts, and the ability to sort tracks by the composer, contributing artist and more. Moreover, MediaMonkey can sync your music library to multiple devices over a WiFi connection. Check out the app on the Google Play Store.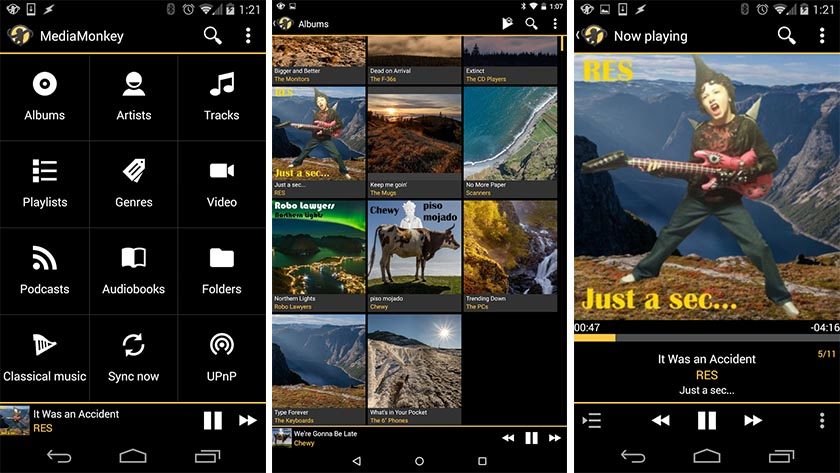 Need more music in your music library? Why not check out these apps and websites to get free music? Because everyone deserves the joy that music brings to many lives.
Poweramp Music Player
One of the most popular music players for Android is Poweramp. However, the interface looks a bit confusing and can deter users from downloading the app. But, Poweramp Music Player offers some great features. Poweramp supports music formats like ALAC, FLAC, WMA, Wav, Ogg, m3u, pls and more. Additionally, there is a 10 band optimized graphical equalizer, Bass and Treble adjustment, stereo eXpansion, and Mono. Furthermore, there are options to customize the interface of the app, album art, audio, lock screen, and more.
Pi Music Player
Pi Music Player is another great choice for managing your music library on Android smartphones. With its minimal design and interface, using the app is pretty straight forward. However, the features that interest us are the music playback options. This music player provides a built-in 5 Band equalizer with bass boost, 10 presets, a virtualizer and 3D reverb effects. Also, Pi Music Player allows you to create ringtones using your favorite tracks. Find it on the Play Store for more information.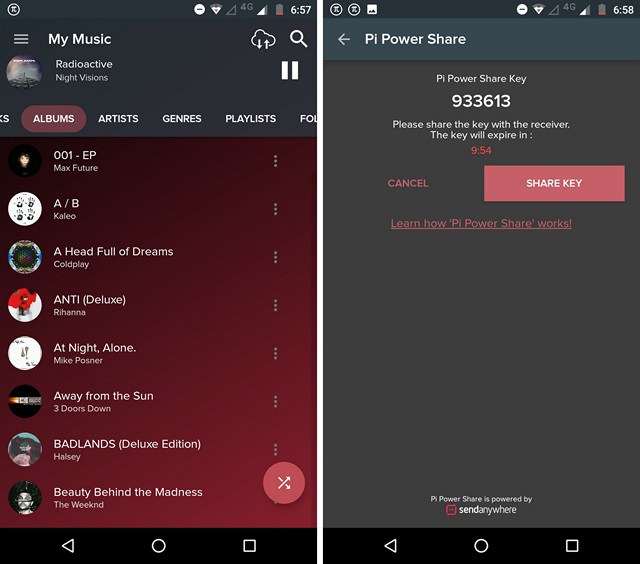 n7player
n7player is an Android music player with a unique feature. This music player creates a photomontage styled list of your music for easy access. Additionally, there is a 10-band equalizer, volume normalization, a tag editor, and a scrobbling feature. It may not be the most powerful music player app but it does have a well designed and attractive interface.
Phonograph Music Player
Do you like beautiful interfaces? Then, Phonograph Music Player has the best music player interface on the market. Basically, you can customize the start page, add a theme, change colors, album covers and more. And, with regard to music playback, Phonograph offers gapless playback, equalizer, Last.fm support for scrobbling, tag editor, and a sleep timer. Check out this music player at https://play.google.com/store/apps/details?id=com.kabouzeid.gramophone.
Interested in virtual assistants for your smartphones? I know many people wished there was a Siri for Android. However, these Siri alternatives are way better. Take a look and see which you like.
Neutron Music Player
Neutron Music Player claims to render music in 32/64-bit. The idea is that it makes your music sound better. Like other apps on the list, it supports multiple audio formats and it has a built-in equalizer. Also, Neutron can source music files from a device or network sources such as SMB/CIFS, UPnP/DLNA, FTP, WebDAV and send audio either to headphones, or directly to USB DAC or to UPnP/DLNA renderer without a format limitation.
Stellio Music Player
With Stellio, your theme changes as the album art changes. However, the music capabilities include crossfade, gapless playback, tag editing, and scrobbling. Additionally, Stellio has a 12-band equalizer and 13 audio effects such as VolumeAmp, Balance, Reverb, Flanger, AGC, Z-Bass, and Z-Treble. Also, another useful feature is that you can control music playback via Android Wear (which by the way supports Google Translate and Interactive Watch Faces).
Did we miss any of the best music player apps for Android? Let us know about them in the comments! Thanks for reading Android Music Players | Best Music Players For Android here on ORDUH. Why not browse a few more of our lists like the Top Emoji Apps For Android & iPhone Smartphones or our Top Snapchat Alternatives lists?