Android Smartphones these days come with top of the line cameras. With this improvement, photography via mobile phone is rampant. Hence, it is no surprise that many people look to edit photos on their Android devices. This option conveniently saves time, and you do not have to whip out your laptop. However, don't expect Photoshop-like editing. For this, you still need a powerful photo-editing laptop. Here is our list of the best photo editing apps for Android.
Adobe Photoshop Express
With Adobe Photoshop Express, you can edit your photos on-the-go. In a few simple taps, you can perfect your pictures with automatic filters and fixes. Additionally, you have the option to share your creations from the app interface. The Photoshop Express app includes essential features like crop, straighten, and rotate. Also, you can flip your photos and remove red eye and pet eye. Moreover, there is an Auto-Fix, Blemish Removal Tool, and borders to add to photos. Read more about the features on the Play Store.
Adobe Photoshop Mix
This Adobe Android photo editing app extends the functionality of the Express App. With Adobe Photoshop Mix,  you can cut out and combine images. Furthermore, you can change colors and enhance your photos anytime, anywhere via your smartphone. And, if you use Photoshop CC, you can send your work from your phone to your PC and work from there. Moreover, with the non-destructive feature, your original images are always saved for those of us who make mistakes. Get the app on the app store.
Adobe Photoshop Lightroom
Lastly, at least from the Photoshop suite, is Adobe Lightroom. This photo editor app offers one-tap presets as well as advanced adjustments and corrections. And, in case you mess up, there is a one-touch undo feature to revert to the original. The Lightroom app for Android also provides an in-app camera that allows you to shoot images while applying presets. You can also adjust the preset after capture. Get it at https://play.google.com/store/apps/details?id=com.adobe.lrmobile
Also, if you want to check out the full suite of Adobe photo editing apps for Android, you may do so by checking out their Google Play Account. And, while all these apps offer good photo editing features, you may need an Adobe Creative Cloud subscription to gain access to some features. However, if you use Adobe CC, it includes the subscription. I dare say that these are the best photo editing apps for Android. However, for fairness sake, here are some more.
Snapseed
Another attractive option for photographers (aren't we all?) is Snapseed. This app is a free photo editor available on the Play Store. However, there's a paid version for those wanting more features. There are over 29 tools and filters like Healing, Brush, Structure, HDR, and Perspective.
Details – magically brings out surface structures in images
Crop – crop to standard sizes or freely (8 aspect ratios)
Rotate – rotate by 90°, or straighten a skewed horizon
Perspective – fix skewed lines and perfect the geometry of horizons or buildings
White Balance – adjust the colors so that the image looks more natural
Brush – selectively retouch exposure, saturation, brightness or warmth
Photo Editor by Aviary
Aviary is another popular photo editor that provides an excellent set of features. Like other apps on the list, it features a one-touch enhance mode. However, Aviary also comes with a variety of manual adjustments that allow you to adjust the color, brightness, temperature, contrast, saturation, and more. Aviary also has stickers, filters, and corrective tools such as red eye fixing, blemish remover, and teeth whitener. Download the free app here.
Pixlr-o-Matic
Pixlr-o-Matic is a  fun and free photo editing tool to add retro effects and transform photos into cool vintage images. This sentence is the play store description. One sentence. However, despite the short intro, the app has over 30,000,000 installs and a 4.5 rating on the app store.
Bonfire Photo Editor Pro
Bonfire Photo Editor, like other photo editors, provide essential features like filters and editing tools. However, Bonfire also offers tons of filters for you to try. It offers over 110+ unique Effects/Filters. There is also skin smoothing and auto blemish removal. Check it out Bonfire Photo Editor Pro on the app store.
Pixlr – Free Photo Editor
Firstly, we must mention that Pixlr's free photo editor offers over 2 million combinations of free effects, overlays, and filters. Moreover, once you finish creating your masterpiece, you can upload it directly to Instagram, Facebook, Twitter, or other social networks. Download Pixlr – Free Photo Editor.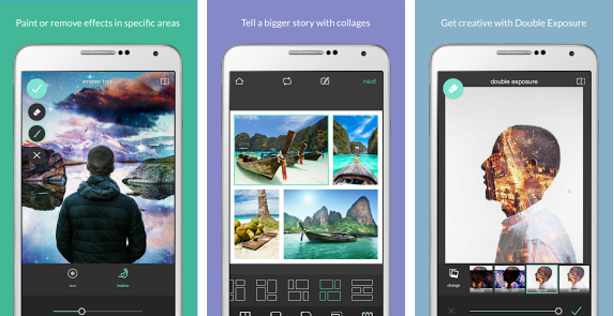 Cupslice Photo Editor
Cupslice is another photo editor that focuses on filters. Additionally, the app has a ton of stickers to add to your photos. It's almost like Snapchat and its many features.  Users can also customize the various filters. And, of course, there are the basic photo editing tools such as crop, frames, hue and saturation adjustment, black and white, collages, and brightness and contrast settings. It's not one of the best photo editor apps, but it's one of better apps that are completely free to use.
PicsArt Photo Studio & Collage
PicsArt has a built-in camera that allows real-time photo editing. There are several photo effects to choose from including text effects, collage makers, frames, borders, and overlays. Download it at https://play.google.com/store/apps/details?id=com.picsart.studio Did I mention that the app has over 400 million installs, PicsArt claims to be the #1 photo editor and pic collage maker on mobile.
Fotor Photo Editor
Fotor focuses more on editing that anything else. Enhance photos with the one-touch auto tool. There are also essential editing features like crop, rotate, brightness, contrast, saturation, exposure, vignetting, shadow, highlights, temperature, tint, and RGB adjustments. Moreover, Fotor does provide somewhere around 100 filters if you need to add some to your photos. Download the application on Google Play.
PicSay Photo Editor
Color correction, text effects, distortion effects, and graphics are a few features that PicSay offers. However, the selling point of the app is it's easy to use interface. There is a free Lite edition and PicSay Pro which adds a good bit of extra tools, special effects, styles, stickers, and much more.
PhotoDirector Photo Editor App
Another good photo editing app to try is PhotoDirector Photo Editor App. Like Fotor, PhotoDirector concentrates more on manual enhancements rather than automatic filters. Use HSL sliders, RGB color channels, and more to customize your photos. Additionally, there are sliders for brightness, exposure, tone and more. Also, you can add photo effects both globally or to specific spots on your pictures. Find it in the Store.
Cymera: Collage & PhotoEditor
Cymera offers hundreds of filters, stickers, backgrounds, text feature, layout, emojis, beauty tools, hairstyles and more. Additionally, the inbuilt camera provides seven different lenses including divided lenses/FishEye/Lomo among others. The app also features a collage maker with over nine different layouts.
Photo Editor Pro
Photo Editor Pro is a favorite Android Photo Editor with over  50 million downloads and one million reviews to date. Key features are one-tap auto enhance, photo filters, photo effects, and frames as well as stickers. Also, fundamental editing tools like crop, rotate and straighten. Furthermore, you can adjust brightness, contrast, color temperature, and saturation as well as sharpen and blur photos. Find the free app here.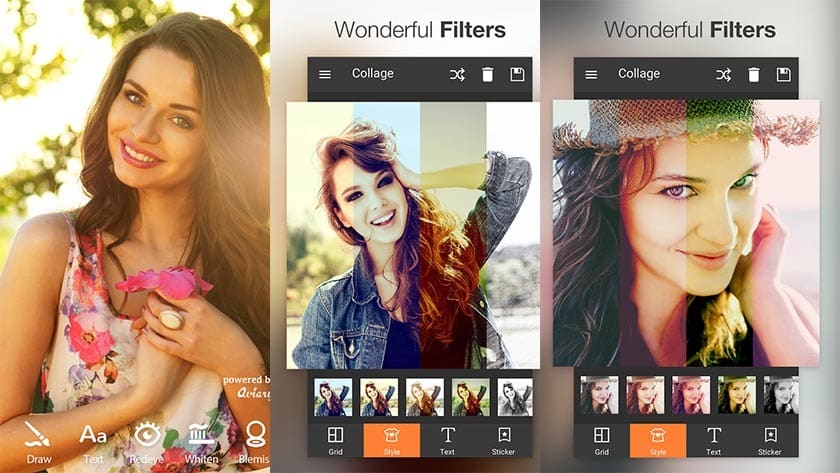 For more interesting lists check this one on lock screens for Android, task managers/app killers, and Nova Launcher Themes. Also, let us know what you think about our Best Photo Editing Apps For Android. Let us know of any others in the comments.