I bet you didn't know that you can mute a single tab on Chrome. Well, now, you can use the official picture in picture mode (PIP) to watch videos in a small pop up window while doing other tasks.
Just a few months back, the author over at ChromeUnboxed hinted that the feature may be in the works. Now, a Google Chrome developer, François Beaufort, announced the official release for all users on Windows, macOS, and Linux.
What Is Picture In Picture Mode
On Android Oreo, Google released an official picture-in-picture mode so users could continue watching videos in minimized windows while doing other things on their phones.
It's the minimized window you see when you watch a video on YouTube and then switch to another screen. The same is all true for WhatsApp. Here's a quick look at how this works on Chrome.
However, unlike the YouTube miniplayer that only works on YouTube, Chrme's PIP video mode works anywhere. It now means that you can use entirely different programs while still leaving the video in view.
HOW TO USE CHROME PICTURE-IN-PICTURE VIDEOS
By default, Chrome's Picture in Picture mode is turned on automatically from Chrome 69 and up. You can check your version of Chrome/update to the latest version to be sure.
YouTube
Rght-click the video to bring up the player options menu.
Then, right-click once more to bring up Chrome's menu.
You ought to see the "picture-in-picture" option which, when selected, launches the video in the floating window (see below image).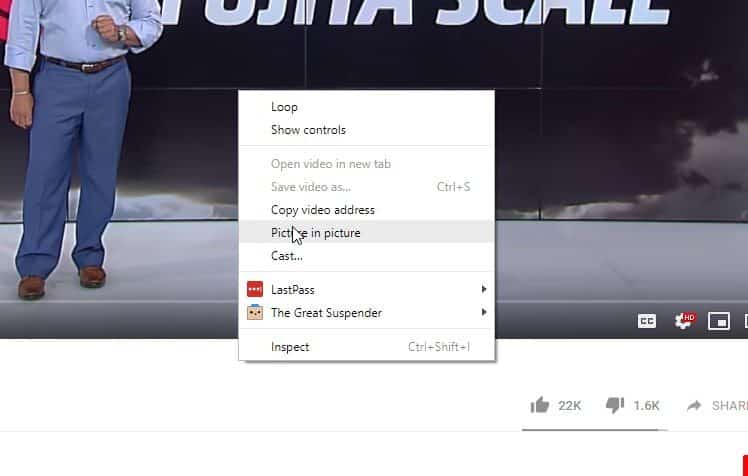 On Other Websites
For other websites, install the picture-in-picture extension from the Chrome Web Store. Once installed, you ought to see the PIP icon on your toolbar.
Now, anytime you're on a website that has videos, simply click the extension icon and the video automatically displays in a floating icon.