UPDATE: Microsoft Edge For Android is now a thing. You can download it from the Google Play Store. https://play.google.com/store/apps/details?id=com.microsoft.emmx&hl=en
UPDATE: The prospect of the arrival of Microsoft Edge on the Android platform has been debunked. The message received by the user who shared the screenshot would be the result of a bug in Google's account management system that determines the 'erroneous detection of the operating system used by the user'.
In other words, by logging into your Google Account with the browser Edge of Windows 10, the system would trade for access made by Edge on the Android platform, hence the origin of the report that specifically mentions " Microsoft Edge on Android. "
Microsoft Edge is the new browser that the American giant has added to Windows 10, it will soon also be available in mobile version with the upgrade of the Windows Phone platform (but it can already be tried on smartphones by the members of the Windows Insider program for Windows 10 Mobile). Initially known as the Spartan Project, Edge was actually made available from July 29 to all those who switched to the new operating system for PCs, tablets and laptops. A completely rewritten, revised and renewed browser that seems to be able to combine lightness, speed and pleasure of use.
Apparently among the projects of MS, as well as the creation of the Office suite for Android, available now, there would also be the "porting" of Microsoft Edge to Android devices.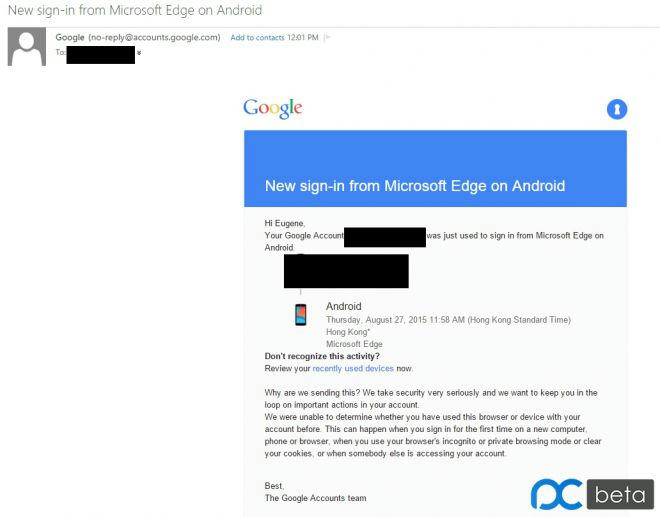 As you can see from the attached, it seems to have already begun tests on the Android platform but at the moment it is hard to understand the state of development. It could take months before you see the first image of the MS browser on Android or the project could even be abandoned before they become reality.
At the moment, therefore, this is only a first confirmation that Microsoft seems interested in bringing Edge on Android. We'll see if the goal will be reached.
You might also like: