SociallyViral is one of the fastest SEO WordPress themes on the market that's perfect for viral content blogs/websites, and we had the opportunity to test SociallyViral on this site (we've tested lots and lots of WordPress Themes). We will share our thoughts on this highly optimized and useful theme made by the folks over at MyThemeShop, who assert that SociallyViral is is a beautifully designed WordPress theme that is built to be engaging, fast, and most importantly, boosts viral traffic. With features to help increase social sharing, you'll get more traffic from the web's top social media websites and also boost your search engine rankings. Let's find out.
Features
Built-in Review System
The Built-in review system of the theme makes it perfect to use for affiliate marketing. With this theme, you can quickly build a product/service review based website or affiliate marketing blog. You can quickly post a service/product review on your blog and also let your readers share their reviews via the comments section as well. The built-in review system also helps to rank content better in SERPs (Search Engine Results Page) easily and quickly (more on this later).
Optimized for Social Shares
Everything about SociallyViral is designed to get you more social shares and more viral traffic.

Social Media Icons
This theme includes MyThemeShop's best social media icons to help encourage even more shares and followers (we wish that they allowed us to have these icons on other themes like Pinstagram or Schema).
Show Trending Post
Capture a wave of viral traffic by showing users what's trending and encourage them to check it out as well.
Full Social Integration
SociallyViral integrates with all the social media websites, so none of your users will be left out.
Adsense Optimized
With Adsense optimization included, you'll see higher CPCs and RPMs which means more money for your advertising efforts.
Comes with 4 Different Loading Effects
Choose from one of four loading effects to display more posts and see what encourages the best user engagement.
Subscription Box
Get more newsletter and email subscriptions with the subscription box that promotes user signups.
Responsive
Like all MyThemeShop themes, it is is entirely responsive so users on all devices and screens will get a great experience.
Featured Posts
Prioritize visibility on your most valuable content on your homepage using the featured article settings.
Even More Features!!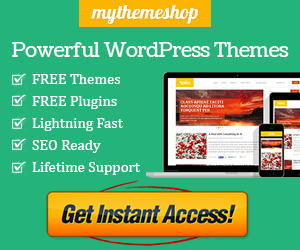 Socially Viral is Schema Integrated SociallyViral is Search Engine Optimized It Supports Mega Menu Dropdown It Has Video Post Support It has a Back to Top button It Supports Parallax Scrolling Socially Viral Options Panel SociallyViral has Dedicated 24×7 Support
And, believe it or not, this does not even scratch the surface of features and perks of this theme. There are several others that you can check out on the official SociallyViral Sales page but, for now, let's get into the review section and our thoughts on this MyThemeShop Theme.
Get All MyThemeShop Themes, Plugins & Lifetime Support
Design
The MyThemeShop developers built SociallyViral with the viral factor in mind. As you can see, by looking at the SociallyViral Demo (or one of the many websites using the SociallyViral theme), there are bold colors, attractive social sharing buttons & beautifully designed/implemented related content. Users find what they came for, the content, and they have all the options needed to share the content to their social media feeds. The SociallyViral theme is responsive, which means that you can rest assured that it adapts to any screen size. SociallyViral supports two menus, a primary menu (which can be seen at the very top of the page, for desktop viewers) and a secondary menu (which is located at the bottom, near the footer). If you browse the website from a mobile device, then both menus are combined into one fluid menu that is accessible via a hamburger/stacked icon in the upper right-hand side on your device screen (click here to view example). The sidebar can either be placed on the right or left side (for desktops) and it appears below the post/page content on mobile devices such as smartphones. SociallyViral supports its very own related posts box which can be enabled via the control panel (one less plugin). There is a comments section below each article or page, also controllable via the control panel.  The SociallyViral Theme comes with a unique blog layout that is specially optimized for viral content such as entertainment articles, memes, etc. You can build a personal or professional blog with this theme to engage visitors, increase conversions and social media shares. Here are the things you need to know about SociallyViral's overall design:
Posts
Posts/Articles created and displayed with the SociallyViral theme are well structured. Images are perfectly aligned and scaled to fit the design of any screen. The headings, like H2 headings, stand out from the bold text and other content of the page, giving the user a clear understanding of the article/post structure and what each section is about. SociallyViral is also very proficient when it comes to understanding the structure of data input from outside sources such as Word, Excel, and other online resources. If you copy and paste a table into the WordPress editor, you are all set, the output is automatically structured,something that other WordPress themes may have trouble doing without user customization or via the help of extra WordPress plugins. Like the Schema Theme, the SociallyViral theme does not show the featured images in posts so, you'd have to insert the image manually if you want it to show in the post itself and not just on the homepage or category pages. However, on a more positive note, the SociallyViral theme supports its very own lightbox feature. A lightbox is a stylized pop-up that allows your visitors to view larger versions of images without leaving the current page. You can enable or disable the lightbox in the control panel.
Search Engine Optimization (SEO)
Now for one of the most important part of the SociallyViral theme. SociallyViral is fully optimized for schema rich snippets. You will notice that the SociallyViral theme is structured with search engine optimization in mind. But for clarity sake, I will break it down for you. How does schema help your pages get indexed, ranked higher? SociallyViral's markup lets search engines know that this entire website is a blog but, that's not all, it also tells the search engines which parts are most important and where they are found. Let's see (You can check out proof of this by running a structured data test @SociallyViral Theme Structured Data Test:
SociallyViral Theme Blog Section
SociallyViral tells search engines where the header is:
SciallyViral Theme Header Section
SociallyViral highlights the navigation sections of the website:
SociallyViral Theme Navigation Section
 SociallyViral points out the blog title and sub-title:
SociallyViral Theme Blog Title Section SociallyViral Theme Blog Subtitle Section
The SociallyViral Theme integrates breadcrumbs perfectly (Google displays breadcrumbs in SERPs)
SociallyViral Theme Breadcrumbs integration.
SociallyViral highlights the main H1 Title tag of your article/post/page:
SociallyViral Theme H1 tag- Main content title.
SociallyViral illustrates all other Heading Tags in the Structured  Data:
SociallyViral Theme sub-headings
SociallyViral ensures that search engines understand where your main content is:
SociallyViral Theme main content structure
SociallyViral Theme makes sure that all images are structured and understood by search engines:
SociallyViral Theme Article Images
SociallyViral Theme even marks up structured data for social media icons:
SociallyViral Theme Social Media Mark Up
SociallyViral Theme ensures that reviews are shown in Search Engine Results (SERPs):
SociallyViral Theme Review Structured Data Mark Up
SociallyViral Theme separates the sidebar from the main content so, search engines know what are the most important parts of your website/blog:
SociallyViral Theme Sidebar
The SociallyViral Theme takes it a step further by differentiating the sections in the sidebar:
SociallyViral Theme Sidebar Sections
Last but certainly not least, the SociallyViral Theme has a markup for the footer of your website/blog:
SociallyViral Theme Footer Mark-Up
Why are these factors important?
You might be wondering, why does all this matter? Why does structured data matter for search engine rankings and why does MyThemeShop make sure that the SociallyViral Theme have all the right markups? Search Engines need the following information in order to understand and rank websites:
Quality Code
Easily Accessible Content
Fast Site Load Times
Google Algorithm Compatibility
SEO Best Practices
Clearly Identifiable/Structured Content and Media
Trust & Security
Built In Reviews/ Social Media Markup
Voting Functionality
How does SociallyViral help?
Faster  Loads times = Higher Conversion = More Earnings
Schema has a stable and secure code = Higher Quality Score
More Pageviews = Visitors love your site
Improved User Experience (remember that your main aim is to provide information for your users)
Cross Browser & Device Compatibility = You don't miss out on any traffic
Increase in Social Media Shares – Social Media Signal/Social Proof
Speed
Speed is extremely important when it comes to developing any website. If your site is not fast then chances are that visitors will leave your site before it even loads. Faster load times translates to higher conversions and happier visitors. The SociallyViral Theme by MyThemeShop is built for speed, although, with a few other tweaks, you can make the theme super fast. Below are screenshots of our scores on the various speed testing tools like Google Page Speed Insights, GTMetrix & Pingdom. Here are the SociallyViral Theme speed test results:
Google Page Speed Insights Results
As you can see in the image, our website is highly optimized! We did various testing before going live to find the perfect mix of settings to achieve this. If you purchase the SociallyViral Theme using any of the links on this page then we'd be happy to help you set up and achieve these results completely free. Wondering why we don't have a perfect score? We have one render blocking CSS file (we left it because we need it, for now) and the leverage browser caching issues are with Google Analytics (for tracking). If you go to a post, then the score will drop but only due to Adsense adverts.
SociallyViral Theme PageSpeed Insights DeskTop
Here are the results for the mobile version of the test, the same factors affecting the desktop results are true for mobile results. If we removed Google Analytics tracks and Adsense then we'd have 100% on all reports.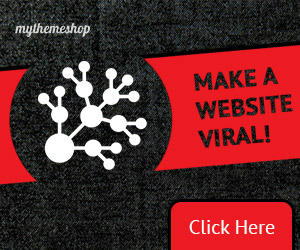 GTMetrix Results
As for testing the SociallyViral theme speed with the GTMetrix page speed testing tools:
SociallyViral Theme GT Metrix FreFox Broadband Connection results
Pingdom Tools Page Speed Results
We tested the SociallyViral theme from two locations using the Pingdom tools website and these were the results:
SociallyViral Theme PingDom Tools Page Speed Test SociallyViral Theme PingDom Tools Page Speed Test
The results speak for themselves. The MyThemeShop SociallyViral Theme is optimized for speed and performance. You can run your own page speed test on the demo page for SociallyViral although you won't get the optimized results that we show in this post as we performed our own optimization after the fact.
SociallyViral Features
No SociallyViral Theme Review could be complete without highlighting all of the features of the theme:
Built-in social sharing button with different styles
Adsense optimized to get more revenue
Social media optimized
Lightweight and fast loading theme
SEO and Speed Optimized
Stylish and colorful social media icons
Responsive design layout
Parallax scrolling features
Powerful option panel
Easy to install and customize
More than 600 Google Fonts
Translation ready
Unlimited background color and shortcodes
Available widgets with different style
Unlimited sidebar
Advance Typography optimized
Ajax Loading
Schema integrated
Retina ready display
Support child theme
Built-in stylish author box
And much more for professional bloggers
SociallyViral Review
MyThemeShop's SociallyViral WordPress Theme is a well-designed and secure WordPress Theme that is great for Professional Blogs and Magazine Websites. You can also use this theme for business, corporate, newspaper, portfolio websites as you can change the look and feel of the theme without losing the features or speed or SEO optimizations. The best part is that the SociallyViral theme can be bought for a very low price of just $69. Get your SociallyViral Download at a discounted price here.
Final Words
Of course, the final choice is yours, you can check out other premium WordPress themes from MyThemeShop and choose the one that's right for you. Or you can purchase all MyThemeShop Plugins/Themes and have access to full support and themes/plugins for a lifetime. Remember, no matter your choice, so long as you purchased the theme via a link on this website, we will be happy to help you optimize it for maximum performance. All you need to do is contact us. If you're looking for a more "minimalist" option built for its authority factor then check out our MyThemeShop Schema WordPress Theme Review.
Disclaimer
This MyThemeShop SociallyViral Review post contains affiliate links, however, all thoughts, opinions found within are our own. We have used and tested this theme on our website for several days before writing. As such, you can rest assured that this is not a sponsored post and we're only trying to help you get the best of the best when setting up your WordPress site (of course, we too have to pay for hosting and the likes) Thanks for your continued support. Images/Sourced via SociallyViral Official Sales Page.