Galaxy S10 sales are getting off to a flying start and, it seems that Samsung has taken the smartphone war against Apple, a notch higher. It's assumed that the newly-launched is all set to give competition to Apple's iPhone XS which was released last year in 2018.
We have put iPhone XS and Galaxy S10 in a head-to-head comparison to see which one wins.
Galaxy S10 vs. iPhone XS: Design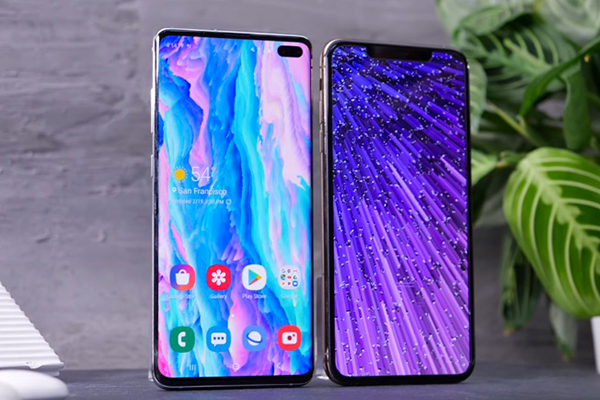 If we talk about the design of both the devices, they are poles apart from each other and, it's notch versus punch-hole.
Apple iPhone XS has a full notch design to accommodate True-Depth front camera. Undoubtedly, it gives you a larger display as well but, for few, it's distracting while navigating. Apart from this, it has a stainless-steel band and glass body that is drop-tested from a height of 11-foot.
Talking about colour availability, iPhone XS comes in Silver, Space Grey, and Gold while Samsung comes in Black, White, Blue, and Green which is a plus-point against the former.
On the other hand, Galaxy S10 boasts a thinner bezel using Samsung's new Infinity-O display. Unlike iPhone XS, S10 has a punch-hole design to accommodate the front camera. Also, Samsung S10 will have 3.5mm headphone jack.
Moving to the back, Samsung has a horizontal camera alignment while iPhone XS has it the other way round.
Galaxy S10 vs. iPhone XS: Display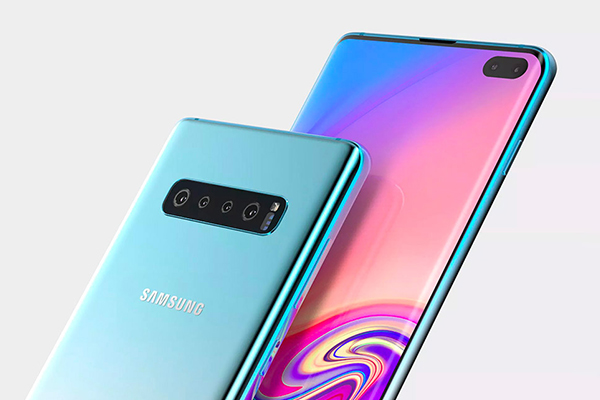 Galaxy S10 boasts a bigger screen than the XS which is again a win-win for it. The device has a 6.1″ display whereas the iPhone has a 5.8″ screen. S10 will have a 2960 x 1440 pixels of resolution, 19:9 aspect ratio, 551 PPI pixel density, and a capacitive touchscreen. For instance, iPhone XS has 1125 x 2436 pixels screen resolution, 19.5:9 aspect ratio, 463 PPI pixel density, and 3D Touch Touchscreen.
Galaxy S10 vs. iPhone XS: Security
We all know Apple is near to perfection as far as Face ID recognition is considered. It,s easy-to-use, prompt, and difficult to fool. Whereas, Samsung uses a fingerprint sensor underneath the display because of Qualcomm's ultrasonic technology. The fingerprint sensor works well and, is pretty responsive.
Galaxy S10 vs. iPhone XS: Cameras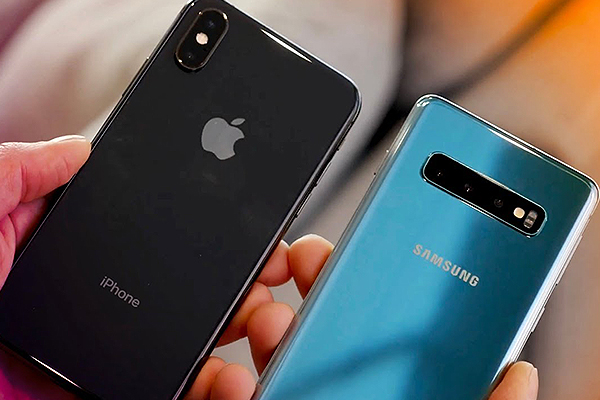 While Samsung has put in all the efforts in their latest launches but, we feel it has to work a lot more on their cameras when competing against Apple. Though both of them have an image resolution of 4000 x 3000 Pixels, there's a significant difference in the output images.
Galaxy S10 has a 10MP front camera inside the punch-hole fixed at top-right corner while iPhone XS has a 7MP camera inside the notch.
As far as back cameras are considered, Samsung has a triple rear camera setup with Dual OIS (optical image stabilisation) technology. The camera has an image resolution of 12-megapixel along with 2PD autofocus, a variable aperture ranging from f/1.5 to f/2.4, and OIS.
iPhone XS, on the other hand, boasts a dual rear camera setup – 12-megapixel wide-angle sensor along with an f/1.8 aperture and another 12-megapixel telephoto secondary sensor along with an f/2.4 aperture.
Galaxy S10 vs. iPhone XS: Specs & Performance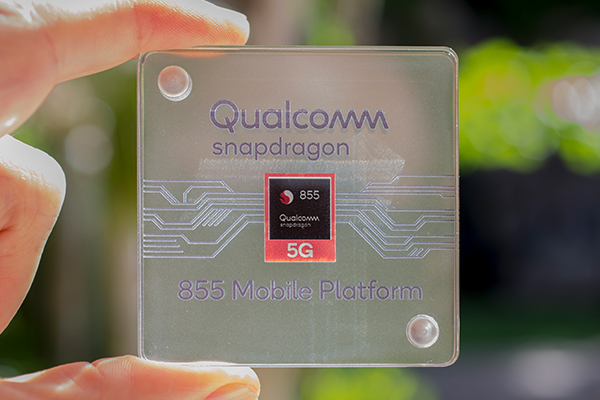 Now, Samsung Galaxy S10 would be the first ever smartphone in the market with Qualcomm's new Snapdragon 855 processor which makes it faster and better. And, this also narrows down the performance gap between Samsung and Apple smartphones.
Talking about the other specs, Apple is available in 64/256/512 GB ROM and 4 GB RAM whereas Samsung S10 comes with 128/512GB ROM and 8GB RAM, which is just the double!
Galaxy S10 vs. iPhone XS: Battery
Competing over the battery, the Samsung S10 fairs well than iPhone XS. The former comes packed with 3300mAh of battery that would last up to 11 hours as compared to the latter one that lasts up to only 9 hours.
Galaxy S10 vs. iPhone XS: Software
Samsung Galaxy will run on Android 9 Pie having one UI on top of it. One UI makes it easier for the users to use the device with single hand and puts more option at the bottom of the screen.
On the contrary, iPhone XS has iOS 12 that hasn't evolved much in comparison to its previous launches but, it offers some of the brilliant features like, Memoji and Siri shortcuts, Group FaceTime, Digital Health Screen, etc.
Galaxy S10 vs. iPhone XS: Price
Galaxy S10 will start from £799 while iPhone XS was launched at £999 in UK. The price difference obviously gives Samsung S10 a cutting-edge over iPhone XS.
The Verdict
Having said all that, it seems Samsung is strong enough to elbow out Apple's iPhone XS. The beast is high on performance, low on price and, that's all users love.
Samsung S10 is worth giving a try at this price range. What do you think? Let us know in the comments section below. If you want to know more about Samsung Galaxy S10/S10+/S10E, read here.