Acer Predator 21X Gaming Laptop Preview: The market for gaming hardware is a real playground for industrial designers. The latest on mainstream products must not be too eccentric, although, with gaming laptops, there are no rules, as long as it stands, looks aggressive and features the latest tech. That thought often extends to the components used, especially in gaming laptops. A regular desktop CPU in a notebook? No problem. Desktop Video Cards? In SLI? Consider it done. Mechanical keyboards? Why not?  Even water cooling is now an option for gaming notebooks. And Acer shows at IFA this year with their new Predator 21X-gaming notebook that the end is nowhere in sight.
Firstly, as the name suggests, the screen has a diagonal of up to 21″, which makes for a large laptop compared to other gaming notebooks. Are you thinking of fitting this in a backpack? The chances are that it won't fit. With nearly 8kg in weight, don't think about dragging this gaming laptop under your arm. And, with two enormous power adapters that can deliver 660W of power together, it is best you carry the Predator 21X in a suitcase on wheels.
Screen/Display
The Acer Predator 21X screen is perhaps the craziest design feature. Namely, Acer incorporates a curved 21: 9 screen, something we have not seen in a laptop. Such a curved ultra-wide display, of course, looks impressive, but we saw that the panel is not quite neatly in the casing; every corner was clearly visible with backlight bleeding as dark backgrounds displayed.
Acer Predator 21X Keyboard
It is not surprising that laptop screens normally are flat because you want a laptop that folds easily. With the 21X, this is not the case: you hit it close, there remains a gap between the two side on the laptop parts. In this instance, however, it might be a plus. It allowed Acer to fit in a mechanical keyboard, using Cherry MX switches.
No concessions are therefore made to the height of the buttons and tapping the 21X is, for fans of mechanical keys, a pleasurable experience. Each key has its RGB LED and using the supplied software you can superimpose a rainbow of colors on the keyboard.
A standard touchpad is not present, probably because there is simply no space under the keyboard. Instead, the trackpad and the numerical keys combined into a single physical block which is recessed adjacent to the keyboard in the housing. On one side are the numeric keys and the other a trackpad with two buttons.
Furthermore, the 21X has all controls and connectors that you can imagine. Both regular USB 3.1 ports as well as ports with the new USB-C connector
, HDMI
and DisplayPort for video output, and an RJ45 jack for wired network.
Hardware
The two massive power supplies from the 21X were particularly necessary to provide the duo GTX1080 video cards
 with enough power. Those components, together with an unknown CPU from Intel's new-generation Kaby Lake mean you should be able to play virtually any modern game
on this laptop. However,  the image resolution is "only" 2560×1080 pixels and not 4k.
From our tests with the GTX1080 in SLI, we know that you can play, with such a set-up, a pretty tough game like GTA V on high settings with more than 130fps. Also, the Predator 21X supports the G-Sync screen, and you will not be bothered by tearing or having to fall back on v-sync and lower frame rates. The 21X clearly has enough power in reserve.
Also in the rest of the hardware choices Acer made is reasonable. So, there is room for four SSDs and are no less than five fans present for cooling. Moreover, you can see one through a transparent panel above the keyboard. Of course with LED lights. The remaining space on the inside houses four speakers and two subwoofers.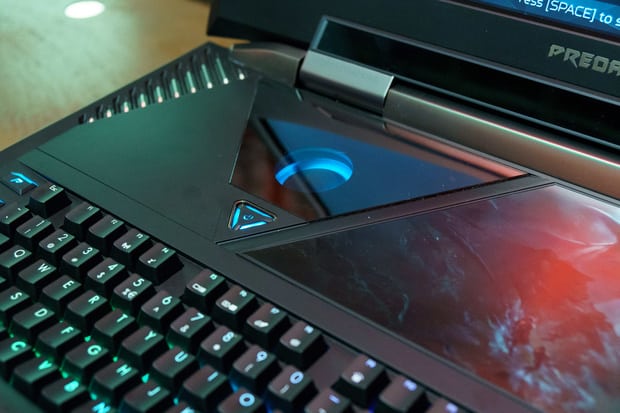 Acer Predator 21X Eye Tracking Technology
Acer worked with Tobii to equip the 21X with eye tracking. A strip below the screen contains infrared cameras and lamps that can recognize the user's eyes.Within a game example, you can move by looking, with your eyes, on the edge of the screen or aim by just looking at where you want to shoot.
Both situations we could try in a short demo of a space shooter. Technically it worked fine, and you can't fool the system for example, by only moving your head while you gaze at the same point. But it is useful? Changing the angle by looking at the edge felt rather clumsy and cumbersome.
Looking at enemies while shooting turned out somewhat intuitive, but we did not feel that it worked better than using a mouse. Perhaps some games use the technique much better. But we were not convinced by this short demo.
Acer Predator 21 X Curved Gaming Laptop with Eye Tracking Demoed
The Acer Predator 21 X has a 21-inch, curved display with a resolution of 2,560 x 1,080 IPS panel. Under the hood is of course also ascended powerfully and so we find there consequently the Core i7 processor from Intel from the recent, seventh generation. For the graph it has 2 (!!) NVIDIA GeForce GTX 1080 graphics cards
and Tobii eye tracking which will get fascinating in gaming when you can just look at the thing that you want to shoot.
Video: Acer Predator 21X 21-inch Gaming Laptop Official Presentation
Acer showing their brand new gaming laptop Acer Predator 21X with a 21-inch display and Nvidia Geforce GTX 1080 SLI graphics. Coming in late 2016.
Conclusion
The Predator 21X is not a laptop that Acer will sell a lot of; it is even questionable whether the laptop will launch in the UK. Judging from the low mintage, complex construction, and fast hardware we would not be surprised if the 21X will cost upward of 5,000 euros.
However, for the majority of people, it will not be worth it. But, if you want a notebook powerful enough to run pretty much everything to come shortly, the little value on portability and just get a kick out of an abundance of features and LEDs, then you are at the right place at the Acer Predator 21X.
As always, thanks for reading, Acer Predator 21X – High End, Ultra Fast, Unique Gaming Laptop Preview here on OrDuh! What do you think? Is Acer's Predator 21X making out to be the next best thing? Also, be sure to check out our Acer Predator 21X Review in the near future.
Also, be sure to check out the Acer Chromebook 14 – Affordable Laptop & the Acer Swift 7 – The Thinnest Laptop. Have a great day!