Are you a social person with time to kill? The internet is a great place to interact with the big wide world. The internet is the place to be for sites such as the best  Random Video Call Websites With Strangers. Read on if you are looking to make new friends with similar interests.
Here at Orduh, we have a list of random video call chat websites for you to make your virtual friendship into real ones. Below we will be sharing the best websites where you can make new friends and meet new people.
Random Video Chat Websites With Strangers
1. Omegle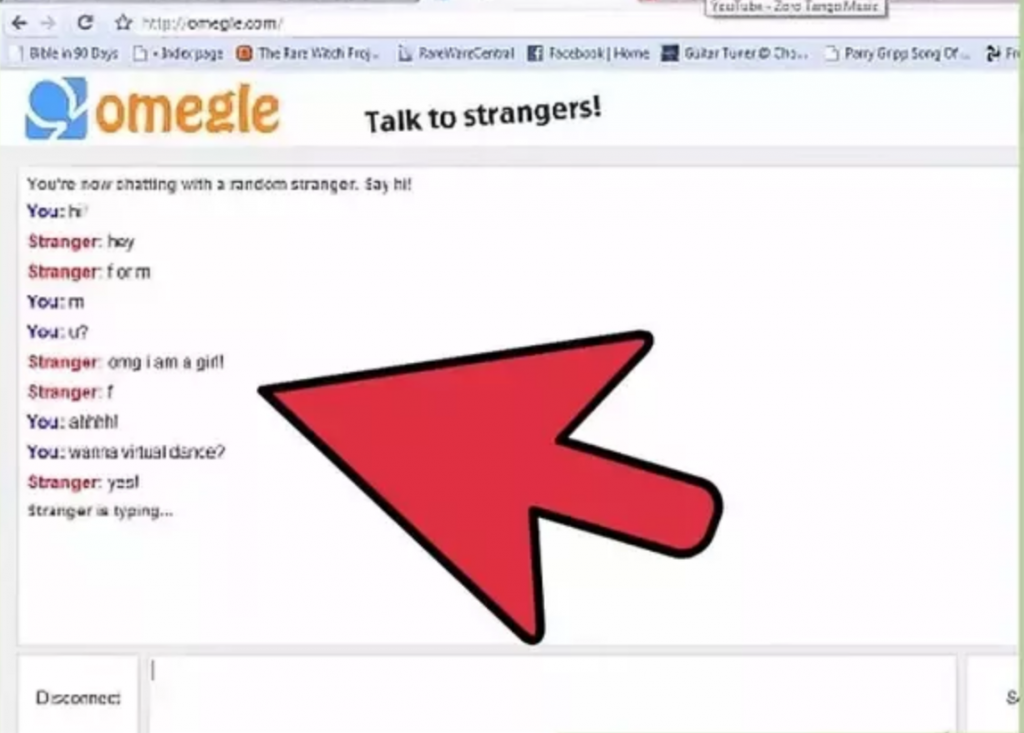 Omegle is one of the best random chat sites available connecting millions of people around the world without the need to register!. The chat offers users the option to keep their chat anonymous and the ability to end the chat at any time. Get started by clicking on the link here.
2. Chathub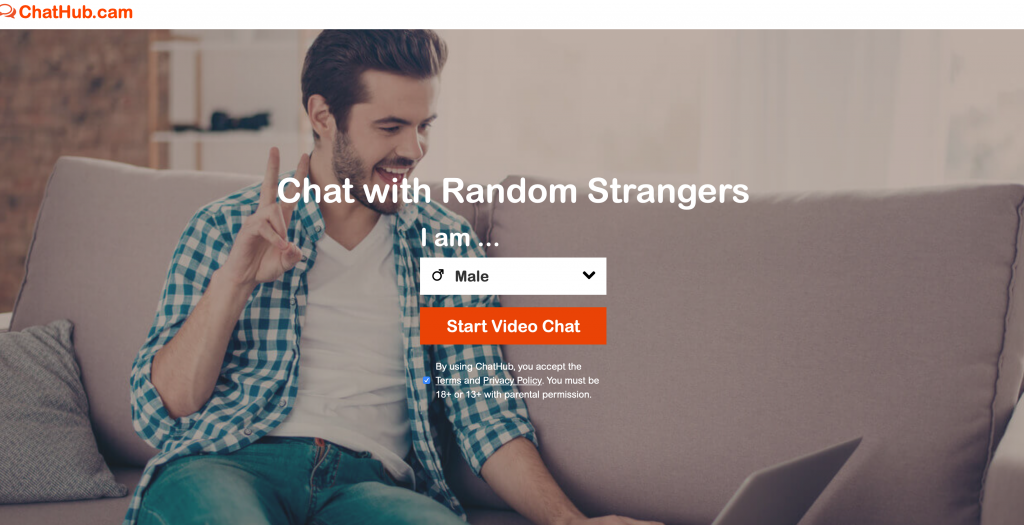 Chathub is an easy to use video chat site. It's undoubtedly the easiest site to get started with. In other words, all you need is to head over to the app or site and select your gender to get started simply as that.
The site gives you the ability to video and text chat with strangers. Again, of course, it is free to get started.
There are no ads within the site which certainly makes it pretty easy to understand.
Join now by clicking here!
3.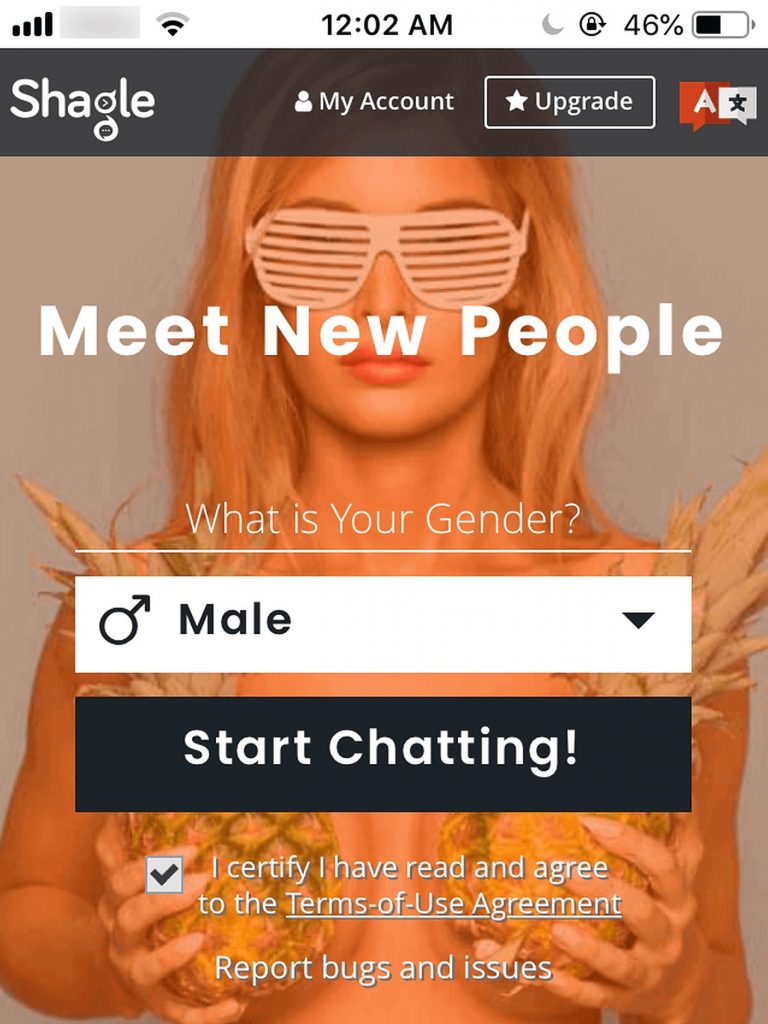 Shangle is a new hidden video chat platform available, unlike any other random video call websites . The site enables you to connect live with cam to cam chats with strangers. As a result of this site its a lot easier to meet new people around the globe.
The site is completely free to sign up to,  as well as that there is no need to set up an account.
Finally, you can chat to strangers through video and text at the same time the site will equally take care of all your privacy needs.
Altogether if this sounds like your cup of tea click here to join now.
4. Flingster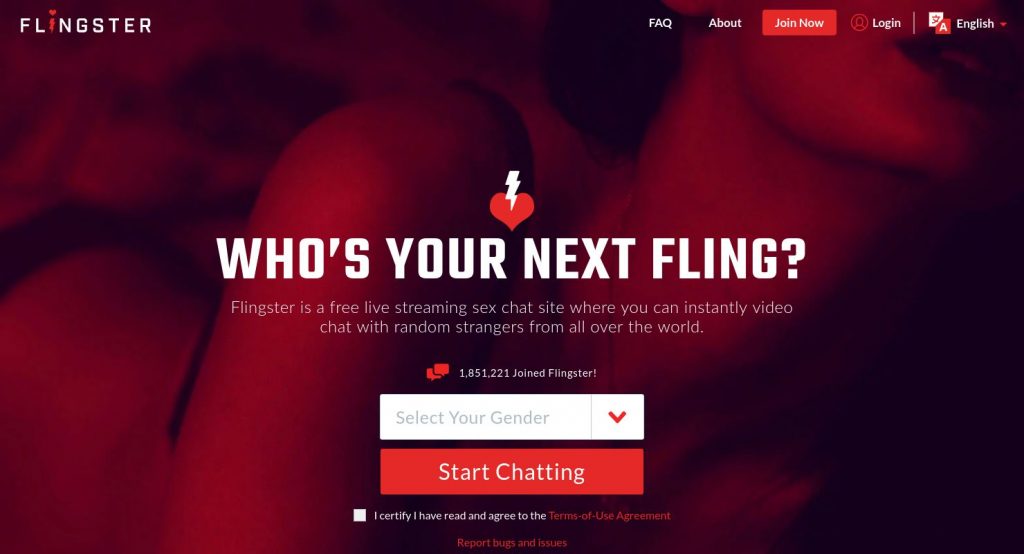 Flingster has grown in popularity, as a result, the site has many new registrations recently. The website is new and free to use with and without registration. Its recommended you great a free account if you manage to make long term friends.
The design of the site is simple to use therefore making it easier to navigate around. Unlike other websites, Flingster is free of ads.
If you'd like to join click here.
5.
Fruzo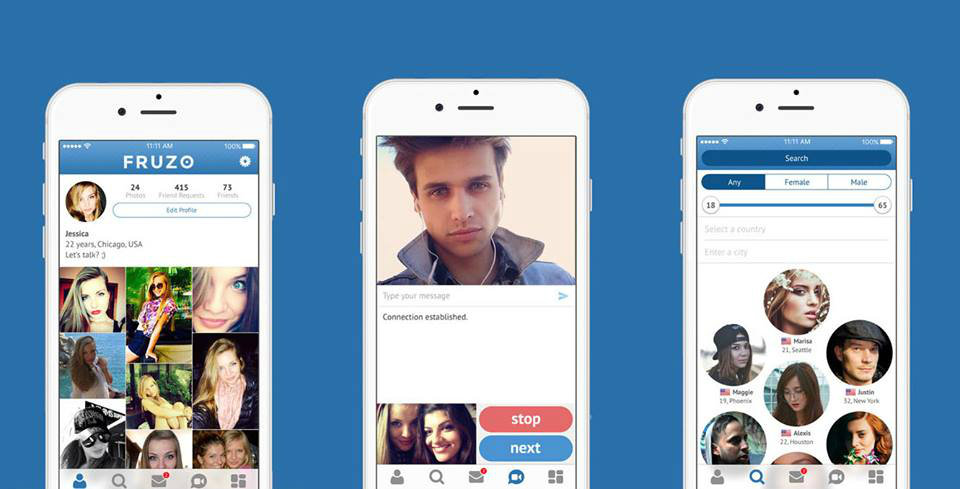 Fruzo is one of a kind dating app. It uses video chat to connect people who are looking to join the dating world. Fruzo is unlike other dating sites and helps you find your perfect match as well as the ability to make friends and video call strangers.
Above all the site is easy to use and no registration is required. Head over to the main webpage and select your gender that's all it takes. Now you can connect to all the random uses available online.
Get started by clicking here.
6.
iMeetzu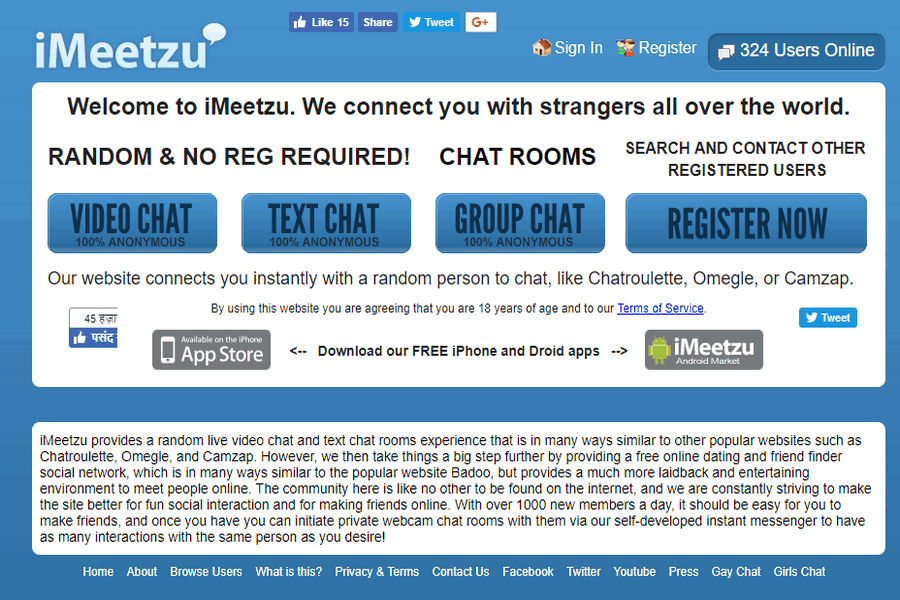 iMeetzu has clearly become one of the most popular random chat room and video chat sites around. The site has a similar concept to Omegle. Additionally, you have some extra key features such as sharing and group video chat.
If you choose to register a free account there are many benefits such as the ability for you to save friends and connect at the best time for you both.
Connect now click here.
7. FaceFlow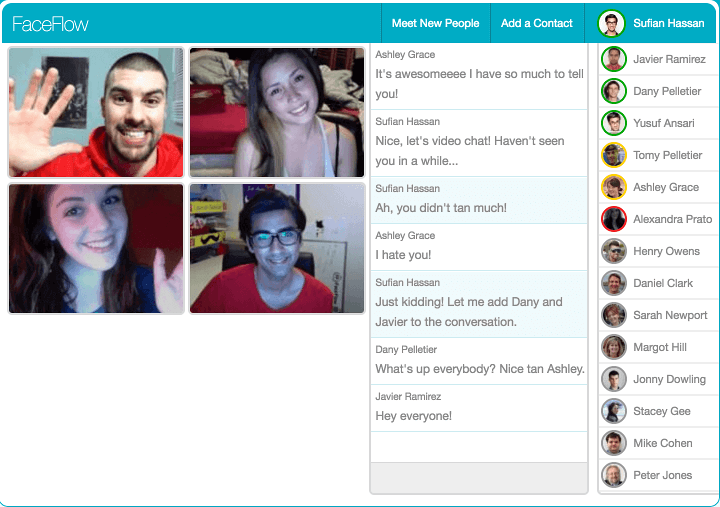 FaceFlow allows you to video chat with your friends and family. Equally, it allows you to meet strangers online.
The website is easy to use you can sign up for an account or use your Facebook account to log in. The website is absolutely free.
Unlike many other websites FaceFlow allows you to participate in group chats this is a feature, whereas this is not widely offered by other websites.
To connect click here.
8.
Camsurf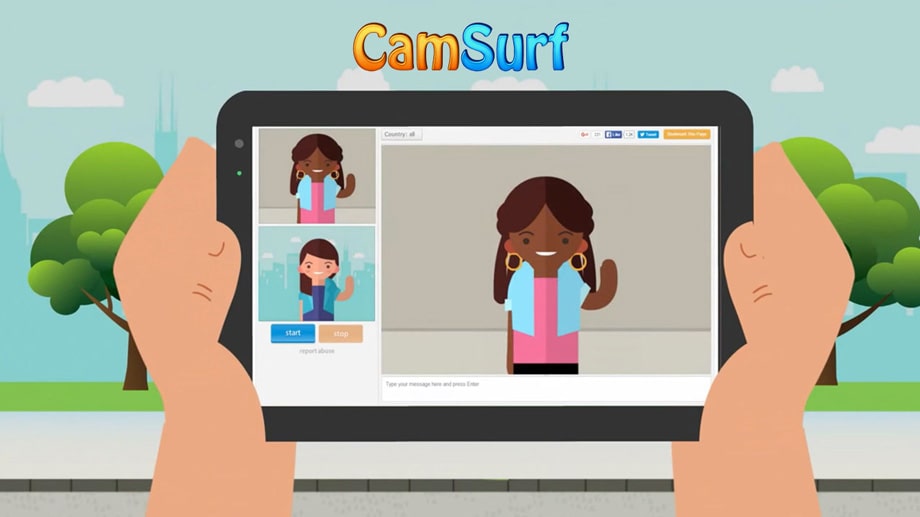 Similarly Camsurf you can connect with thousands of people around the globe. Camsurf has an exceptional community report system making it one of the safest websites to check out.
There's no need to sign up to use the website. Camsurf is also available on Android and IOS and can be used as an app form.
9.
Hitwe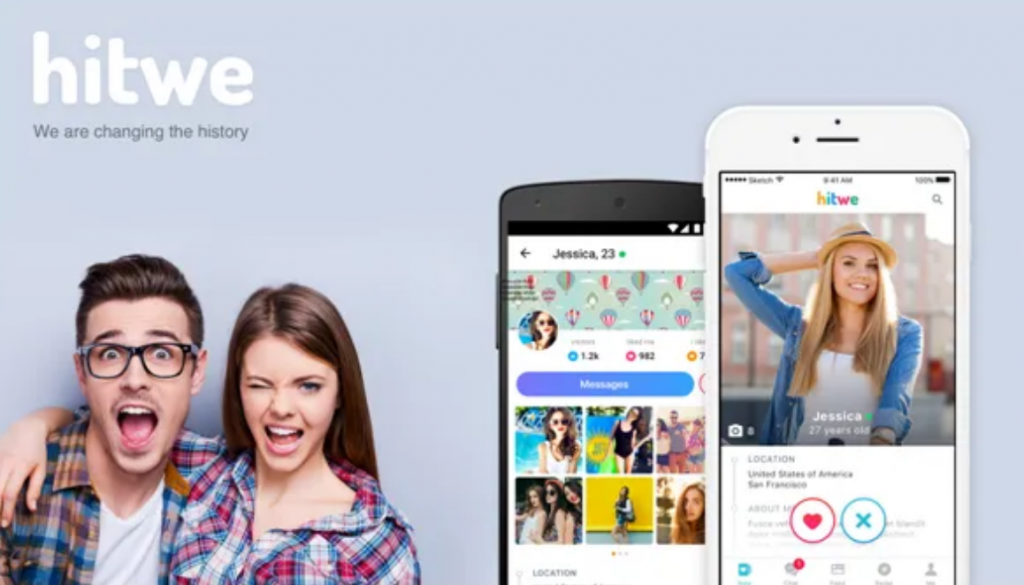 Hitwe is without a doubt one of the top apps available on Android and IOS. The app enables you to connect with your friends and strangers online.
The app is free and quite fast to use. In addition to being able to connect to many strangers from around the world, the app allows you to video chat without any restrictions. The app is forever adding new chat features so stay tuned for new updates.
To download the app click here
10.
Bazoocam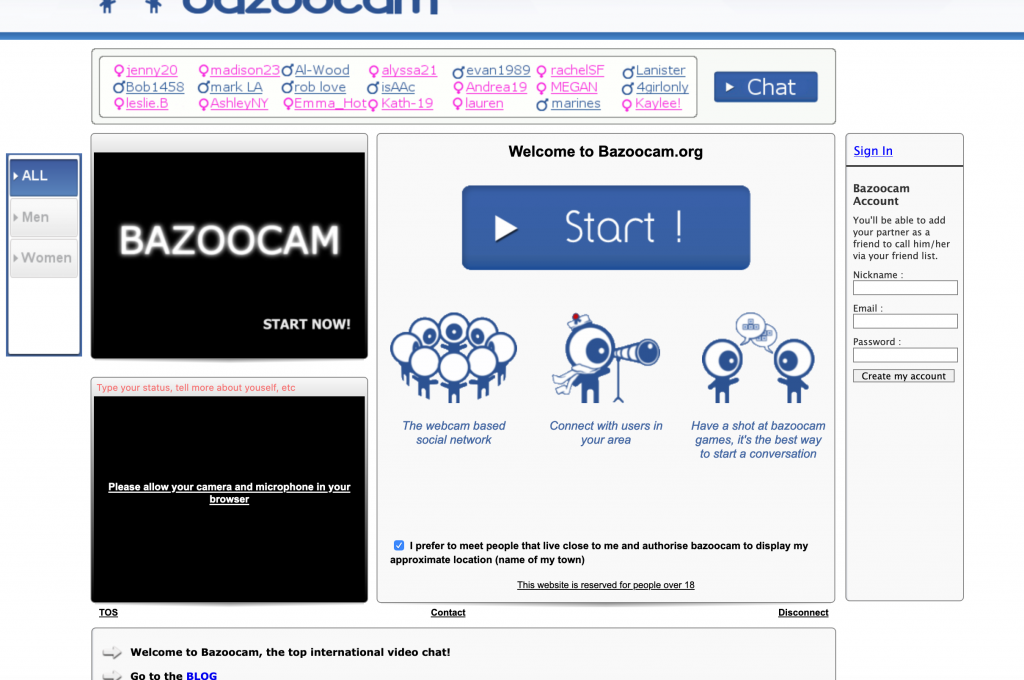 Bazoocam is one of the oldest and without a doubt the most popular website to date. The site enables you to connect to strangers around the world and in your local area. The website is very easy to navigate, just by hitting start your ready to start video calling anyone online.
The main downfall to the website is its interface. As a result of the age of the site, the interface is a little outdated however this does not stop it connecting many users together and is a great option for this.
To connect click here.