Windows logo testing warning, the software you are installing has not passed windows logo testing error message occurs when the Microsoft Windows Operating System discovers a driver that might be incompatible with the OS. The Windows logo testing warning reads, "The software you are installing for this hardware: "hardware name" has not passed Windows Logo testing to verify its compatibility with Windows XP, Vista,7,8."
Did you know? Microsoft Edge is the Windows 10 default browser. There are many new tips and tricks that you can learn to improve the user experience.  Read: Microsoft Edge User Guide
The message alerts the user in an attempt to prevent installations of potentially dangerous drivers. However, the message displays even when users install drivers from trusted hardware manufacturers. If you normally install drivers that Microsoft does not support, then you can disable the message. Try this windows logo testing disable method.
Disable Windows Logo Testing
Right-click "My Computer".
Click "Properties".
Click the "Hardware" tab, then click "Driver Signing" under Drivers.
Click "Ignore – Install the software anyway and don't ask for my approval".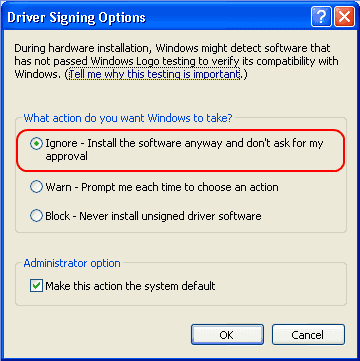 "Has not Passed Windows Logo Testing"  Disable & Fix
When you install Microsoft updates to Windows components, you receive:
The software you are installing has not passed Windows Logo testing to verify it's compatibility with Windows XP. This software will not be installed. Contact your system administrator.
Did you know? Windows 10 is Microsoft's latest OS. There are many new tips and tricks that you can learn to improve the user experience.  Read: Windows 10 User Guide
Causes of the software was tested for compliance with windows logo requirements
Cryptographic Services is disabled.
Database or log file corruption in %Systemroot%System32Catroot2.
Windows files are missing or damaged.
Fix for Windows XP
Right-click My Computer and press Manage.
Expand Services and Applications.
Double-click Services.
Double-click Cryptographic Services.
Make sure that the Startup Type is set to Automatic and that the service is started. If not, set it, press Apply and OK. Shutdown and restart Windows XP and retry the update.
If the update still fails, open a CMD.EXE prompt and type:
net stop cryptsvc
ren %systemroot%system32catroot2 oldcatroot2
net start cryptsvc
Exit the CMD prompt and retry you update. If it succeeds, exit this procedure.
Open a CMD.EXE prompt and type:
sfc /purgecache
When you receive Windows File Protection successfully made the requested change, type:
sfc /scannow
When the command completes, try your update. If it succeeds, exit this procedure.
Perform an in-place upgrade of Windows XP.
Reinstall your latest Service Pack, hotfixes, and updates.
These steps resolve the driver has not passed Windows logo testing error. If you need further assistance, please feel free to leave a comment. Also, if you have any tips, leave them in the comment section below.
Did you know? You can now Remove Action Center from Taskbar Windows 10 and Fix: "Windows 10 Brightness Control not Working". Check out the guide and learn how to customize both these features.