Is your privacy important? Then, you may want to turn off the camera on your Amazon Echo Spot. For whatever the reason, here are three ways that you can disable Amazon's Echo Spot camera.
Settings
Firstly, go to settings.
To do so, swipe down from the top of the screen. Select the Gear icon on the top right side of the screen.
In the settings menu, scroll down and select "Device Options"
Then, select "Camera".
Then, toggle the Camera option to "Off" to disable it (Refer to below image).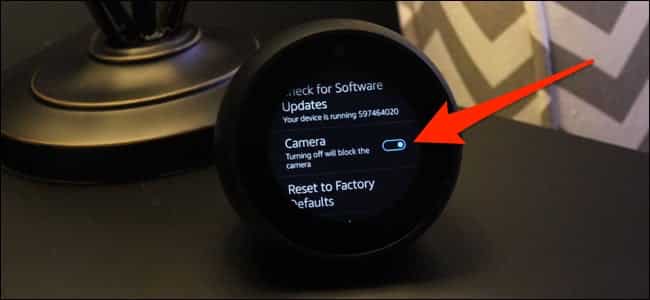 A warning message appears. However, all you need to do is tap the arrow to confirm. alternatively, you can use Alexa.
Alexa
Simply say "Alexa, turn the camera off " or "Alexa, off camera".
Alexa then shuts off the Echo Spot's camera.
Mute Echo Dot Camera
Likewise, you can press the mute button (between the volume up and volume down buttons) to turn off the echo dot camera.
However, this also disables your microphone. Although, when not in use, this may not be such a bad idea.