iPhone X Cases: Got your shiny new iPhone X? I'm sure it cost you a pretty penny. So, why not buy an iPhone X case to protect it from scratches and bumps. There are many cases on the market. Some cheap, some expensive, some with card holders, some glamorous, and some simple. Here, in this article, we list the best iPhone X cases that you can buy.
Apple iPhone X Cases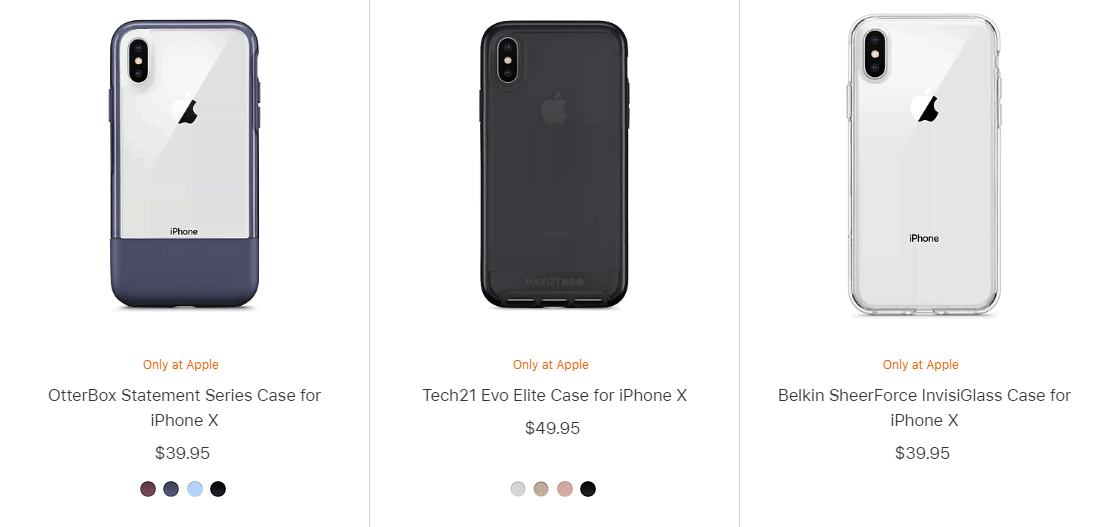 Believe it or not, Apple has some pretty decent cases for the iPhone X. I mean, you'd expect them to, right? Who better to make a protective yet decorous case other than the makers of the actual phone? Here are a few of my favorites (more on Apple Store):
Pad & Quill
Pad & Quill has a business/casual set of cases that are both artistically crafted and durable. These include Pocket Book, Wallet, and Timberline cases. The pocketbook and wallet cases double as cardholders. I particularly like the designs of the following cases:
Speck
Speck is another iPhone case provider that offers a variety of cases of varying designs. Some cases feature subtle colors that add a bit of "Je ne sais pas" to your iPhone. Others are delightfully dreamy with captivating designs and colors. Here are my top picks (with more on their website).
Nomad
We feature a full range of cases for the iPhone X. Whether you are looking for a minimalist case, a folio to replace your wallet, or maximum drop protection, we have a case for you

Built For Adventure – Nomad
Nomad has cases for the minimalist lovers among us. If you're not looking for anything fancy or eye-popping then these cases are for you. The rugged look and feel, not only reflects the durability of these polycarbonate and leathercases, but also the quality.

OtterBox
What list of smartphone cases could be complete without mentioning OtterBox? When it comes to protection, these guys are number one! OtterBox cases are unbelievably shock resistant offering ultimate protection. They come in varying colors and designs so there is something for everyone. Fashionable and truly protective in one case.
You're sure to find tons of options for the perfect iPhone X case when browsing any of the above web stores. However, if you need cheaper/more affordable options, you can check out the budget-friendly iPhone X cases below!
Spigen Neo Hybrid iPhone X Case
The Spigen Neo Hybrid iPhone X Case is easy to fit onto your iPhone X and fits comfortably. It is thin and not too bulky. It also has good grip. So, if you have slippery hands, rest assured that it won't slip out of your hand often. Find it on Amazon for $16. It comes in multiple colors.
iPhone X Case, Thinnest Cover Premium Fit Ultra Thin Light
For an ultra-lightweight iPhone X case, this jet black case by Totallee Fit perfectly and have a premium feel for an affordable price. It comes in red, green, blue and white. However, one thing that may turn you off is that it does not offer much grip. So, not advisable for those with slippery fingers. Get it for about $17 on Amazon.
iPhone X Case, X-Doria Defense Shield Series – Military Grade
For robust protection, go with the iPhone X Case, X-Doria Defense Shield Series – Military Grade case. For around $30, you get a case that protects the front of your iPhone X with a raised rubber bumper. The back camera also has a raised rubber around the lenses. It offers a comfortable grip and, of course, it passed military grade drop tests.
Spigen Rugged Armor iPhone X Case with Resilient Shock
It costs around $12 on Amazon. Its a solid case without all the bulk. It fits snugly around your iPhone X and offers wireless charging compatibility. It comes in black and blue and preserves the Apple logo on the back.
These iPhone X cases make for great gift ideas and many go on sale during the holiday season, Black Friday, Cyber Monday etc.