Are you tired of seeing interest-based ads from Google? Did you even know that there is a Google ads preferences opt-out page? It allows you to modify your Google ad settings. In this article, we explain how to opt out of Google ads and stop personalized ads from several other ad networks.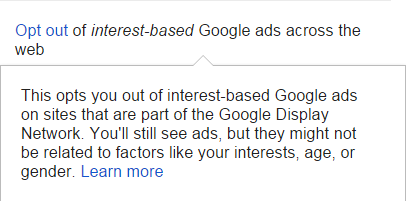 How Does Google Collect Ad Data?
To personalize ads, Google collects data on:
Your location, age, and gender.
The interest you show in content.
Interaction with the content your browse.
They monitor your browsing pattern.
Collect data on your App usage.
And, your intent to purchase.
Opt Out Of Google Ads Via Google Account
Then, click Ad Settings.
On the page, select Manage Ads (alternatively, you could go to google.com/ads/preferences).
Here, next to Ads Personalization, click the toggle.
Finally, on the page that appears, click TURN OFF.
You may want to read,
How To Turn Off OK Google
Use DoubleClick Opt Out
As a backup method and a way to improve upon the first, you may also use the DoubleClick opt-out extension. The extension disables interest-based ads.
Again, go to your Google Account page.
Then, select Ads Settings.
After, click Manage Ads Settings.
On this page, scroll to the very bottom and click DoubleClick opt out extension.
On the page that appears, click Download the advertising cookie opt-out plugin. See the below image.
Opt Out Of More Ads Via Google Ad Settings
Once you click Opt Out Of More Ads, it takes you to the Digital Advertising Alliance Consumer Choice web page. Here, select the All Participating Companies tab, tick the box next to Select All Shown and then Click Submit your choices. Also, there are other ads preferences and settings on the page that you can customize to your desire.
By using the steps above, you can reduce targeted ads and limit ad tracking. However, please be aware that the above steps in no way do the following:
Disable all ads.
Stops other (Facebook) companies ads.
Opt you out across multiple browsers or computers at once if you're signed out of your Google Account
Question And Answer Section
How To Remove Google Ads Permanently?
The most effective method is to use an ad-block extension like AdBlock Plus. However, please consider enabling the extension on dubious websites. For an informational site like ORDUH, consider whitelisting the site as most operational revenue comes from adverts. Here's how to turn off your AdBlocker on ORDUH.
How Do I Get Rid Of Ads From Other Ad Networks?
For this, use web-based tools like aboutads.info and networkadvertising.org. However, you need to do this on every browser and device where you want to stop personalized ads. Also, if you clear your browser cache and cookies, you need to redo the steps.
How Do I Stop Ads On My Android Phone?
Firstly, open the settings app on your Android phone.
Then, scroll to the Google section.
Tap Google.
Then, under Services, tap Ads.
Lastly, tap the toggle next to Opt out of Ads Personalization to turn off personalized ads.
How Do I Stop Ads On My iPhone?
Download a Content Blocker from the App Store.
Open the Settings app.
Go to Safari > Content Blockers.
Enable the blocker of your choice.
Likewise,
Go to Settings.
Then, select Privacy.
Under Advertising, tap the toggle next to Limit Ad Tracking.
You might also like,