Night Sight Mode, a Google initiative revealed at the Pixel 3 and Pixel 3 XL unveiling, finally makes its way to all Google Pixel smartphones this week. The feature which improves picture quality in low light conditions will come via an update to the Camera app. However, Google notes that the feature will work a bit differently depending on which Pixel smartphone you own.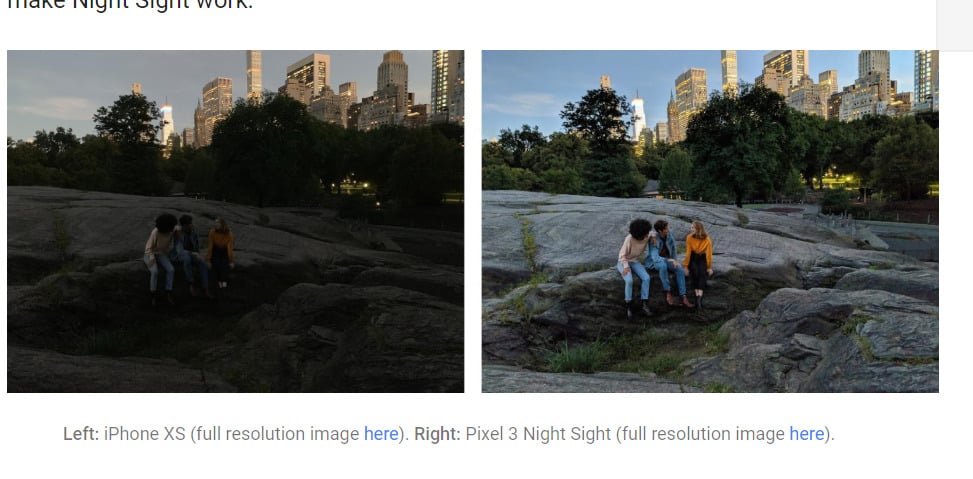 Night Sight works best on Pixel 3. We've also brought it to Pixel 2 and the original Pixel, although on the latter we use shorter exposures because it has no optical image stabilization (OIS). Also, our learning-based white balancer is trained for Pixel 3, so it will be less accurate on older phones. By the way, we brighten the viewfinder in Night Sight to help you frame shots in low light, but the viewfinder is based on 1/15 second exposures, so it will be noisy, and isn't a fair indication of the final photograph. So take a chance — frame a shot, and press the shutter. You'll often be surprised!

Night Sight: Seeing in the Dark on Pixel Phones
Be sure to check for an update to your Pixel's camera app via the Play Store.  For more information on the exciting new feature go to Google | Google AI Blog.