Are you looking for the perfect home wireless system? Well, look no further! Today, we take you through the pros and cons of the eero wifi router. A complete high-speed wireless system for your entire home. Do you want to learn more about the eero router? Then, let's get to it!
What do you learn? We discuss the features, set-up, and reliability in our eero router review. Additionally, we offer an eero vs. luma comparison to help you decide between these two wifi systems.
UPDATE: eero 2nd Generation 2018
Since writing this review way back in 2016, the guys over at eero have improved product. They now have a second generation eero. Here's what you can expect.
The new generation eero features a second 5GHz band and supports MU-MIMO data streaming and beamforming.
The Eero is an 802.11ac router capable of throughput speeds of up to 240Mbps on the 2.4GHz band and up to 600Mbps on each of the 5GHz bands.
It works with Thread-enabled home-automation devices, such as door locks and sensors, lights.
Moreover, it now works perfectly with Amazon Alexa, allowing you to do things like pause internet access, turn off LED lights, and even find your phone, using voice commands.
The beacons are now smaller. They feature an LED light on the front and a built-in night light. You can also plug them directly into any wall outlet.
There's a new service called eero Plus. It allows you to further secure your network and set up website access control to safeguard your family/children while they browse the web.
Furthermore, you can perform a speed test via the app dashboard to check just how fast your WiFi is while using eero.
All these enhancements are most welcome and provide a faster, more secure network for your home. The eero is still a great choice if you want to improve your network speeds and security.
What is Eero WiFi?
According to their website, the eero home WiFi system, named after Eero Saarinen, is the first of its kind. You receive a set of three eeros to spread throughout your home. (See images below). These eeros work together to provide ultra-fast, super-stable WiFi throughout your entire home. Set up is simple. The wireless network is easy to manage. Furthermore, eero regularly adds new features and improve performance.

Design
The eero wifi router has a compact and robust design. A white square-shaped device 5.5 inches. The only defining markings being the eero logo and single led light at the forefront. At the back, there exists a USB port, power port, and two wired connection ports. A typical router look and feel.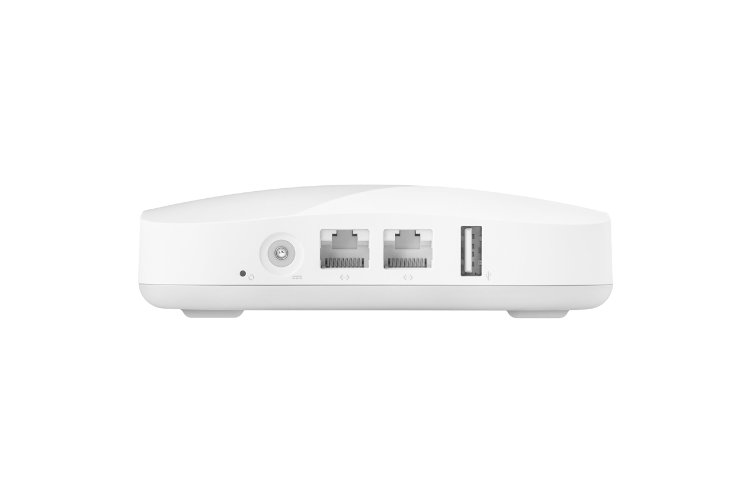 Features
This simple yet elegant wireless router features easy setup, easy wifi management, and a reliable security system. Firstly, we discuss the configuration process for the eero. Secondly, we talk about managing your wifi connection via the eero app. Lastly, we take a look at some of the security features f the eero router.
Set up
Setting up your eero home wifi system is simply the easiest thing to do. Connect your eero to your modem. Download the eero app for your smartphone. The app helps you decide where to place additional eero routers throughout you home. Also, the app prompts you to name your network. You may use any name you want.
Additionally, for maximum performance, it is best to setup each additional eero within sight of the others. Therefore, place each other  Eero within sight of the previous one. Is this setup not possible for your situation? Then, be sure to set them in locations with as few intervening walls or floors as possible.
Plug each additional eero into a power outlet. Moreover, only the first eero needs a wired network connection. Also, each eero supports ethernet jacks. When do you plug additional eero capsules into your ethernet jacks? More than likely when you set them up more than 40 feet apart from each other.
Video: Setting up your eero WiFi system
Do you already own an eero wifi system? Take a look at this short video tutorial to learn how to setup the eero system. Note that it typically takes three eeros to provide coverage for most homes. Each eero provides high-speed wifi connections no matter where you are. Eero claims to eliminate buffering and do away with dead zones.
Managing WiFi via eero App
To manage the wireless connection, download the eero app. With the app, you manage the entire wifi network. You can see connected devices. Also, the app lists the connection speeds of your WiFi. For iOS users, download the eero app here. Meanwhile, Android users may download via the Play Store. Are you a Luma user? This app is similar to the Luma Home WiFi System app (more on this later).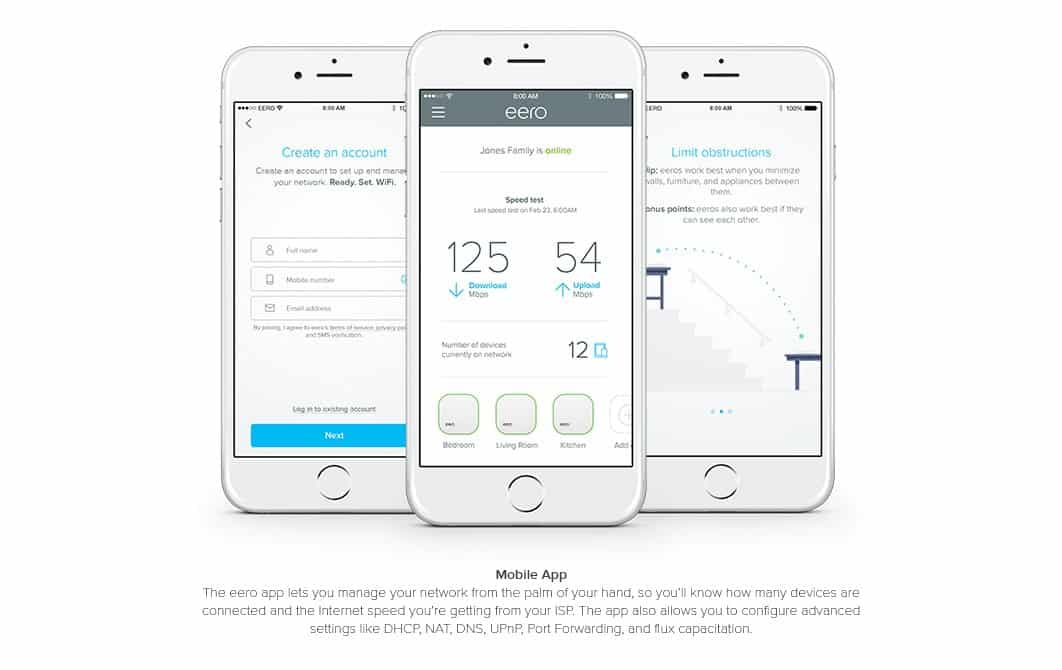 Additionally, the eero mobile app allows you to configure many settings on the go. Settings include DHCP, NAT, DNS, UPnP, Port forwarding & more.
Security
Regarding safety & performance, the eero system receives timely updates. These updates download and install in about a minute. As new features, security patches, etc. become available the system automatically updates.
What you get with the eero router
In the box: WiFi system (3 eeros), power adapters (3), Ethernet cable, quick start guide
Processor, memory, and storage per device: 1.0GHz dual-core processor, 512MB RAM, 4GB flash storage
Security and networking services: WPA2 personal wireless encryption, DHCP, NAT, VPN passthrough, UPnP
Wireless Connectivity: Dual-band WiFi radios, simultaneous 2.4GHz and 5GHz wireless, 2×2 MIMO, IEEE 802.11a/b/g/n/AC, Bluetooth Smart
Wired Connectivity: Dual auto-sensing Gigabit ports for WAN (cable or DSL modem) and LAN (networked device) connectivity, USB 2.0 port
Electrical and environmental requirements: 100-240V AC, 50-60Hz
Why Is eero Better Than A Single Router?
So, you set up a single router. Now, you move to your bedroom however the router is in the dining room downstairs. What happens to the signal? You guessed it. Signal quality is not as reliable as if you were in the dining room.
Think of it as playing music from a single speaker located in your kitchen. What happens when you move to another place? Yes, the sound quality reduces. The same applies to your internet connection (wireless). To demonstrate, check out the image below.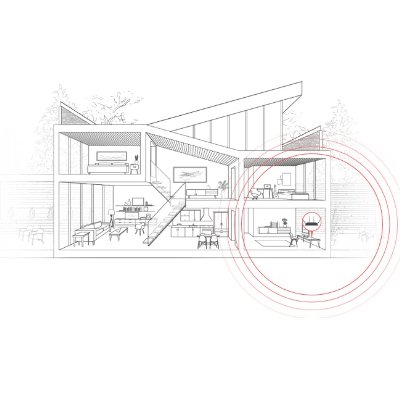 WiFi waves don't go through walls well and have an even harder time climbing stairs. Ever tried to stream a show from your bedroom when your router's in the office downstairs? It's a buffering nightmare. Eero fixes these issues. How?
Right, with the eero router setup, you set up multiple access points. Similar to what companies do in their office buildings.  We're not businesses, right? We don't have the resources to purchase such systems. However, the eero home wireless network allows us to do just that.
With eero, you plug one eero device into your modem. Additionally, the other eeros only need power from a standard outlet.
Each additional eero automatically connects to each other to create a single wireless mesh network that covers your entire home. Do you have Ethernet wiring? Then, you can also choose to hardwire your additional eeros.
More than likely, three eeros can cover the typical home. However, you may start with one and add additional eeros depending on the size of your home. To illustrate this, view the image below.
eero Router Review
So, just how good is the eero wifi system? We say it's pretty darn good! Take a look at a range extender. Even with a range extender, most existing routers support only a "single hop". Needless to say that data only makes one jump from the primary router to the range extender.
Then, the data jumps on to a device like an iPhone. Eero's mesh network allows data to make multiple hops with a minimal signal loss. Consequently, you always have a secure & fast connection.  Have a look at the video review below to understand just how the eero home wifi network works.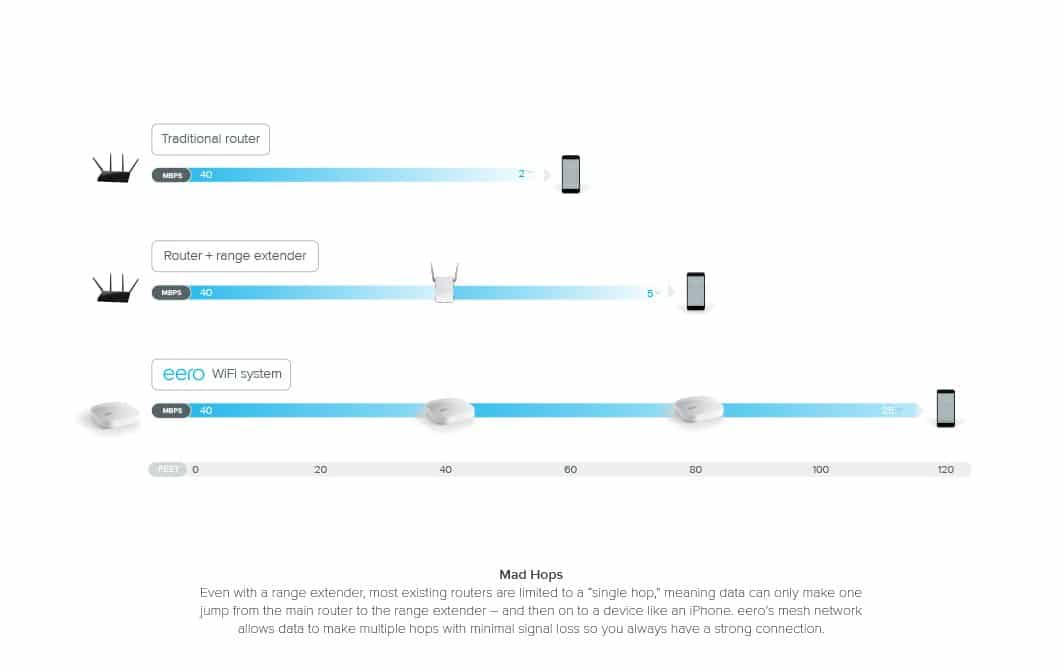 Video Review: eero Review
Pretty awesome right? The eero is available on Amazon for $499.00 (3-eeros), $199.00 (single eero), and $375.95 (2 eeros). Compared to the Luma router setup, these prices are a bit higher.
The single pack luma retails for $149 on Amazon. Furthermore, an additional Luma capsule racks up the price to about $300. Meanwhile, the Luma Home WiFi System – 3-pack costs $399.
When will the eero router ship? If you're concerned about the eero wifi router shipping date, rest assured that regular shipping is available.  Also, if you're an Amazon Prime member, you can get 2-day shipping. There's a free 30 trial of prime for you here.
Video: Eero Setup & Review
What's the difference between the eero & Luma? Yes, I knew you would ask that! Luckily, there's an excellent comparison in our dedicated eero vs luma article. Of course, you can also read our Luma review.
Video – Tested: Eero Wi-Fi Router and Extender
We test a the Eero router system that attempts to eliminate the worry of Wi-Fi dead spots by building a mesh network of hotspots that work together as one seamless wireless network.
The Eero does what it promises, but may be too simple for power users who need to heavily configure their network settings.
What We Don't Like? Eero Cons
If you disconnect your eero from the internet, then, the app is useless. We're not sure why, but it's something that developers can improve. And, while the app prominently displays a speed test, unfortunately, it never changes as you move through the house.
Eero explains that it shows the speed coming into the house. However, it does not display the speed your laptop or phone receives within the house. Another area that the creators of eero can address.
Conclusion
Are you looking for a reliable WiFi Range Extender? Then, the eero does the job of the best extenders on the market. Furthermore, with the intuitive application, monitoring & maintaining your home's WiFi is easier than ever.
Additionally, with the eero, you can provide access to you wifi connection without knowing your password via the app. Only send a text or email to the device that needs setting up. And, despite minor personal biases. The eero router is an excellent choice for your home wireless setup.
The eero is available on Amazon for $499.00 (3-eeros), $199.00 (single eero), and $375.95 (2 eeros). Thanks for reading, Eero WiFi – Eero Router Review on OrDuh! Be sure to share the post and your thoughts in the comments below. Also, for further information on eero, check out the official website. And, for alternatives, check out Netgear's Orbi and Google WiFi.