College is a challenging time for most young adults. That's why we're here to help with the best laptop backpacks for college students. It might seem trivial but choosing the right backpack could save you money and trouble down the road. These undeniably savvy and fashionable bags are a surefire way to carry your books, food, laptop, and other gadgets with ease.
So, what do you look for in a kick-ass bag for college? Well, the best bags will have some sort of water resistance, adjustable straps, a ventilated back and lots of compartments and space. No matter the occasion, your college bag should be glamorous as well as useful. Make a fashion statement with these laptop bags for college students.
JanSport Right Pack Laptop Backpack For College Students
If someone were to ask me what are the best backpacks for college students? I'd immediately say JanSport. There's no denying that JanSport is a popular brand when it comes to school bags. That's why they are at the top of the list. Not only for their popularity but for their durability. JanSport's long-lasting backpacks could save you money on a budget during your college days.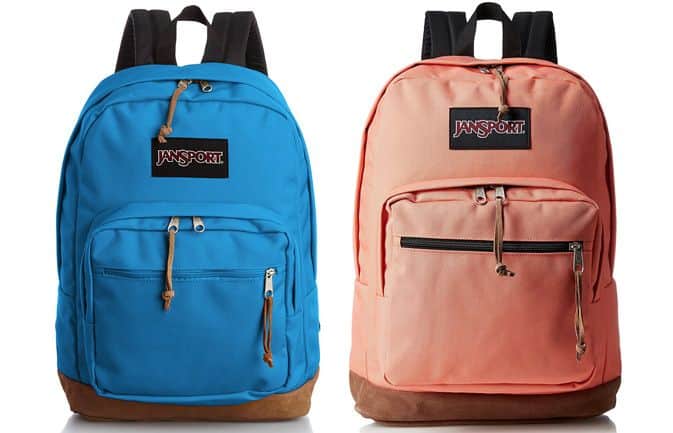 The JanSport Right Pack Backpack features:
Front pocket with electronic specific organizer.
An internal padded sleeve provides protection for a 15″ laptop.
One large main compartment.
A soft tricot lined tablet sleeve for storing your iPad.
Suede leather bottom and premium Cordura® fabric for superior durability.
Thick padded shoulder straps for maximum comfort when carrying heavy books and more.
This subtle yet fashionable backpack comes in a variety of colors. So, there's something to fit everyone's personality. And, if you want to feel exclusive, the suede leather bottom is an exquisite touch. Here are my favorite colors:
Right Pack Digital Edition Laptop Backpack – Blue Jay – $65
Right Pack Digital Edition Laptop Backpack – Grey Heathered Poly – $65
Right Pack Digital Edition Laptop Backpack – Vector Stripe – $65
Also, what I like is that JanSport offers free shipping and returns on orders over $27 and they have a lifetime warranty. Hence, if it turns out that the bags aren't to your taste, you can always return it.
And, if you prefer, you can also purchase the bags on Amazon. Although, you miss out on the benefits mentioned above if bought directly through JanSport.
Herschel Supply Co. Heritage Backpack
Possibly the next most popular backpack for college students are those sold through Hershel Supply Co. These bags are extremely compact and neat in their refined and minimalist design.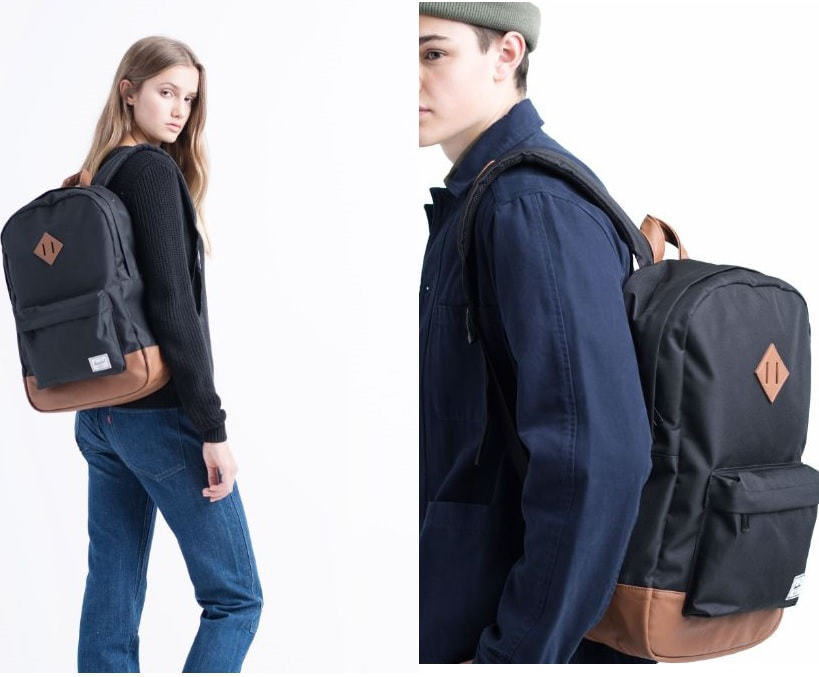 However, don't be turned away by its size. The Heritage Backpack can fit a 15″ laptop with ease. And, there's still room left over to fit your electronics, books, and other necessities. Here are some of the features:
A signature striped fabric liner.
Pebbled leather zipper pulls.
Single front pocket with key clip.
Classic woven label.
Just like other laptop backpacks featured on this list, the Heritage Bag comes in several different colors. So, if the traditional black and brown colors don't fancy you, rest assured that there are other dazzling colors from which to choose.
ThinkGeek Backpack of Holding
Here's an honorary and affordable mention, the ThinkGeek Backpack of Holding. I know. Sounds like something out of a video game. But, I kid you not. The bag costs just $50 and promises to hold just about any and everything. Then again, ThinkGeek is known for some funky designs and features.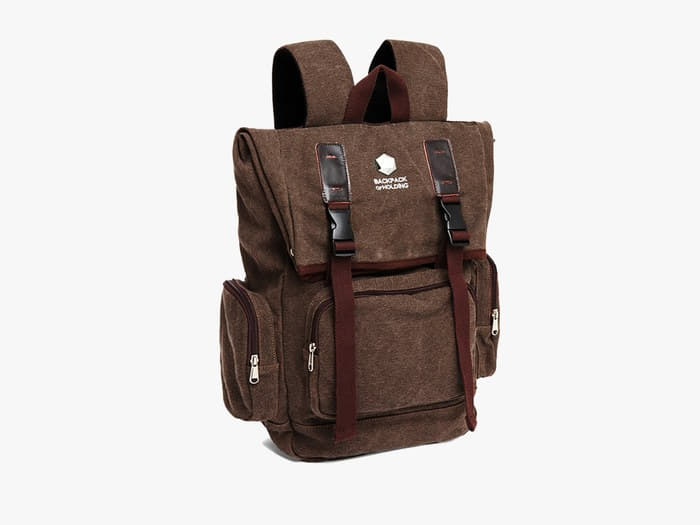 Brown canvas backpack, designed and made by ThinkGeek!
Chrome d20 badge with "Backpack of Holding" proudly printed on the flap.
2 3/4″ wide shoulder straps with mesh back for wicking adjust from 19″ to 36″.
Top handle for easy grab-and-go.
Flap doubles as top of bag & can be unfolded to bring bag up to 2 ft. tall.
Flap closes with 2 leather-reinforced, nylon quick-release buckles.
Snaps on side of flap keep it in check.
Edges of flap/bag reinforced with bias tape.
Incase City Compact Backpack
Incase's laptop bags cater to those students who want to be sure that their laptops remain safe while traveling to and from college. This laptop backpack can hold a 17″ MacBook in its 360 degrees padded laptop compartment.
Protect, organize and carry your MacBook and other essentials in our stylish full-size laptop backpack. The City Compact Backpack features 360-degree padded laptop compartment, quick-access pockets, and padded shoulder straps.

Incase
What's more is that it also features a smartphone compartment to hold and protect your smartphone. These bags aren't cheap. They cost $99 and up. But, for premium quality and design, it's well worth the cost. Although, I have a feeling that the price is that way because they seem to cater more to Mac & iPhone/iPad users. Here's where you can purchase/check them out:
Incase Website – $99.95
Nordstrom Website – $129.95 
Amazon – $74.99 (depending on the color you choose)
Solo – Urban Convertible Laptop Briefcase Backpack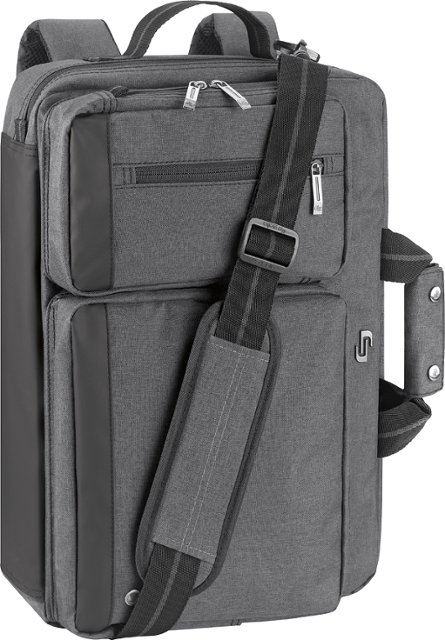 Take your essentials on the go with this Solo Urban UBN310-10 briefcase that easily converts into a backpack for flexible use and features a padded compartment designed to protect most laptops with up to a 15.6″ display.

Best Buy
Fits most laptops with up to a 15.6″ display for a proper fit.
Padded compartment.
Helps defend your laptop against damage.
Zippered front pockets.
Along with back strap storage offer space for stowing accessories.
Zip-down front organizer section provides easy access to stored items.
Removable, adjustable shoulder strap.
Allows easy personalization. Padded backpack straps enable comfortable carrying, and carry handles offer an additional transport option.
Polyester and nylon materials for durability.
Convertible design – enables use as a briefcase or backpack to suit your needs.
You can find this bag on Best Buy's website for $49.99.
Briggs & Riley Kinzie Street Small Wide Mouth Backpack

Ok, so you want to make a subtle fashion statement. The other bags are too 'casual' for you. You need something that says "I'm ready to start a career"! But, are you willing to pay the price for it? If you are, then the Briggs & Riley Kinzie Street Small Wide Mouth Backpack is the laptop bag for you.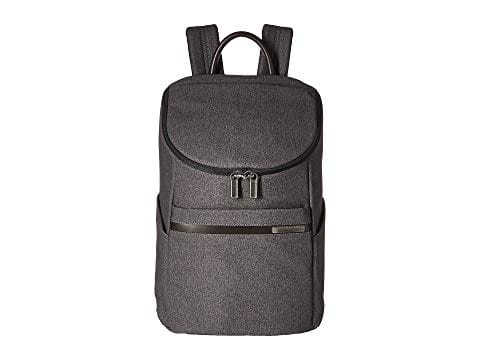 While not as 'utilitarian' as the other bags on the list, it offers a more business casual style. For $249, it's a laptop bag that could last you through all 4 years of college. It is water-resistant, has a laptop compartment, and other small pockets for storing headphones, pens, and other "school" stuff or even a passport. So, if sophistication and fashionable are things that come to mind when choosing your college backpack, here's what the Briggs & Riley bag offers:
Made of Briggs & Riley's signature Proprietary Tartex™ a unique, embossed, coated fabric that provides durability and moisture resistance.
Leather accents throughout.
Zip closure.
Top carry handle and padded backpack straps.
Front zip pocket with internal organization and two side slip pockets.
Side pockets are lined to protect from water, ideal for storing a water bottle or an umbrella.
Interior features a padded tablet slip pocket and an additional RFID pocket.
Rear panel features generous aerated, mesh padding as well as a hidden RFID zip pocket.
Knomo London Albion Leather Laptop Backpack

It's not unusual to walk around campus with a 100% leather bag, right? I don't think so and neither does Knomo London with their Albion leather laptop backpack.
It costs $199 or 4 interest-free payments of $49.75 on the Knomo website. They offer free shipping on orders over $50 within the U.S. For UK shoppers, they offer free delivery on all UK order and a two-year guarantee. Here are the features:
7″L grab handle; padded ergonomic shoulder straps for absolute comfort.
Zip closure.
1 exterior zip pocket at front; cushioned mesh back panel; gunmetal hardware.
Interior padded compartment for up to a 15″ laptop; zip pocket; organizer pockets.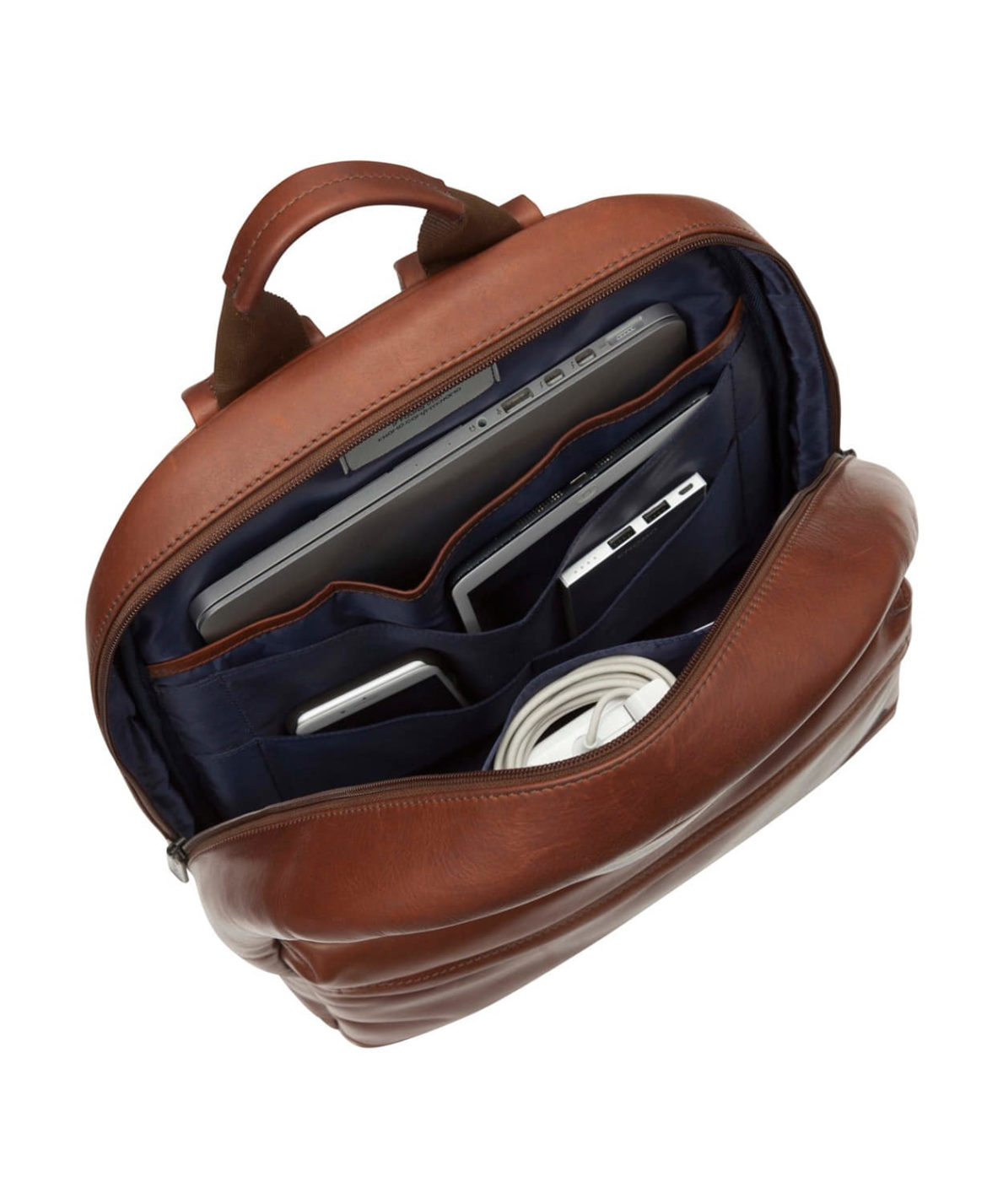 The Albion is the essential city backpack, crafted entirely from full grain leather with a padded 38 cm laptop compartment inside. Experience the most comfortable carry in town with the padded ergonomic shoulder straps and cushioned air-mesh back-panel.

Knomo
Modoker Vintage Laptop Backpack
Here's one for the true fashionistas! The Modoker Vintage laptop backpack features denim and brown leather accents with roomy interior pockets, dedicated laptop pouch, exterior slots for beverages and umbrellas.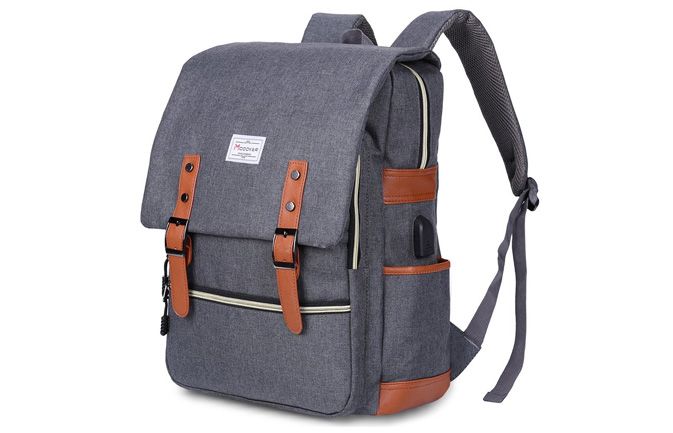 On the straps are honey-comb cushions for extra comfort and a USB port to charge a smartphone. Although, it doesn't come with a charger/power device. The bag is affordable and stylish for just $25.99 on Amazon.
TYLT LifeStyle Power Bag
The Lifestyle Power Bag comes equipped with a 5,200 mAh battery capable of charging your phone or tablet. Easily route cables from one pocket to the other with the built-in cable guidance system.

Lifestyle Power Bag 
The bag features a padded laptop compartment that can fit laptops with screens up to 15.5″. Besides its tech-savvy features, the Power Bag converts into a tote bag by tucking away the straps. It's a bit pricey at $129.99.
Thule Paramount 29L Backpack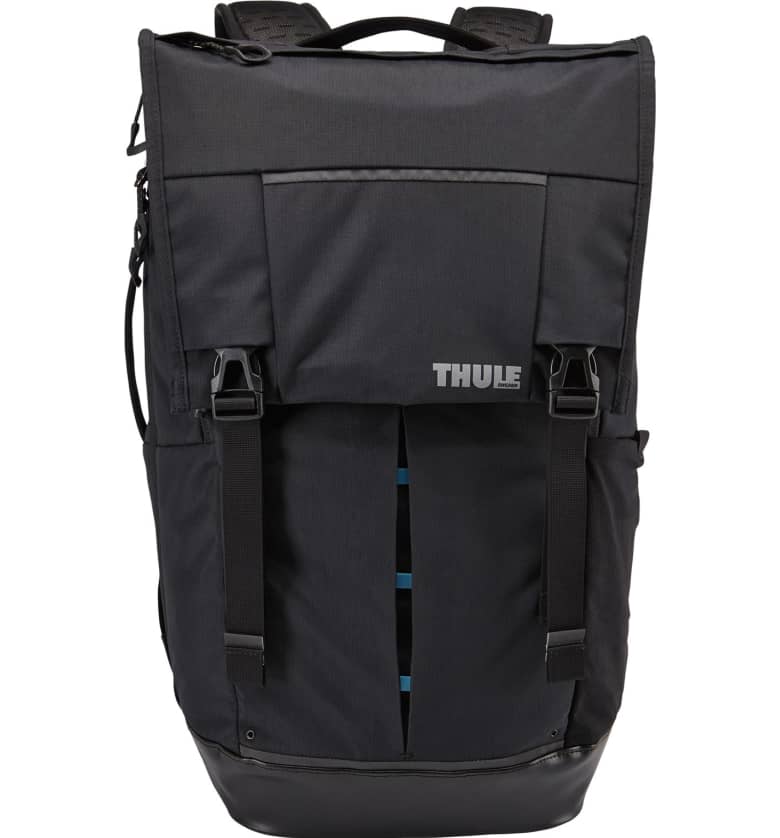 This bag, the Thule Paramount 29L is all about organization. It features a dual zipper system that makes separating and organizing your belongings a breeze. It's made of 100% water-resistant nylon and can hold a 
15″ laptop and a tablet.
Flap closure.
Top carry handle; adjustable perforated shoulder straps with chest strap.
Welded bottom panels.
Integrated daisy-chain attachment system.
High-visibility interior.
Exterior zip and slip pockets.
Interior dual-access SafeEdge padded compartment fits most 15″ laptops; padded tablet compartment.
100% water-resistant 420D nylon.
HotStyle Basic Classic] SmileDay Vintage Laptop Bags for College School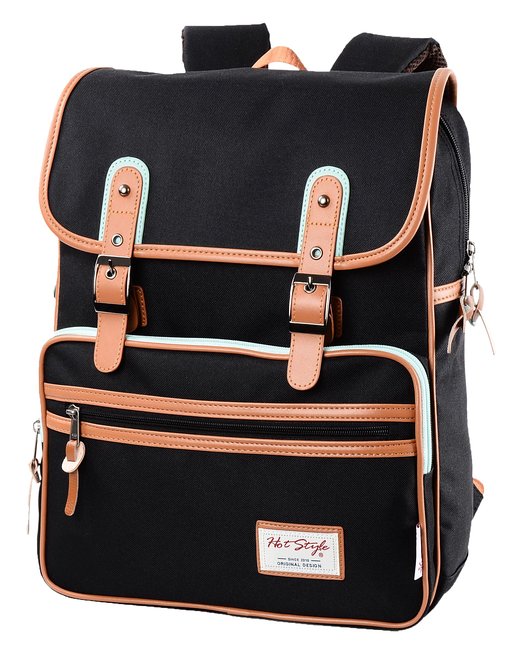 Featuring three colors, Khaki, Black & Sapphire, the SmileDay Vintage bag has two zipper pockets on the front and a large main zipper compartment that stores a thick 15.4″ laptop tablet sleeve. I like it because it has a cute and fashionable look.
But, what I want to mention is that it is one of the most affordable laptop backpacks for college students on a budget. At just about $30 on Amazon. And, while it may be cheap, it can carry a load of up to 20 pounds. Not bad, considering how heavy a student's bag can get. They offer a wide selection on their Amazon store. However, the SmileyDay Vintage is my top pick.
Kaukko 22.4L Rucksack
For a more laid-back yet classy look, the Kaukko 22.4L Rucksack is just that. It easily fits 15″ Laptop & Tablets and still has space left over for your books.
What I like most about the bag is its design that prioritizes comfort. There is padding for your shoulders and back. So, you don't have to carry the heavy load of your books and electronics with totally sore shoulders.
Some variants ship with a free pencil case that matches the color of the rucksack and it comes in over 20 colors. It's affordable at just $39.99 on Amazon with a variety of designs on their Amazon store.
Topo Designs Y-Pack Backpack

The Y-Pack Backpack has an outdoor style look to it. With Topo Designs bags, you never have to worry about switching from class to last minute camping trips.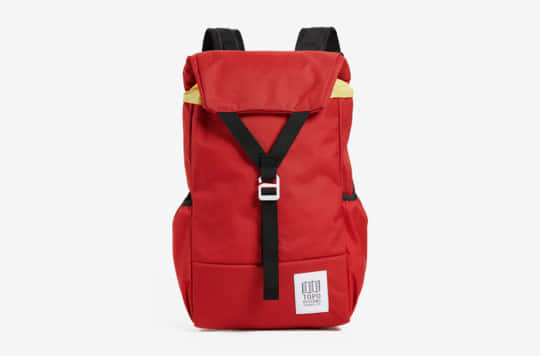 The bag itself is made of extremely durable "ballistic weave". It handles the daily wear and tear of college and outdoor life with ease. Here are the details:
Fabric: Ballistic Weave.
Fits a 15″ laptop.
Padded straps for shoulder support and comfort.
Hook at front.
Drawstring at the top.
Water-bottle pockets at side.
Laptop interior pocket.
Zip exterior pockets.
Shoulder Straps.
Lined.
The backpack costs $79 and you can get it on the East Dane website. They offer free 3-day shipping and free returns.
Kopack Slim Backpack
This Kopack Slim Backpack has a simple design on the outer appearance. However, take a peek inside and you'd be surprised to see how convenient it is.
For the techies at heart (raises hand), this is the perfect backpack. It includes a USB cable and lots of space. Enough to carry a 17-inch laptop with ease.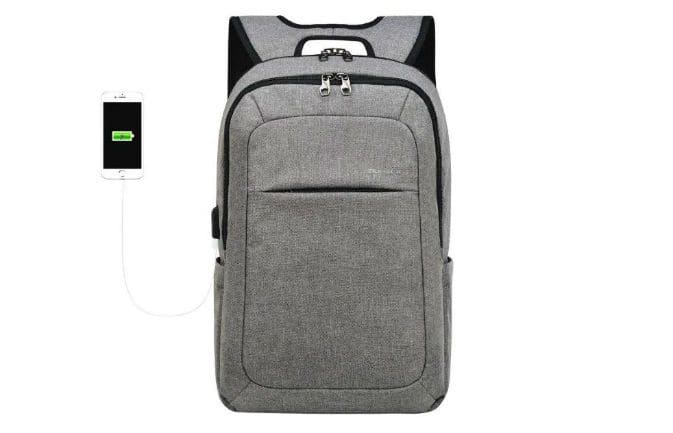 The Kopack Slim also has several compartments for storing books and other school necessities. It's made of water-resistant fabric and my favorite feature: an anti-theft design. It's available on their Kopak's Amazon Store with varying prices and in different colors.
nisex Canvas Backpack for College
Again, a superb option for those who want a bit more flare. The Unisex Canvas bag has a posh look to it and is big enough to fit binders and large school books.
The bag also fits a 13″ laptop with space for even a 15″ laptop. However, be careful not to overload the backpack. While it may be fashionable and cheap, it's not as strong as other laptop bags on the list.
On Amazon, you can get yours for as little as $19.99 with free shipping on eligible orders. Here's a picture of this backpack: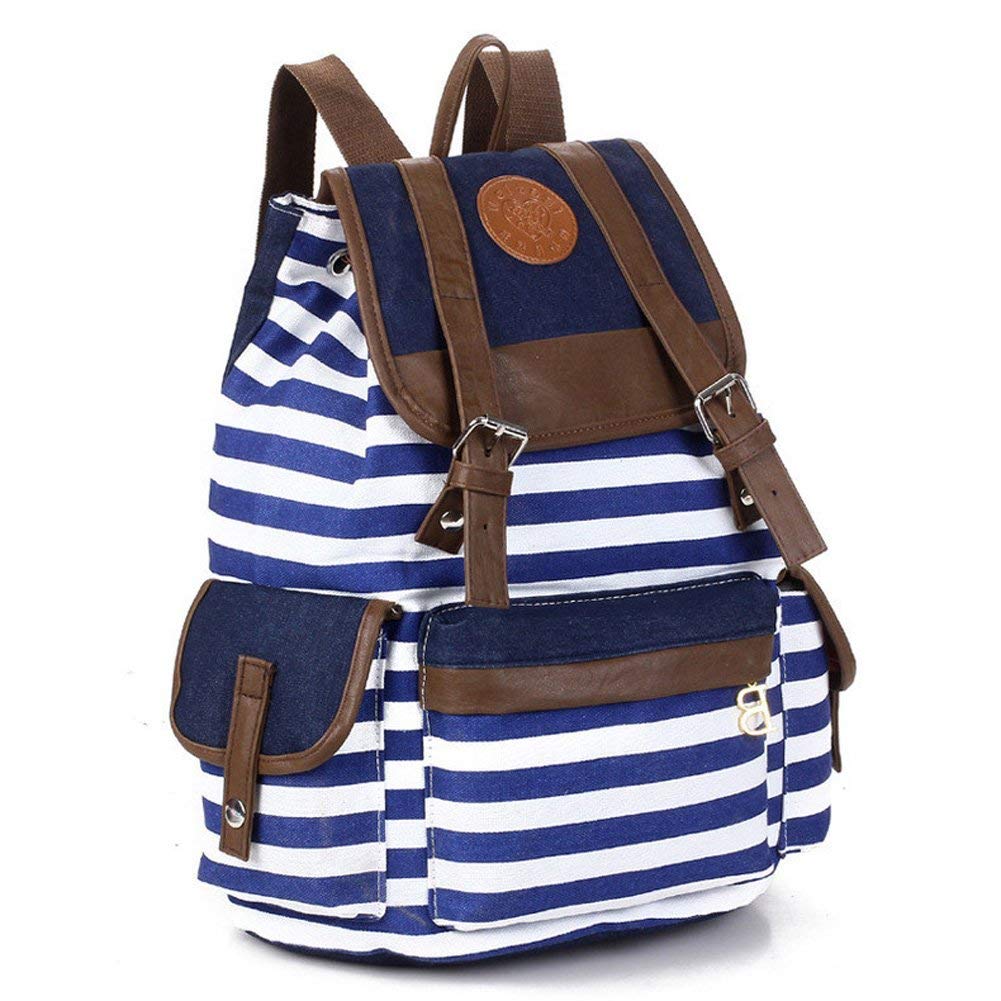 Briggs & Riley Sympatico Backpack

Briggs & Riley makes another appearance on the list with their Sympatico Backpack. A bag made of sturdy yet durable nylon that can last you throughout your college years.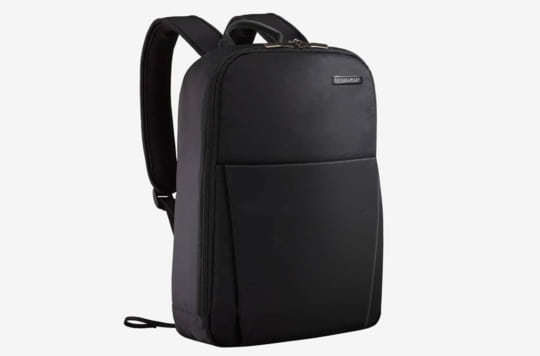 It's lightweight and stain resistant (easily wipe away stains). On the inside, there are lots of compartments to easily organize your school supplies. The main compartment holds your laptop. There is also a padded back for added comfort.
It's not as stylish as other laptop bags but it gets the job done if you need a simplistic design. It sells for a heart-pounding $155 at Macy's.
Under Armour – Storm Contender Laptop Backpack
The Storm Contender has padded pocket for your laptop, 1 large pocket for your books and several other smaller pockets to organize anything else like power packs, cords, pens, etc.
Its durable, weather-resistant finish keeps valuables protected and dry, and a lined sleeve provides a separate compartment for a laptop up to 15 inches. This Under Armour Storm Contender backpack has adjustable padded shoulder straps for a comfortable, secure fit.

Under Armour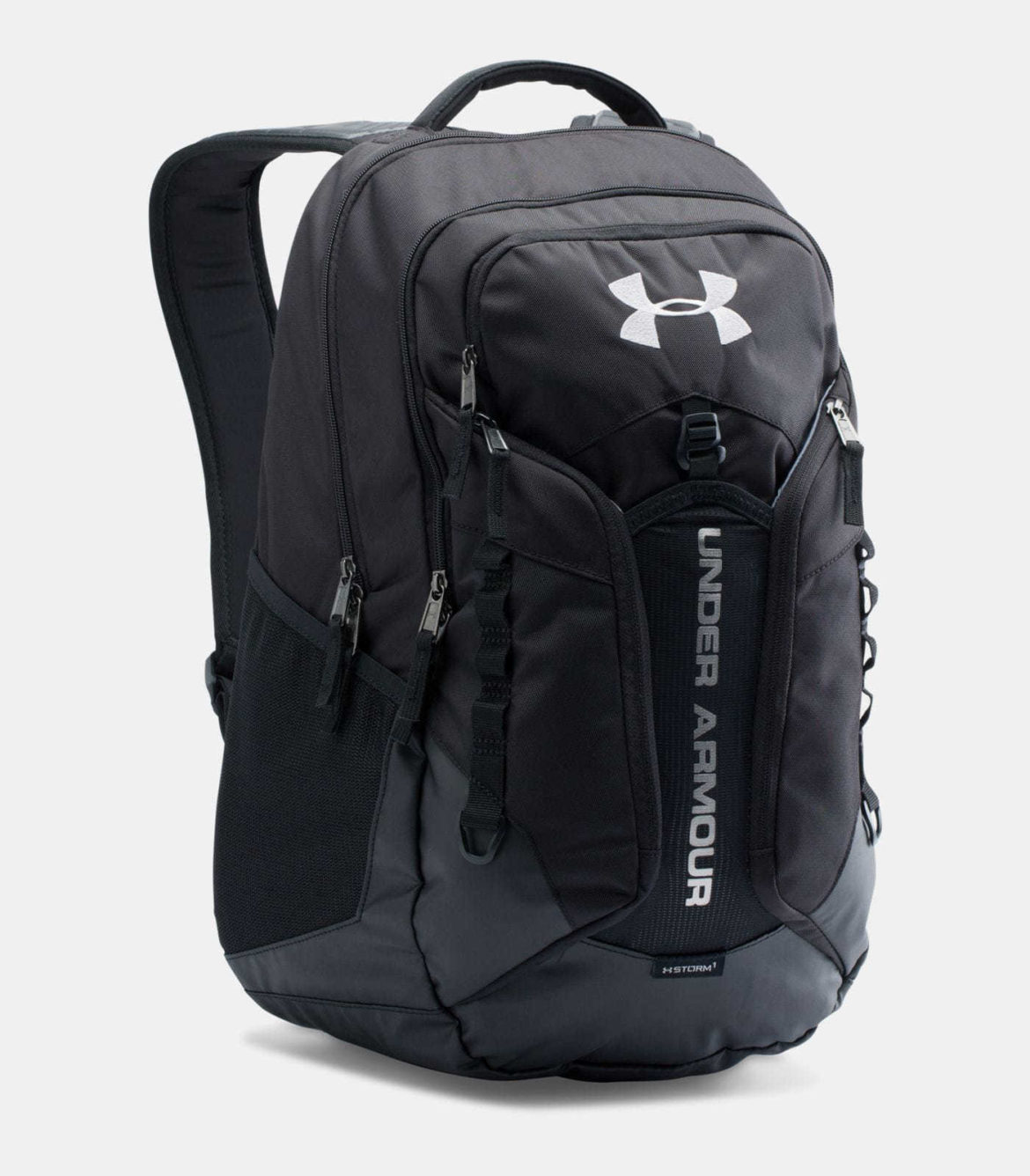 It cost around $79.99 on the Under Armour website which offers free returns and free shipping in select locals.
Round Up
These bags are perfect for students with laptops. They stand out in a crowd or hide-out if need be. With several compartments and comfort features, they make the best laptop backpacks for college students.
However, there's always more to see and consider. You can browse the websites below for hundreds of laptop bags. And, we'd update the list with other good choices as we encounter them. All the best!
Where To Find More Laptop Backpacks For College Students?
Are you looking to browse through some more college laptop bags before making a decision? Then, don't worry! I've got you! Below is a list of the best places you can shop online or in store for some awesome laptop backpacks: