Kinsta is a managed WordPress hosting company. They pride themselves on offering speed, performance, and excellent support. They are the fastest WordPress hosting service that we've tried.
It's been a little over 6 months since this website made the move to Kinsta. And, during those 6 months, we've had 100% up time and higher conversions due to a faster loading website. Here is our Kinsta review.
Features
Architecture
Kinsta runs on the Google Cloud Platform. This means that your website runs on the same infrastructure that powers Google.
The good thing about having your WordPress site hosted on the Google Cloud Platform with Kinsta is that you get automatic scaling and LXD Containers for each of your WP sites.
Kinsta also supports the latest version of PHP, PHP 7.X. They use Nginx and MariaDB.
Google Cloud Platform
You have access to the Google Cloud Platform and its 15 global data centers. This is the premium tier network which is designed to minimize distance and hops, resulting in fast and secure transport of your website's data.
Server Locations
Council Bluffs, Iowa, USA (us-central1)
St. Ghislain, Belgium (europe-west1)
Changhua County, Taiwan (asia-east1)
Sydney, Australia (australia-southeast1)
The Dalles, Oregon, USA (us-west1)
Ashburn, Virginia, USA (us-east4)
Moncks Corner, South Carolina, USA (us-east1)
São Paulo, Brazil (southamerica-east1)
London, UK (europe-west2)
Frankfurt, Germany (europe-west3)
Jurong West, Singapore (asia-southeast1)
Tokyo, Japan (asia-northeast1)
Mumbai, India (asia-south1)
Montréal (northamerica-northeast1)
Netherlands (europe-west4)
Automatic Scaling
With automatic scaling, we can rest easy knowing that if our website gets a sudden spike in traffic, our site won't go down. Why? Kinsta automatically increases CPU/RAM resources to handle any traffic spikes.
Each machine has up to 96 CPUs and hundreds of gigabytes of RAM. Hardware resources (RAM/CPU) are allocated to each site container automatically by Kinsta's virtual machines on an as-needed basis.
Best of all, this is NOT shared. All resources are allocated to your website and your website alone. Even if you host more than one website with Kinsta, each site has their own resources.
Glossary
Nginx is an open source reverse proxy server for HTTP, HTTPS, SMTP, POP3, and IMAP protocols, as well as a load balancer, HTTP cache, and a web server.
Ubuntu 16.04 which is a supported Linux 4.4 kernel, Python 3, OpenSSH 7.2p2 and Apt 1.2.)
PHP 7.2  is the latest and a much-needed revision to PHP. PHP 7 is just fast. However, you may choose between PHP 5.6, 7, 7.1, and 7.2 via the Kinsta dashboard.
HHVM is offered (No longer supported). Kinsta recommends using PHP 7.X.
Full-page caching is done at the server-level for optimal performance. Hence you DO NOT need to install a WordPress Caching Plugin.
Object Caching is available but only when you use HHVM.
HTTP/2 is the latest and major revision of the HTTP/1.1 protocol. HTTP/2 features better multiplexing, parallelism, smaller headers, and more. It also makes SSL faster.
MariaDB is an enhanced, drop-in replacement for MySQL)
Free Premium DNS via Amazon Route 53. You can manage DNS records in the Kinsta dashboard.
Free SSL with Let's Encrypt (automatically renewed).
WordPress performance monitoring with New Relic. 1440 daily uptime checks per website. Again, completely free.
Git: Kinsta has a Git client available, so you can SSH in and pull your own Git repo from Github, Gitlab, Bitbucket or wherever. Read about it here – page deleted by Kinsta Team.
Kinsta Dashboard
OK. There's no way we can start a Kinsta Hosting review without talking about the awesome, easy to use dashboard.
It's easy to use. Menu is in the right-hand corner. Labels are clear. It provides an overview of your traffic/visits, bandwidth usage, disk usage, invoices, etc.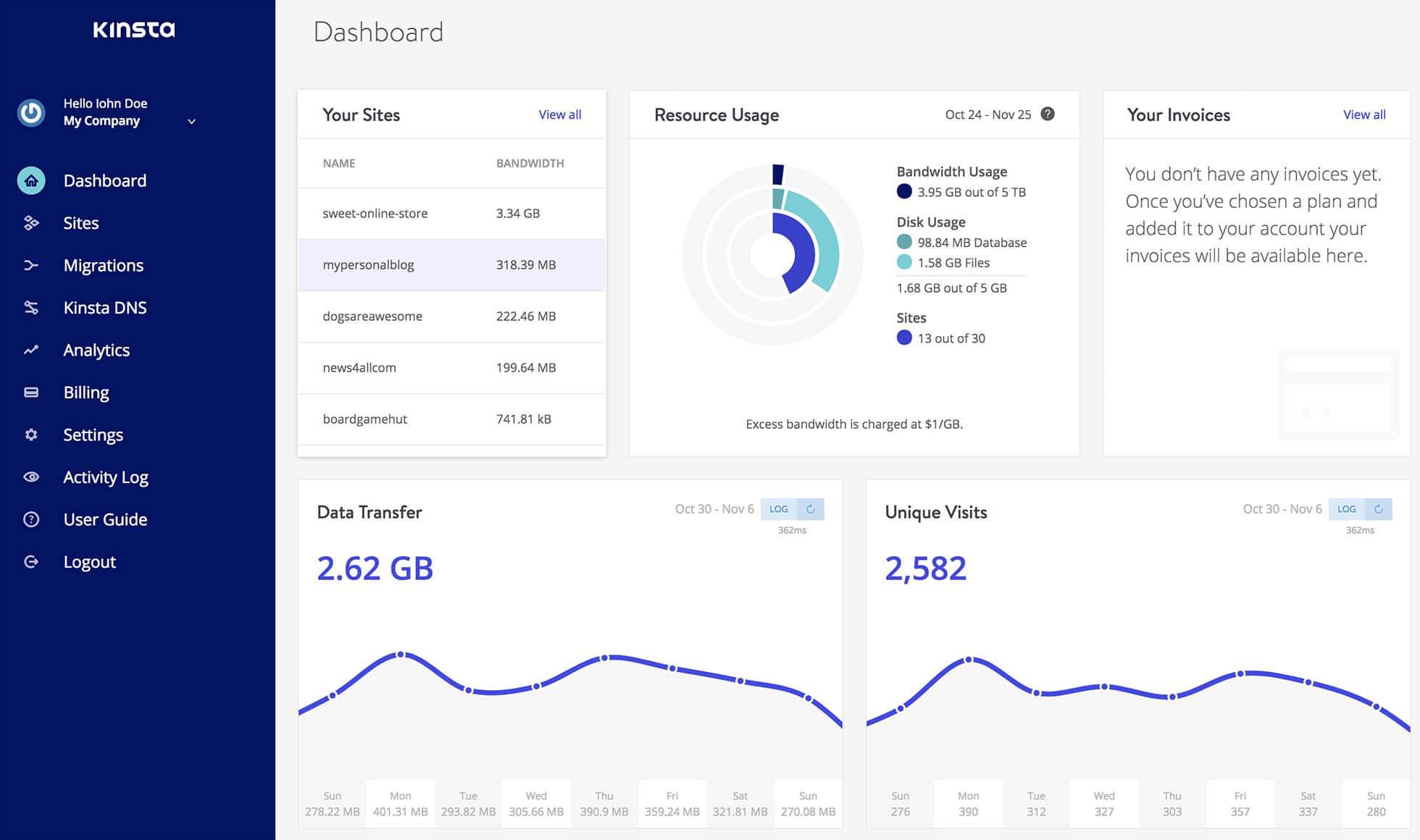 With Kinsta, you can set up two-factor authentication and there is an activity log that shows you your log-in activity. Also, if you make changes to your account, you can view a changelog as well.
Sites
If you click "Sites", you can view a list of all WordPress sites hosted with Kinsta. Furthermore, there's a search function to help you filter and find a specific website.
Should you click "Manage", you can see the IP address, SFTP/SSH information, SSH connections, and database access info. The "Open MySQL" button takes you directly to phpMyAdmin.
Tools
Another cool feature is the tools section for each of your sites. With it, you can do things like restart PHP, change PHP version, clear the cache, generate a new SSL certificate, perform a search & replace, etc.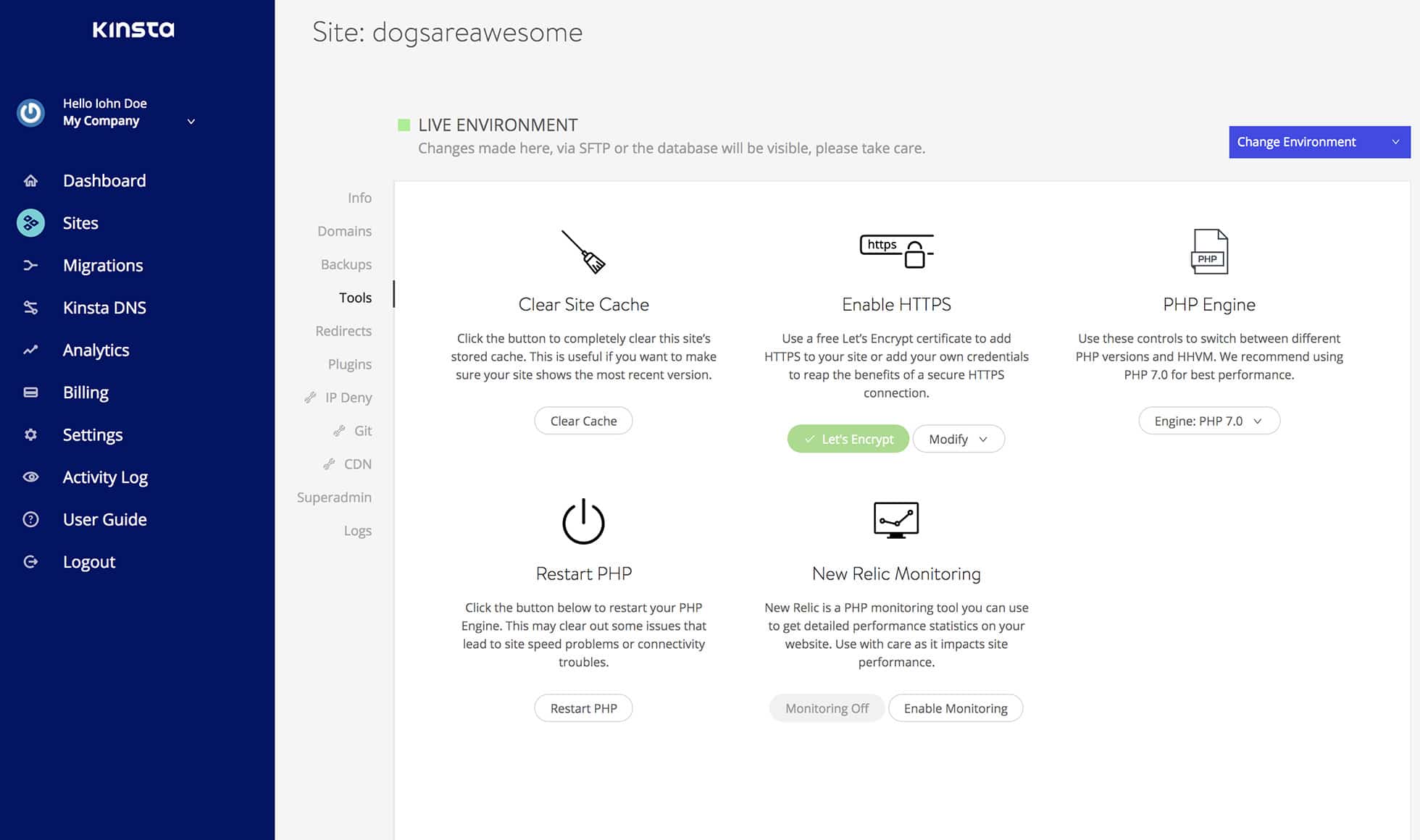 Logs
To see server errors or there is a log section. What's good about this is that it shows the cache log, access log, and error logs.
Analytics
With the Analytics overview, you can view data transfer (bandwidth), unique views, and page views. Moreover, you have access to information such as AJAX usage, client IPs, cache response HITs, maximum load time, etc.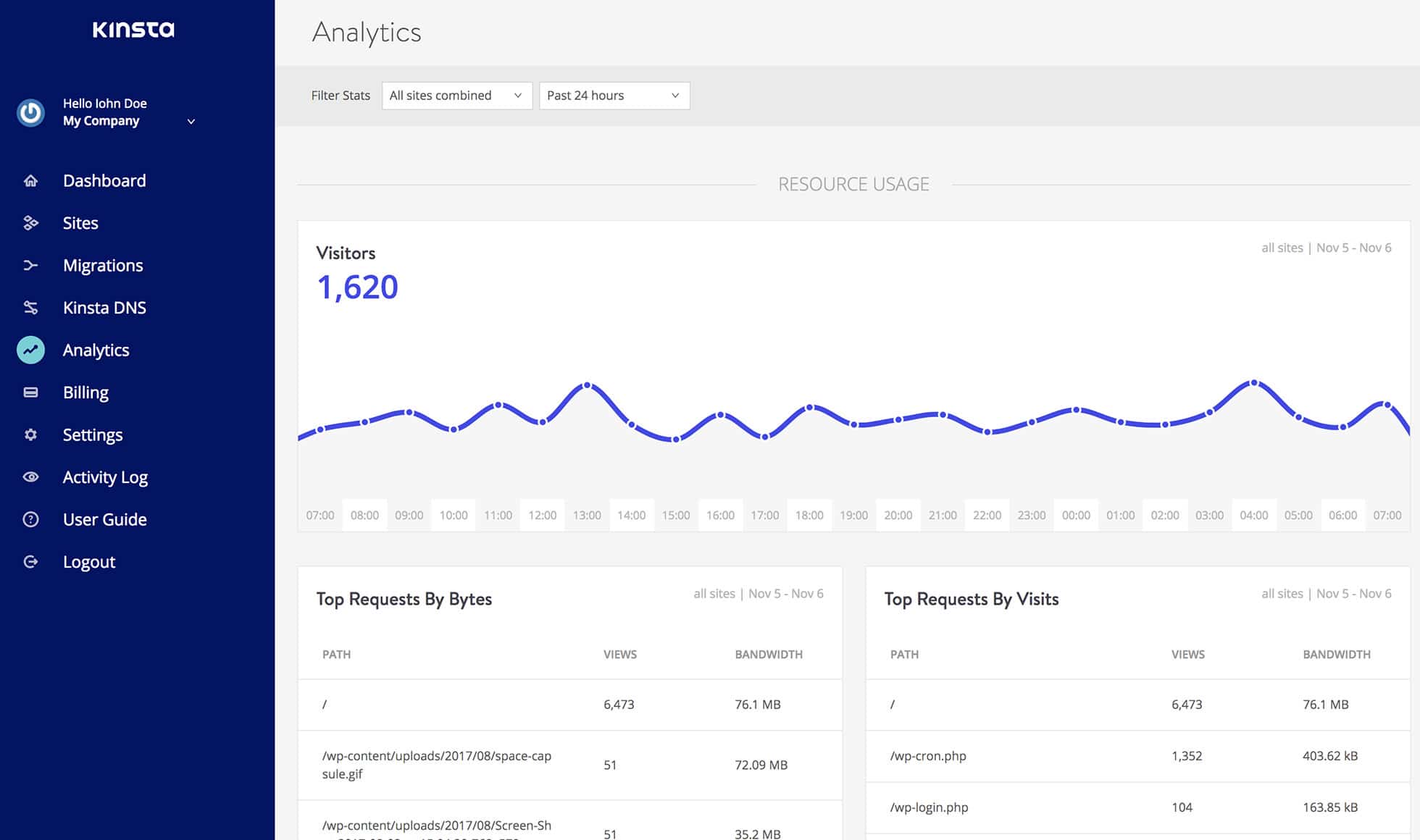 Free Migrations
Another cool Kinsta feature is that they offer free migrations. What does this mean? Say, for example, you already have a WordPress host, when you move to Kinsta, they move your site from the previous host to Kinsta's managed hosting platform.
Multisite
Every Kinsta plan (except for Starter) supports WordPress Multisite. Choose between two options:
Sub-domain network: site1.example.com, site2.example.com
Sub-directory network: example.com/site1, example.com/site2
List of WordPress Plugins
For each site, Kinsta lists all plugins that are installed on that site. You can easily view this list from your MyKinsta dashboard. It includes:
Plugin Name
Status (active or inactive)
Plugin Version
Whether or not an update is available
Kinsta Security
When it comes to security, I was most impressed with how far the team at Kinsta goes to ensure that each of my WordPress sites remain secure.
Free SSL
Each of your WordPress sites gets a free SSL certificate via Let's Encrypt. What I love about this is that everything is automated. All it takes is a click of a button and you get:
Automated setup:
Auto-renew (There's no need to update your SSL/it won't expire).
Force HTTPS (contact the amazing support to have all your sites URLs use HTTPS).
However, if you do want to use your own custom SSL certificate, you can upload it via the Kinsta interface.
Managed WordPress Core Updates
When ORDUH was on a dedicated server, we had to manually check for and install WordPress updates. However, with Kinsta, our WordPress install automatically updates when new (minor) WordPress updates are released (4.9 to 4.9.1).
The only thing we have to check and verify is the installation of major updates. For example, from 4.8 to 4.9.
Threat Detection & Prevention
As mentioned, New Relic constantly monitors your WordPress websites while on the Kinsta Hosting platform. They check your site every 60 seconds, which equals to 1,440 checks per day.
Hence, if your site goes down (never happened for us), the Kinsta team reaches out to you and works on an immediate fix.
Furthermore, should they notice anything strange, like a plugin slowing down the back-end/front-end, they reach out and offer suggestions. Here's a good write-up on how all this works.
Free Hack Repair
Most hosts would never do this for you at no cost. Kinsta will repair your site for you in the event that it does get hacked. And, best of all, they do it at no cost to you. Totally free!
Banned Plugins
Some WordPress plugins do not function well with Kinsta. For example, since Kinsta already caches your website, most caching plugins are banned.
Furthermore, due to Kinsta's robust security features, there's no need for a security plugin like WordFence. For a list of banned plugin, see here.
Kinsta Backups
Oh, I cannot tell you how many times I've restored a backup or pushed one to the staging environment. This feature is truly a lifesaver. Let me take you through this in pieces.
Automated Backups
Kinsta performs free daily automated backup of all your websites' files & database. And, if you want more frequent backups, you can switch to every 6 hours or hourly backups. However, it costs a fee.
On-Demand Backups
Also, if for any reason, you need to create a manual backup of your website, you can do this for free using the Kinsta dashboard.
Backup Retention
Kinsta stores each backup for a set period of time. This time varies depending on your Kinsta Plan. This includes both automatic and manual/on-demand backups.
One-Click Restore
I gloated about this earlier. With Kinst'a one-click restore, you can restore any backup to a staging environment or to the live site with one click.
Moreover, Kinsta makes a copy of your site before you restore the backup. Hence, should anything go wrong, you can simply revert the changes.
For more information on how Kinsta backs up your WordPress site, you can read this article from their Knowledge Base.
Kinsta Staging Sites
If you ever want to test a new plugin, theme, or make a customization, you can create a complete copy of your website in a staging environment.
This isn't an uncommon feature among WordPress hosting companies. Kinsta also performs daily backups of your staging environment as well.
You get staging with all plans. You get one staging site per live site. Here's how to access the feature:
Login to your MyKinsta dashboard.
Go to the menu for the site you're working on.
Where it says "Live Environment" in the top-right corner, click that and change to "Staging Environment".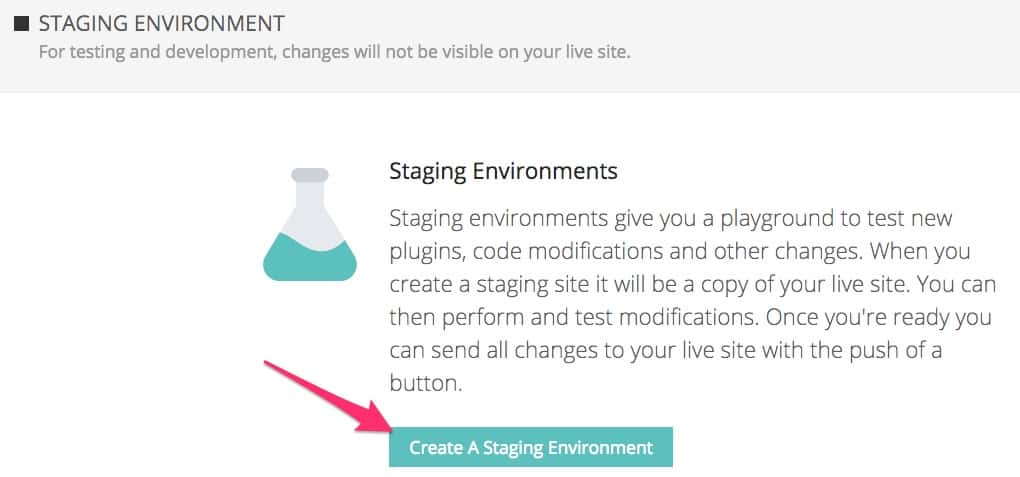 Things To Know About Staging Sites
Caching is disabled on staging sites.
Kinsta tells Google and all other search engines not to index your staging sites.
Deactivate automated social sharing plugins so they don't share content from your staging site.
Deactivate all third-party CDN plugin on your staging site.
Kinsta CDN
Most of us have heard about Content Delivery Networks (CDN). It's one of the ways to speed up your WordPress website. A CDN caches/copies images, CSS and JavaScript files and serves them from a location closest to your website visitors.
CDN Partner – KeyCDN
Kinsta partnered with KeyCDN to offer all of their customers FREE CDN services. KeyCDN has over 30 POPs, HTTP/2 support, Free SSL, HPACK compression, and so much more features to help make your WordPress site faster.
This is a really great feature as it cuts costs. You no longer need to go to a third-party CDN provider and pay a separate fee. Unless, of course, you were already using one and are satisfied (we use CloudFlare).
CDN Setup
You can deploy the Kinsta CDN in one click via the Kinsta Dashboard. It's really that easy. Read more about it here.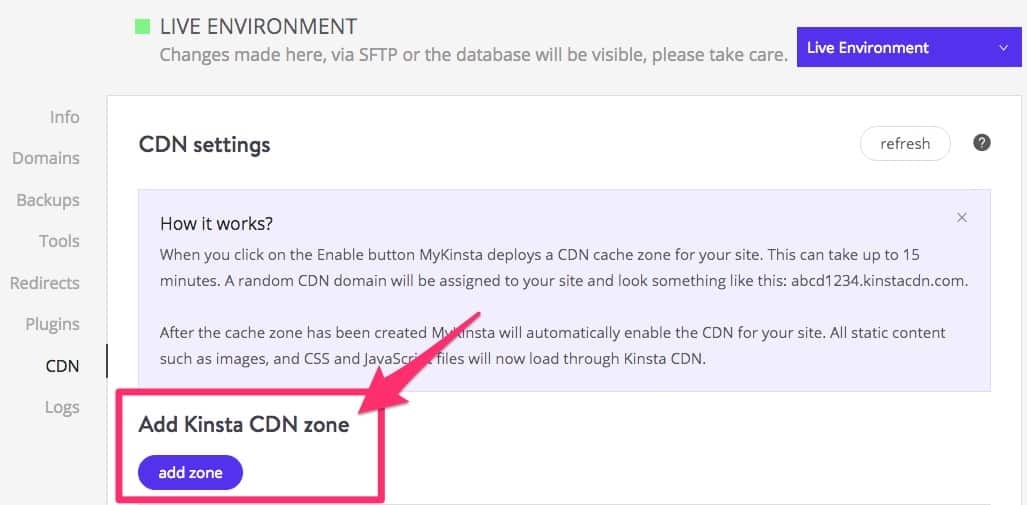 Things To Note About Kinsta's Free CDN
The Kinsta CDN is disabled on staging sites, and cannot be enabled.
If you're already using an existing third-party CDN, please DO NOT enable the Kinsta CDN. You should choose one or the other; not both.
Kinsta CDN is compatible with WordPress Multisite
The amount of CDN bandwidth changes depending on which plan you have. The higher your plan, the more bandwidth you are allotted.
Visits, Bandwidth & Storage
OK. Most of us when comparing Managed WordPress hosts look at these three metrics as they relate to pricing and overall cost.
Kinsta Visits
Kinsta's hosting plans are based on the total number of monthly visits to your site on the server.
Visits refer to the number of people who visit your website. This is based on unique IP address seen within a 24-hour period as recorded in the Nginx logs.
There's an entire article that outlines how Kinsta handles bot visits, analytics, etc. You can read it here.
Bandwidth
Bandwidth refers to the amount of data that a visitor's computer downloads from the host. This includes all text, CSS, JavaScript, images, PDFs, and other media. The larger these files are, the more bandwidth is used.
Previously, Kinsta pricing was based on a bandwidth model (we use that model). However, new users must sign up using the visitor based model.
Storage/Diskspace
This refers to the file size of all your pages, HTML, PHP, CSS, JavaScript, images, PDFs and everything else that make up your website.
Kinsta Customer Support
IT DOES NOT GET ANY BETTER. The median response time is less than 2 minutes and the resolution rate if 99%. In our case, they always solve our problems.
Their support is available 24/7 via live chat on the My Kinsta website (where you sign in). They do not support phone calls.
However, they do have email support. Email support syncs with the live chat support so you can switch between the two at anytime and see all the information.
The support staff are all very knowledgeable when it comes to WordPress. From security headers, css snippets, resolving other miscellaneous errors, they can handle it.
Kinsta Pricing
There's a premium hosting plan for everyone that uses Kinsta. There are a total of eight different plans ranging from $30 to $900.
And, plans range from a single site with 20,000 visits/mo., all the way up to an enterprise plan that accommodates 80 sites and up to 1.5 million visits/mo.
These prices may be a bit higher but the performance, benefits, and features far surpass anything that WP Engine or Flywheel has to offer.
The main differences in the plans are the number of WordPress sites allowed, storage space, and visitors.
You also get more PHP workers with every plan higher. PHP workers execute the code on your site, and additional workers allow for multiple requests to execute simultaneously.
Pro plans and above support multisite, and Business 1 plans and above have SSH access along with popular developer tools such as WP-CLI. They also have Enterprise plans as well as custom plans if you need even more.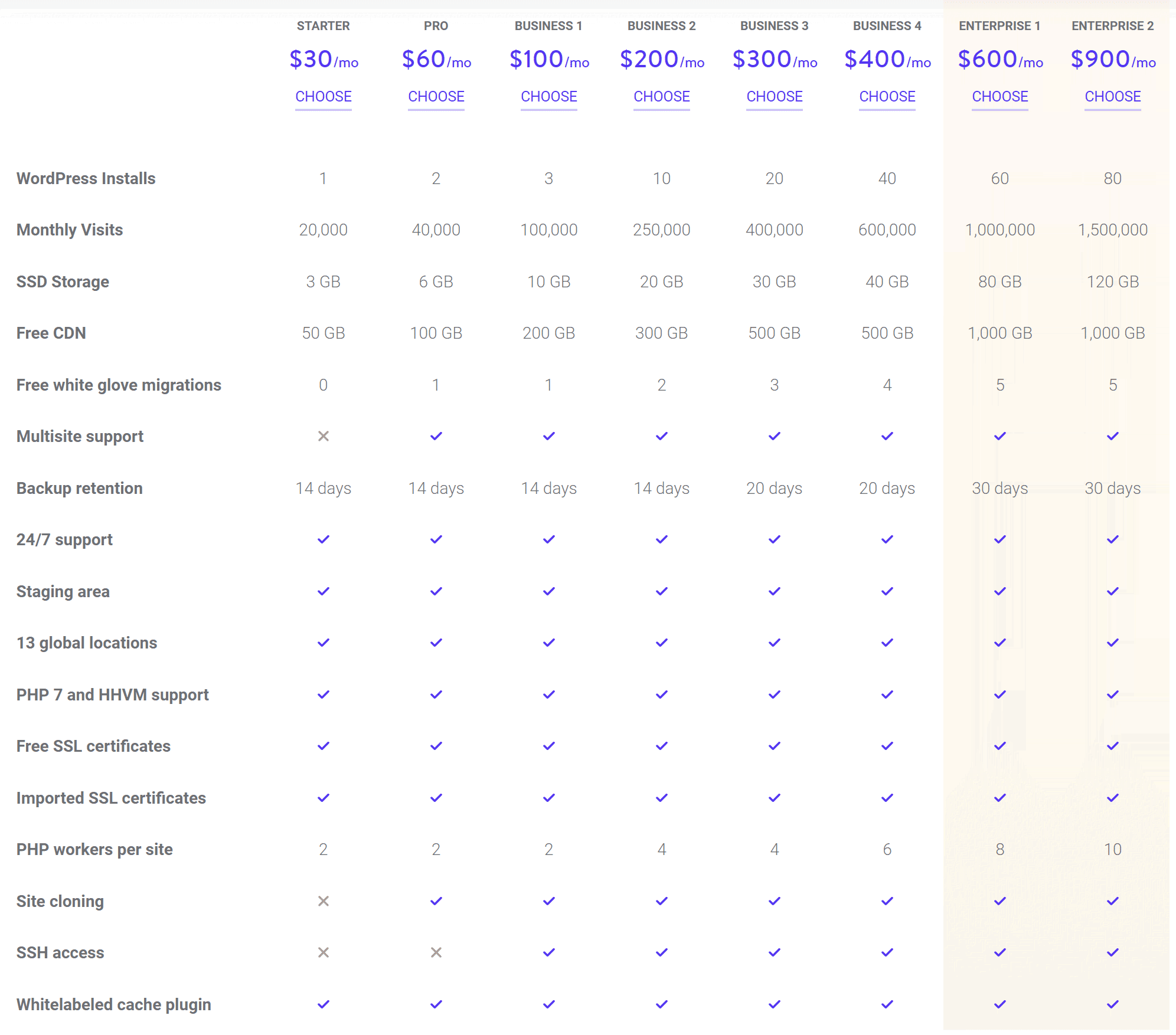 Optional Add-Ons
Cloudflare Railgun: $100/mo/site
Elasticsearch: $100/mo/site
Redis: $100/mo/site
Backup every 6 hours: $50/mo/site
Backup hourly: $100/mo/site
Overage Pricing
If you go over the allotted visits for your plan, Kinsta charges you a simple overage fee.
$1 for every 1,000 visits over the limit.
Cons
I've talked about all the goodness of Kinsta. But, you're probably wondering if there are any cons. My answer to that is it depends. Here they are (you decide for yourself):
You have to use an external e-mail service provider such as G-Suite. (Kinsta focuses on WordPress management, this was expected).
The pricing may seem high at $30 for the entry-level plan.
Honestly, I cannot think of anything that I do not like about Kinsta. And, for what it's worth, I list the above cons for your information. They are not stuff that I do not like. Thanks for reading our Kinsta review.
Conclusion
Since moving to Kinsta, our websites have been faster, more reliable and efficient. Not only are they the best WordPress hosting solution, they are indeed the fastest WordPress hosting option right now. No, really, they are. Check out the independent studies over the years here.
And, if you wanted to know which theme we use, it's SociallyViral. You can read our review here.