With the holiday season around the corner, Google plans to make your user experience more comfortable by updating Google Hotel Search for desktop with their Material Theme.
As you remember, back in February, Hotel Search on mobile refined the lookup algorithm, price filtering, and other aspects. The new update for the desktop version brings "modern look and feel."
With the addition of the Google Material Theme, a lot more information can be fit on the canvas. From the main Search results page, if you search for a city along with the word "hotel", a card that includes a map and list of places to stay appears.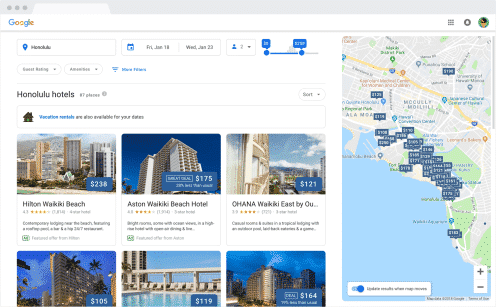 When you click a result, a new page with tabs for an overview, prices, reviews, about, and photos of the hotel appears. You can also see information like availability, ratings, and location summary with things to do at a glance.
There's also a fullscreen price comparison tool, reviews that feature a search capability, about with hotel amenities listed, and more photos.
Now, when you search for hotels in Honolulu for example, you can browse hotel results easily with:

Ben Austin & Emmanuel Marot
Product Manager, Hotels
Published Oct 31, 2018

Photos from the hotel or fellow travelers

Hotel information, such as neighborhood and location

Hotel reviews from around the web that can be searched by keywords like "air conditioning"
And, while the new design is not yet available, the Google Material Theme for Hotel Search will be a welcomed addition further simplifying consumers quest for hotels and travel deals.