Facebook is one of the most popular social media networks this side of the galaxy. The social media website is home to over 1 billion users. People use Facebook to share moments of their life with friends, family and the occasional stranger. One of the good things about Facebook is the ability to upload an unlimited number of images, videos and notes/posts.
However, what if you want to save all of those uploaded pictures to your computer smartphone or perhaps another online file storage service such as Dropbox? What do you do? How can I download an entire album of mine onto my computer? Let's get started!
This guide will show you how to save all Facebook albums/photos to your computer, Android smartphone or tablet. This will allow you to have all of your photos in one place, other than Facebook of course, and this is necessary if you think that you might leave the social media site one day or if you believe that Facebook will shut down, you know, like MySpace.
There are two methods that I'd like to show you. The first involves using your Android smartphone (A Samsung Device preferably, due to the availability of Samsung Link). The second method is much faster and requires the use of a Chrome extension called Download FB Album mod. The guide has been updated to include a third method to save your Facebook photos to your computer. For now, let's see what we can do to download all our pictures at once. Update!!! Facebook now lets you download your Facebook Albums. Here's how to do this:
Go to the photos section of your profile.
Click on Albums. You will see all your pictures sorted by albums that you created.
Click on an album. On the new page, which shows all of the photos in that album, click the little gear icon that appears in the top right-hand corner of the page next to the tag button.
You will now see the option to download the album.
Click it and follow the steps.
First things first, you ought to know that Facebook offers you an option to download all your information which will include all your photos, but this will take a while, and you may not necessarily want to save all of your information but if you do you can find this option in your Facebook profile settings. Secondly, you can try to save each photo one by one.
Of course, this is one of those tedious jobs that we never want to do. If you're looking for streamlined ways to get the job done quickly and efficiently, then use the programs and tips below to download or save all of your Facebook albums/pictures to your laptop/desktop computers. This includes video tutorials and photo tutorials to help you out as well.
Save All Facebook Photos/Album to Android device
Although you can manually save the picture to your Android device by going to your Facebook account and doing so, there is a much easier solution. You can set the phone to display your Facebook albums and photos inside your Gallery app by syncing your Facebook gallery to your Android device Gallery.
Once you complete the steps, you see a new folder in your device's Gallery app named "Facebook." These photos are not on your device so they do not use any of your Android's storage space. In fact, you can choose which photos you want to download and save to the smartphone. Let's learn how to sync your Facebook gallery to any of your smartphones (Android).
How to sync Facebook to Android gallery?
Follow the steps below:
Go to Settings.
Tap Account and sync.
Tap the Facebook account name you wish to sync with your gallery.
Tick the check-box next to Sync Gallery option.
Once the sync process completes, you see the album synced marked with Facebook logo on your Gallery.
Read on for method two which will allow you to sync all your Facebook photos to your desktop computer or laptop using the Google Chrome browser and a simple yet effective extension!
Download All Facebook Photos/Album to your computer
The second method involves using the Download FB Album mod (can also download below) chrome extension. This simple tool will allow you to navigate to any Facebook page and download all the public images on the page. This is useful if you're into bulk downloading the pictures.
The extension allows you to filter the downloads. The options, however, lack functionality. After you install the extension, via the Chrome web store, you can go to any Facebook page or profile and the extension's options appear at the top right-hand corner of the Chrome search bar, right next to the bookmarking star.
You can click it, and it will return a list of options that you can use to download the items that you'd like. There isn't much I can guide you on concerning the plugin interface, but you can move to the next page to learn a bit about the interface as well.
Go to any Facebook page or Facebook profile
Left-click the Facebook-like icon that appears in the search bar
Select your options: Load Captions allow you to import the captions of the images
Large Album optimizes you to compress the overall size of the photos to be downloaded
Use New Layout simply shows you a more user-friendly interface
Normal allows you to load the album photos automatically. You can wait for all the pictures to load or you can stop it and download the photos that have already been auto-loaded (a new tab will open after completion or when the user stops the program).
Without automatic upload allows you to scroll through the album and stop when you don't want to load any more photos. And finally, load from a particular id lets you manually input the Facebook URL of the photos you want to download.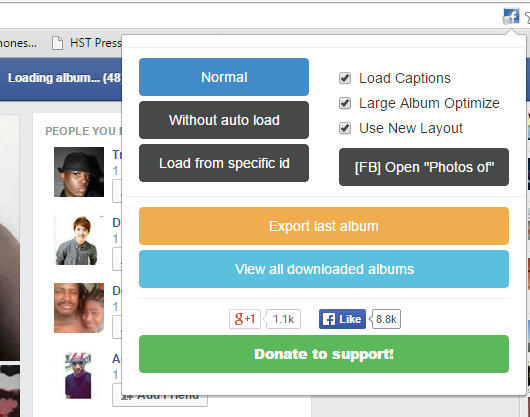 The next page (the one that auto opens when your downloads are ready) will show you some more options to help you save all the photos from the album:
You can change the name of the album (by default it uses the name of the album in question).  You can also save the photos in a zip file (via tools). Or you can hit Ctrl+S to save all the photos to your computer. It shows you where it keeps the images. Also, note that the album name links to the profile page where you downloaded the pictures (in case you need to go back quickly). On the next page, we will discuss a Windows App called FotoBounce. Use it as an alternative to the Download FB Album mod.
Use FotoBounce to Save All Your Social Media Images/Photos
Fotobounce is a program that allows you to download all of your albums as well as any pics tagged in by others and can also combine pics from Twitter, Google, and other sites. Features include:
With tags and descriptions intact, which is a real time-saver! There's no need to spend additional time painstakingly re-tagging photos and no browser-based transfers or third-party software required.
Other Facebook, Google, Twitter, and Flickr-friendly features include:

Ability to upload photos to Facebook pages in addition to personal albums. Pages used for promoting companies and organizations. Use Fotobounce to upload photos to any group on Facebook.
Facebook, Google, Twitter and Flickr friendly.
Sharing photos on Facebook, Google, Twitter, and Flickr is effortless with Fotobounce. Photos uploaded directly from Fotobounce to any of your social media site or saved to your pc or cloud storage. The choice is yours.
Direct transfer of photos from Flickr to Facebook, Google to Facebook, and vice versa. This is extremely beneficial for heavy web users. Previously one had to download photos from Flickr and then upload them to Facebook in two separate steps. It also works in the other direction.
View and post comments on Facebook photos. It is much easier to browse photos on Facebook using Fotobounce than using Facebook itself, and now we have added the ability to comment on Facebook photos while the user browses them within Fotobounce.
Post entire albums to Twitter in one "tweet." Photos or entire albums sent to Twitter directly from Fotobounce or via Twitpic.
Download FotoBounce
You can download the latest version of FotoBounce, and view a list of tutorials to start you off. Below you will find a short video that outlines the way in which you can export or import all of your photos to your desktop computer/laptop or wherever.
Thanks for reading: How to Download All Facebook Albums & Photos. Share the guide with your friends, like us on Facebook and follow us on Twitter for more tutorials and articles.