Dell XPS 13 Review: Laptops have become much better in recent years, especially the more expensive ultrabooks. They have become much thinner, more and more models equipped with IPS screens, and they have higher screen resolutions. Real innovations, there were few, the changes were evolutionary and laptops, followed by much-improved properties tablets, where high resolution and IPS screens were already commonplace. How can laptops improve? What does Dell offer?
That "improvement" Dell seems to have found in the new XPS 13. This ultrabook has a thin bezel which seems trivial but has significant implications for not only the look and feel but also for the form factor. Of course, there are the Dell XPS 14 & Dell XPS 15 Ultrabooks. But for now, we focus on the XPS 13 2015 version. Which, by the way, is still a great laptop.
Dell XPS 13 Review
Dell XPS 13
processor
Core i7-5500U
Cores / Threads
2/4
Clock frequency (turbo)
2.4GHz (2,9GHz)
gpu
Intel HD 5500
Working memory
8GB DDR3-1600
Warehousing
Samsung PM851 256GB
WiFi
DW 1560 Broadcom 802.11ac Wireless Network Adapter
screen Panel
13.3 "IPS, 3200×1800
Operating system
Windows 8.1
Design/Screen
The first XPS 13 dates back to 2012, and that model had an advantage over other ultrabooks with a 13.3″ screen. The edges around the screen were namely narrower than average, and that enabled Dell to make the whole laptop smaller. The Dell XPS 13 2015 version has come even further along. How do you ask? Let's find out.
The screen edges move from 12mm to 5.2mm. Dell, therefore, dares itself of an almost 'borderless' display so to speak and the company sticks to the marketing term "infinity display." The width of the laptop is now only 30,4cm, and the depth is 20cm. The Dell XPS 13
is thus to compare only a fraction larger than the MacBook Air 11
, but with a 13.3 "screen. At its thickest point, the laptop is 15mm, and the thinnest part is 9mm thick. The weight for the touchscreen version is 1.26 kilos.
The 13.3 inches screen size is a favorite of many, though the 11.6 inch LCD surface is tiny. However, for the average user always on the go, this laptop is compact and go to choice. The fact that Dell has managed to combine the two benefits is a great achievement where you have continuous interest. It is also nice to just look at a screen with such thin edges.
Is there nothing negative to report about the Dell XPS 13 screen? Yes. The side has become so small that it no longer fits webcam on top. Dell has therefore decided to place the camera on the bottom on the left. See the video below.
Dell XPS 13 (2015) — One Flaw = Camera
This camera position is not a convenient place because apart from the awkward viewpoint, your fingers are constantly seen in the video when you're typing. Also, the hinge of the screen is pretty stiff. The advantage is that the display does sway as you move about with the folded laptop, but you can, therefore, find it difficult to open the screen with one hand.
On a whole, the Dell XPS 13 Ultrabook design has succeeded. Dell has made the necessary changes from the previous model. The 2015 version seems sandwiched between two sheets of aluminum. In between is the black body of carbon fiber. The chosen design makes the laptop very robust. At the bottom are two rubber strips which support the laptop and holds the Ultrabook firmly in place. Furthermore, there is a cover behind which hides all labels and other information at the bottom.
Keyboard and Trackpad
Such a thin laptop would see the console suffer regarding usability. However, not with the XPS 13 Ultrabook. Dell has chosen a full keyboard like other 13.3″ notebooks have while only the shift, caps lock and Tab keys on the left are slightly narrower than usual but we were not affected by these smaller keys.
Typing is otherwise a pleasant experience on the XPS 13 laptop. The keys are slightly curved, giving good feedback. The layout is familiar. A white LED on the caps lock key indicates that it is activated. The backlight has three modes, off, bright and medium. That's enough for most usage scenarios for typing at dusk and in the dark.
The trackpad has soft finish features that are not too rigid and does not feel too smooth. The integrated mouse buttons have a firm, definite click. It makes it nice to work with the XPS 13 trackpad. There are no settings for the surface; Dell uses the Windows drivers. The Dell XPS 13 support standard gestures nicely, but users who are accustomed to a lot of different gestures are best suited to upgrade to Windows 10, which connects gestures to swipe with three fingers. The problems with a jumping mouse pointer which some users appear to have did not occur during testing.
Power Supply
Dell ships its compact laptop with an equally small power supply. The little 45w-adapter
is less than a packet of cigarettes and weighs 254 grams. Incidentally, Dell also brings a "Power Companion
" with a capacity of 12.000mAh from which the XPS 13, and you can also charge two other mobile devices via USB.
Hardware
Dell focuses this laptop at the high-end market, and we see that reflected in the configuration. Various models are available; There is the Dell XPS 13 i7 with Core i7
and a Dell XPS 13 i5 with Core i5
. Even the version with Core i5 has an SSD with a capacity of 256GB, and the screen resolution is 3200×1800 pixels in all models. That also means that you still have to shell out more and 1350 USD for the cheapest version. However, if you're on a budget, there's a Dell XPS 13 i3 with Core i3
, 128GB of SSD and screen resolution of 1920×1080 pixels in the US.
The model we reviewed has a Core i7-5500U. A processor from Intel's new Broadwell-series, with two cores and a clock speed of 2.4GHz with a boost of up to 2,9GHz to load both cores.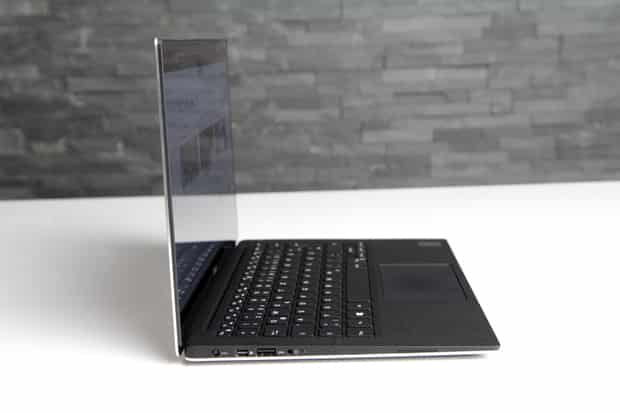 There is an on-chip integrated HD Graphics 5500 chip. The graphics chip has 24 execution units, has four more than the HD Graphics 4400 Haswell chips. Also, it adapts to the architecture, so users can expect better graphics performance than most mobile Haswell chips, although these types of laptops are perfect for gaming.
The Broadwell CPU works on 14nm which should entail advantages regarding heat generation. Passive cooling is currently only possible with the less powerful Core M variants. If we overload the Dell XPS 13, we feel the laptop, at the bottom, get hot. This hotness, however, is never higher than average, and in general, the laptop does a good job at keeping cool.
The XPS 13 has 8GB DDR3 memory, soldered to the motherboard. Now, 8GB is more than enough, but it is unfortunate that upgrading or replacement is not possible. The SSD is the Samsung PM851, an SSD with SATA-600 interface in a 2280 M.2 form factor. Our version of the XPS 13 had a storage capacity of 256GB.
The wireless network chip is Broadcom. It offers support for dual band WiFi AC with a 2×2 antenna array. There is also support for Bluetooth 4.0.
On the underside of the laptop are eight Torx screws, and a regular screw below the service cover. Dell has a comprehensive manual put online for those who are not afraid to screw open the laptop. After loosening the screws, the bottom plate pops open and reveals, for example, the SSD or the Wi-Fi card which is relatively easily replaceable. Of course, you'd need a Torx Screwdriver set
to open up the XPS 13.
Connections
The new XPS 13, unlike its predecessor, features a memory card reader
. In addition to the card reader on the right is a USB 3.0 port with sleep and charge function for charging when the laptop itself is at rest. On the left side are five indicator LEDs for battery capacity. With a press of the button next to it, you see how full the battery is. Useful for when you're on the road. There's also an audio jack, the second USB 3.0 port, and a mini display port. The latter connects to, for example, HDMI.
Screen/Resolution/Display
The Dell XPS 13 (2015 version) features 3200×1800 pixels on a diagonal of 13.3 inches, a ppi value of 276 and thus produces very sharp images. And, with the normal distance at which the average person sits behind a laptop, the pixels are indistinguishable. It is an IPS display, and the viewing angles are excellent. Moreover, it is a touch screen.
Dell makes use of a particular automatic adjustment of the brightness, by what is displayed. When showing dark areas on the screen brightness is reduced and with bright content, the intensity increases. This kind of Content Adaptive Backlight Control is typical on smartphones and is designed to improve battery life.
Battery Life
The  XPS 13 battery has a capacity of 52Wh. That's above average, but it is also true that the laptop has a very high resolution and controlling all those pixels will take the necessary steps.
The XPS 13 is capable of playing video for nearly 6 hours. Thus the laptop is an average performer, which is not bad considering the high resolution.
Specs
| | |
| --- | --- |
| Brand and model | |
| Category | laptops |
| Brand | Dell |
| Series | XPS 13 |
| Performance | Dell XPS 13 13 (2015) 9343-8451 |
| Prices and Reviews | |
| Lowest price | € 1438.69 Compare Prices |
| Rating | 4/5 |
| CPU and motherboard | |
| CPU / SoC | Intel Core i7-5500U |
| CPU architecture | Intel Broadwell |
| Speed | 2.4GHz |
| Max Turbo Frequency | 3GHz |
| Memory | |
| memory Size | 8GB |
| Maximum memory size | 8GB |
| memory Type | DDR3L |
| Warehousing | |
| HDD Type | Solid State Disk |
| storage capacity | 256GB |
| total storage | 256GB |
| number SSD | 1 |
| Display and graphics card | |
| Diagonal screen size | 13,3 " |
| Resolution | 3200×1800 |
| backlight | LED: Edge-lit |
| touchscreen Technology | capacitive |
| multitouch | Yes |
| video Chip | Intel HD Graphics |
| interfaces | |
| video out | Mini DisplayPort |
| (USB / FW) | 2x USB 3.0 |
| Connection (WLAN) | 802.11ac, 802.11b, 802.11g, 802.11n |
| 5GHz support | Yes |
| Compound (Bluetooth) | Bluetooth 4.0 |
| Other specifications | |
| laptop Type | Ultrabook |
| multitouch touchpad | Yes |
| Numeric keypad | No |
| Laptop extras | Card reader, webcam |
| Operating system | Windows 8.1 |
| Battery Capacity (Wh) | 52Wh |
| color | Black |
| Keyboard | |
| keyboard Layout | qwerty |
| Language | US International |
| Dimensions and weight | |
| Height | 15mm |
| Length | 200mm |
| Width | 304mm |
| Weight | 1.2kg |
Pros
Tiny for a 13 "laptop
Beautiful screen with thin edges
Pretty sturdy housing
Hardware
Cons
Webcam location
Other laptops have better battery life
Video: Dell XPS 13 (2015) Review
Conclusion
Dell has managed to deliver an Ultrabook which occupies a unique position because of its dimensions, powerful hardware and high screen resolution in a market where it is still difficult to be unique. The thin screen edges are the centerpieces. They ensure that this XPS has all the advantages of a compact laptop.
But it is not just the screen edges. The whole design of the laptop is sturdy and looks nice. Furthermore, Dell has taken full advantage of the previous XPS 13 and improved as necessary. So, the fault of the previous version, which had no card reader does not exist. Additionally, Dell's XPS 13 ships with the standard 8GB memory and a minimum SSD storage capacity of 256GB. There are also extras such as touchscreen and notification LEDs for the remaining battery time.
Dell XPS 13 Review
[wp-review id="13379″]
With a critical eye, we see some minuses: The webcam is in an uncomfortable place, also, the screen brightness adjusts automatically, and the battery life during browsing is not as durable as other laptops. However, there are enough plus points compared to negative points which make an excellent laptop.
As always, thanks for reading Dell XPS 13 Review, Price, Pics, Videos, Specs, Test here on OrDuh! Leave your comments, suggestions and questions in the comment section below.