On Chrome OS, you can change your Chromebook's background wallpaper to one that you like. Your Chromebook has default images from which you can choose. Or, you can download and use your own picture. Here's how to change the desktop background on Chrome OS.
How To Set Chromebook Wallpapers
Firstly, you can go to Chrome OS' default wallpaper gallery to view a choose a wallpaper from there.
Right-click an empty space on the desktop.
Then, from the drop-down menu, click Set wallpaper.
A wallpaper gallery pops up on the screen.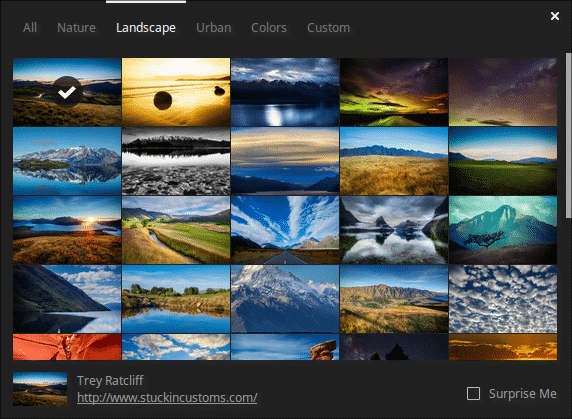 You can view the background images by category. To set one as your wallpaper, simply click an image.
Or, you can check the box next to Surprise Me. This lets Chrome OS handle picking a background. Your wallpaper changes at the time you set automatically.
How To Set Custom Wallpaper Backgrounds
Firstly, at the top of the wallpaper gallery click Custom.  The custom menu does not show if you enable Surprise Me.
Then, click the box with the + to add your custom wallpaper.
A window pops up.
Here, click Choose file.
The Files app opens.
Search for your picture.
Click it to add to your background.
Lastly, choose a position (you can see how it looks in real-time).
That's it! Oh, the desktop background wallpaper also shows up on your log in screen. That's the screen you see at startup. I use the images from Windows Spotlight (so they are SFW).