There is an extremely rare pet called the Petricanths in Monster Hunter World that unlocks the "A Living Fossil" trophy achievement when you catch it.
In MHW, the prehistoric fish spawns in Rotten Vale. It right where Monster Hunter World Plunderers Grimalkyne Tribe hang out.
This is also where you complete the "Bristles for All" trophy achievement. If you're lucky you may finish 3 objectives in one go.
The Petricanths is larger and has a bluish-black look. It's easily spotted among the other fish in the pond. You will need baitbugs to catch the Living Fossil.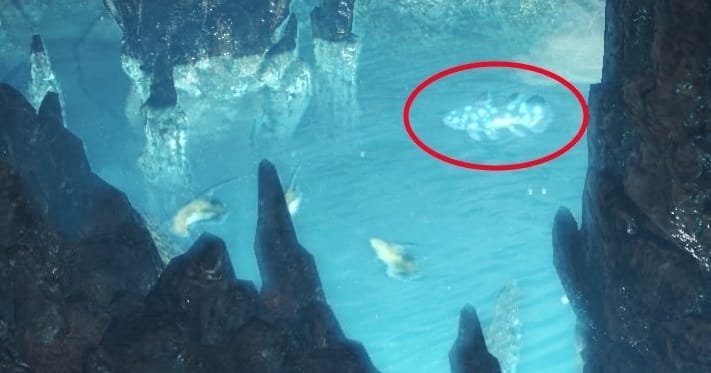 How To Capture A Fish Known As The Living Fossil
The fastest route to get to the fishing spot where the Petricanths hangs out is by starting at the Central Camp (11) and then dropping down the two ledges to the right of the camp.
Once you drop down twice, keep to the left side and go into the small cave. You need to crawl through the small opening at the opposite side. After crawling in, go to the right, and there you find the area to catch Petricanths.
Once the Ancient Fish is there. Use your fishing rod and baitbug to catch it. Try to aim for the spot in front of the Petricanths to get it to bite.
A few guides suggest using the MHW capture net. However, if you miss, you risk scaring the rare fish and having to start over again from scratch.
See the video for a visual guide. I actually capture the Petricanths at the end of the video ( I didn't know how fishing works so it took a while…)
Final Advice
If the Petricanths is not there, then leave the expedition or, if on a quest, complete it and return to Astera and then go back to Rotten Vale to try your luck once more.
MHW: A Living Fossil – 3 Easy Steps To Catch Petricanths
Head to the fishing spot in Rotten Vale.
Once the Petricanths is there, cast your fishing rod with baitbug to lure the fish.
Once the fish bites, lure it in by completing the mini-game.
Additional MHW Guides