eReading hs become prevalent over the past decade. And, as consumers move toward reading eBooks, not only on mobile devices but also on desktop and laptop computers, several persons ask, what are the best ePub readers for Windows? You might wonder why anyone would want to read books on such large screens when there are several devices like the
Kindle Ereader. The truth is, we all have our preferences. Here is a list of the top ePub reader software for your Windows, Windows Phone  & Tablets.
NOOK ePub Reader
The Barnes & Noble Nook is a brand of e-readers developed by American book retailer Barnes & Noble. This eReader is a cross-platform application, and, as such, it is on this list. However, not only is the Nook cross-platform, it is the top free ePub reader on the list. With the Nook, you can import your PDFs and ePub files to read via the Nook. Although, the Nook has an extensive library of magazines, comics, novels and more for you to purchase. The app is available for Windows 8 and Windows 10 via the app store.
Kindle for PC
The best epub reader for windows 10, along with Nook, is Kindle for PC. And, whether you use Amazon or not, Kindle for PC is the best free ebook reader you can use. It is smart and stylish and only requires an Amazon account to setup. It syncs notes and bookmarks across devices automatically, as well as flashcards – a helpful addition for students using digital textbooks for revision. Additionally, Kindle for Windows includes text-to-speech, different font sizes, and color schemes.
Sumatra eBook Reader
Sumatra ePub Reader or Sumatra PDF supports not only ePub files but PDF, Mobi, XPS, CBZ, CBR and several other formats. It has a very intuitive and straightforward user interface. It is available for Windows computers. Download it on their official website. There is also a standalone version that you can carry around on your flash drive and launch at any time without having to install the Sumatra application.
Freda eBook Reader
Do you prefer simplicity and ease of use? Who doesn't? However, you don't want to look too dull and outdated. Then Freda eBook reader is an excellent choice for eReading formats like EPUB, FB2, and even HTML. Freda is available for Windows 8 and up. You may download Freda here. Check it out in the below video.
Icecream eBook Reader
Who doesn't like Icecream? I know I do. And, I am sure you will love the Icecream eBook Reader. It supports ePub, fb2, Mobi, PDF, CBR and CBZ formats. However, unlike the previous two apps, it is not as barebones. It packs a few extra features to make your eReading experience a bit more enjoyable. Some features include the ability to turn pages, use bookmarks, add notes, translate text, search your library, track reading progress and much more. It works on Windows XP, Vista, 7, 8 and 10. Wait, you still use Windows XP? How very dare you? Download the ePub reader here. There is a free and paid version. Check out the beautiful interface in the video below.
Calibre
Calibre is a lightweight open source ebook reader and manager. Unlike many free ebook readers, Calibre supports Amazon's AWZ format. However, it won't open DRM-protected files. Also, Calibre supports all the other popular ebook file types. Additionally, you can input genre, cover art, and other metadata using the bookshelf's options menu.
Reference Mode displays the current chapter and paragraph number in the top left of the interface. A useful feature if you want to do citations. There is also Flow Mode, where it presents text as a continuous scrolling stream without page breaks; not as attractive as simulated page-turning, however, nonetheless it is a convenient time-saver to avoid flicking backward and forward through a book.
EpubReader
EpubReader is a book reader that allows you to read unencrypted eBooks in the ePUB format. EpubReader can get books from on-line public domain catalogs like Feedbooks and the Gutenberg Project, or if you have an existing book collection, you can use SkyDrive, DropBox or Calibre to share it with your device. This one is a good epub reader which can also download books from any website. There are a few other features that you can read about here. This app is a Windows epub reader and costs $2.49.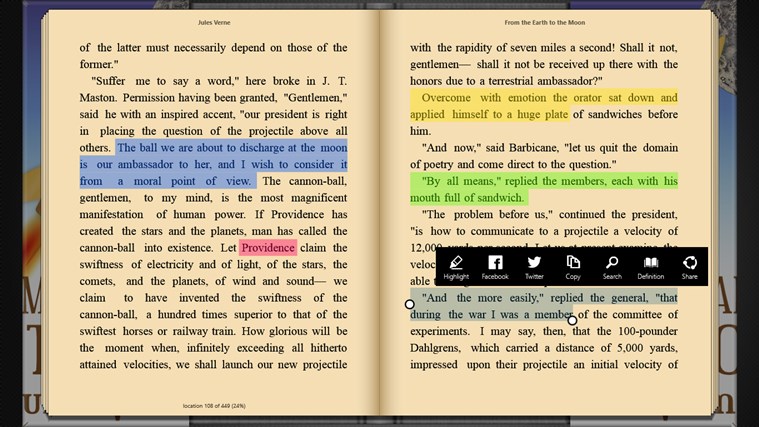 These are just 7 of the many ePub readers for PCs. There are several others. However, we think that these are the very best ones. Have you tried any others? Tell about them in the comments section below.